This week, for the second year, I am participating in a self-portrait challenge extended by Ali Edwards called Pieces of Us. The goal is to get in front of the camera and take at least one self-portrait per day following a prompt. You can learn all about it over on Ali's blog. I loved this project last year and enjoyed the challenge of taking creative self-portraits each day and I am very excited to tackle it again this year.
---
Pieces of Us | Reflection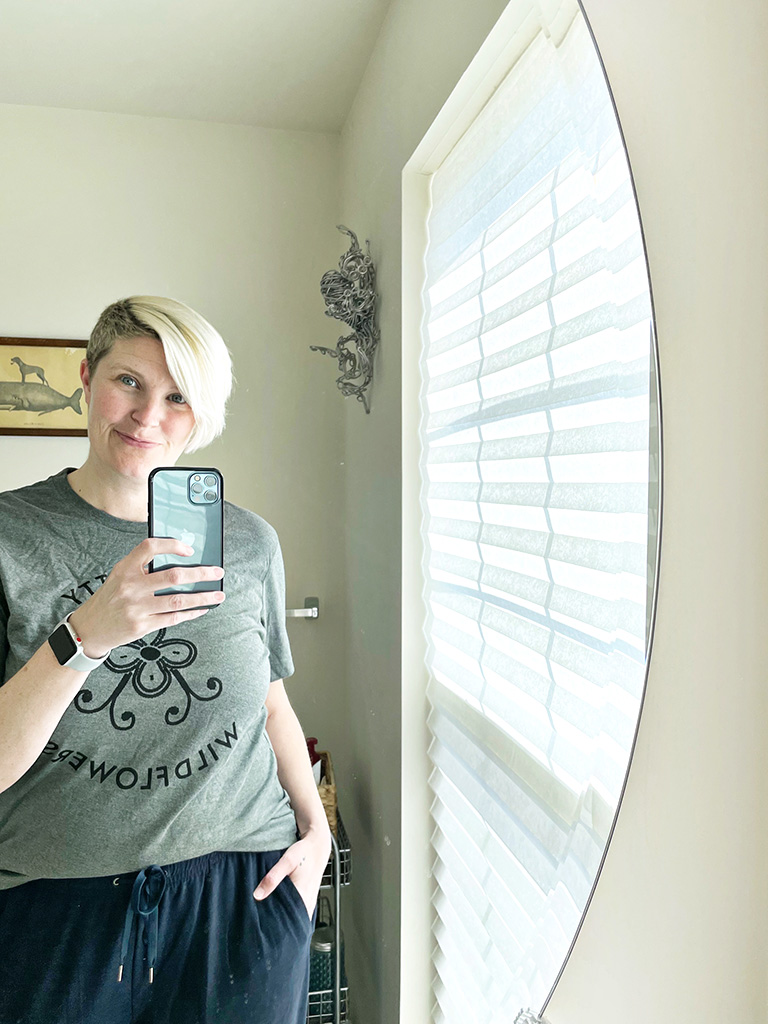 When I look in the mirror and at the self-portraits I've taken this week, I see my true self. I just turned 41 and am feeling the best I've felt in my whole life. Despite a year that has so far been filled with one health issue after another, I am whole and feeling pretty damn near the person I'm meant to be. I have grown leaps and bounds in confidence and self-worth in the last three years. I am embracing the broken pieces and imperfections. I am still learning about myself and my relationships and looking forward to deeper understanding and better days. I am comfortable presenting my true self to the world; no makeup, badly in need of a haircut, wearing a shirt I love even though I don't love the way it looks on me, wearing joggers because they are just so damn comfy and don't rub against my surgery incisions, just me. I am learning to love and appreciate my body for all that it does for me day in and day out. I am choosing to leave behind decades of hating my body and myself and trying to change who I am to better fit in or look a certain way or feel different somehow. I am making a conscious effort to choose my words wisely when I talk about myself and take ownership over the parts of my body I've photographed this week instead of separating myself from them. I am finding the best parts of myself, and the messy parts of myself, reflected back to me in the people around me – my husband who has known me since I was 13, my siblings who I've known their whole lives, my nieces and nephews who have taken up more room in my heart than I thought was possible, and new friends who I'm still getting to know but feel like we've been working our way toward each other for many, many years. I see my future days spent simply living my life unburdened by the judgment, criticism, neglect, and general mistreatment I inflicted on myself for most of my life thus far. I am ready to be who I am meant to be.
---
I have, once again, throughly enjoyed participating in this challenge this week! I have learned more about myself, taken some great photos, and loved cheering on others in the community as they embarked on the challenge too. It can be so difficult to show ourselves, and incredibly vulnerable, but it's also so beautiful and something worth celebrating. I hope this project continues for many years!
Thanks for visiting the blog this week to read my words and see my photos. In the coming weeks I'll be sharing how I'm put this together in an album.