This week, for the second year, I am participating in a self-portrait challenge extended by Ali Edwards called Pieces of Us. The goal is to get in front of the camera and take at least one self-portrait per day following a prompt. You can learn all about it over on Ali's blog. I loved this project last year and enjoyed the challenge of taking creative self-portraits each day and I am very excited to tackle it again this year.
Each day I hope to share my words and photo(s) from the previous day's prompt here on my blog. I hope you will follow along and consider joining in the challenge yourself, if you're not already participating.
---
Pieces of Us | Full Body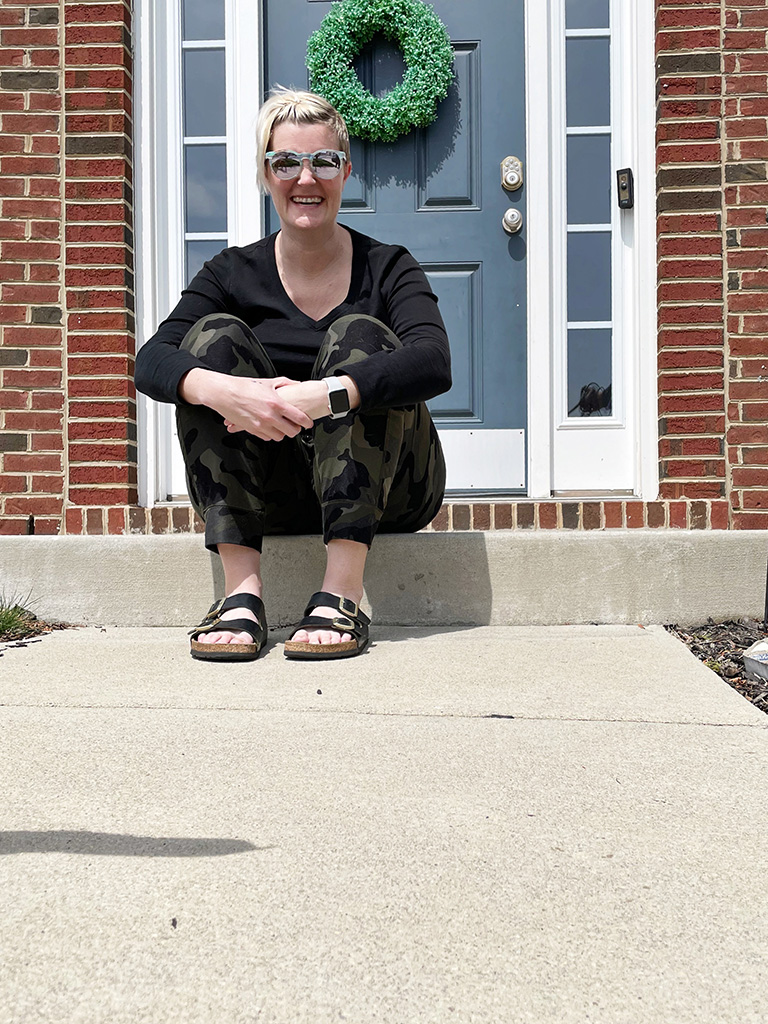 These are not the full body photos I thought I'd take today. I had planned to complete my first 5K since January today and I had quite a few creative photo ideas for capturing my full body while out on my walk / run. However, my body has other plans. Since getting my vaccine on Thursday, my thighs and backside have been really sore in the mornings when I first wake up and I feel like I've been hit by a truck. I'm also currently battling some other irritating but minor health issues. Needless to say, the conditions were all wrong for me to even consider hitting the pavement today. My body is just screaming at me that it needs more rest. So I ate a bagel for breakfast while I pouted a little and went back to sleep on the couch until noon. This photo was taken after my rest as I was deciding not to let my unmet expectations ruin the day and trying to lean into giving myself even more grace and understanding. This brief moment, and the subsequent moments with Shawn and Ruby, really helped me shift my mindset. And the fresh air and sunshine never hurts.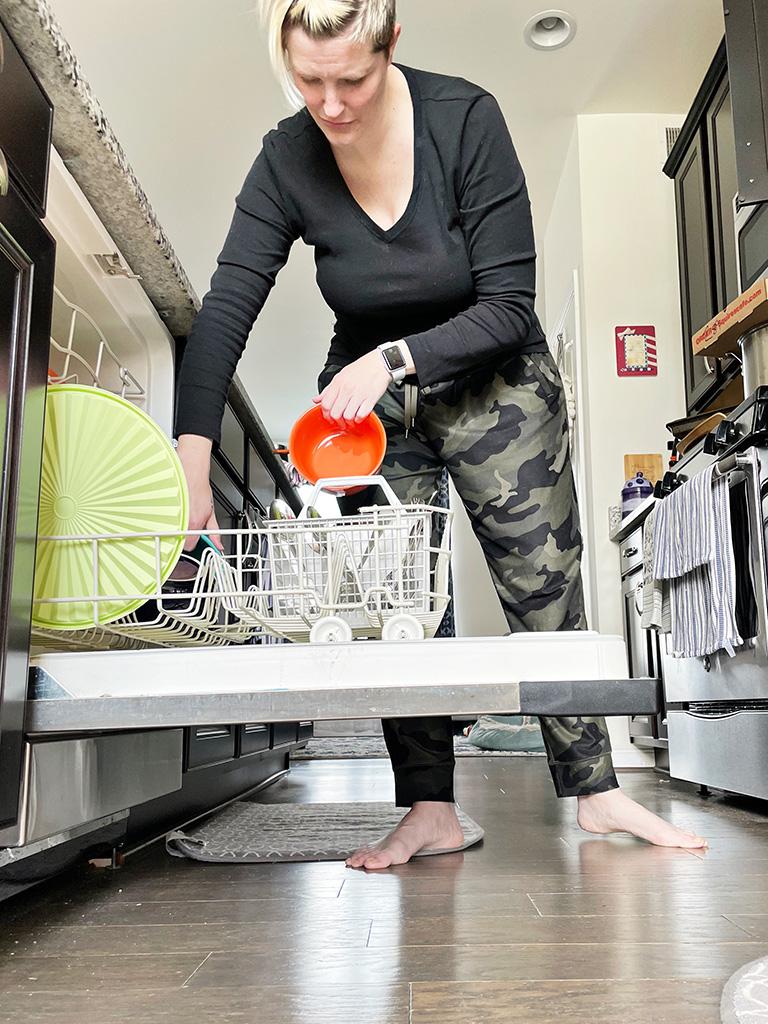 I'm using the little bit of physical energy I have to tidy up the main floor of the house. Tomorrow I am hosting my siblings for dinner and nearly all the flat surfaces in the kitchen and dining room are covered with piles of stuff. Pots and pans on the stove. Dirty dishes in the sink. Bills and mail and paperwork from surgery on the counter. Birthday gifts left on the dining room table. We've been operating under energy conservation since my surgery and doing the bare minimum when it comes to tidying up and cleaning because our energy has been focused on caretaking, healing, resting, and working. I always feel better after tidying up and making surfaces visible and clean again, but after about 15 minutes of cleaning up today, I was exhausted and made my way back to the couch for the rest of the afternoon.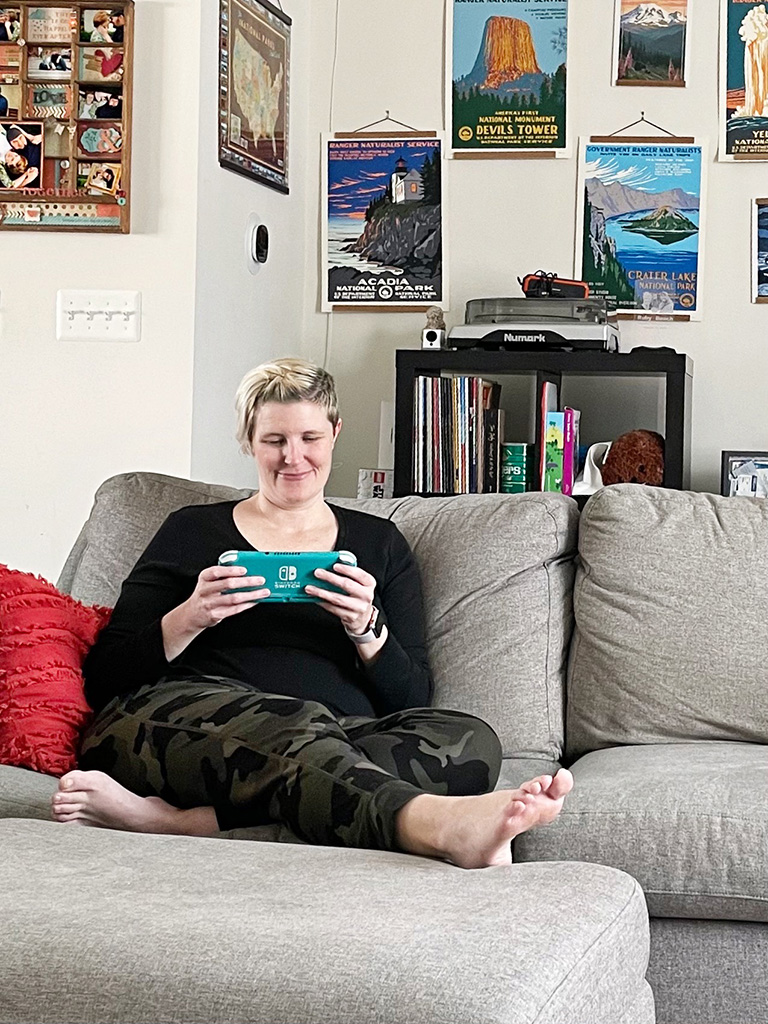 I don't have much energy and am still under some small physical restrictions so most days you can find me with my Switch in my hands playing Animal Crossing. Some days I play alone. Some days I play with Brynn while we talk over FaceTime. Some days I work on terraforming and developing my island. Some days I mine resources and try to earn a lot of bells. Today I participated in the Fishing Tourney and completed all the way up through earning a gold trophy. This spot on the couch has become my home over these last few months. I've eaten here, slept here, healed here, waited out pain here, worried here, celebrated here, played games here, binge-watched a lot of tv shows here, worked here, lead trainings here, planned scrapbooking projects here, edited photos here, and more. This has become a comfort zone for me. One that I am finding hard to break away from now that I can move more and am no longer in pain. Eventually I will get tired of sitting here, but not today.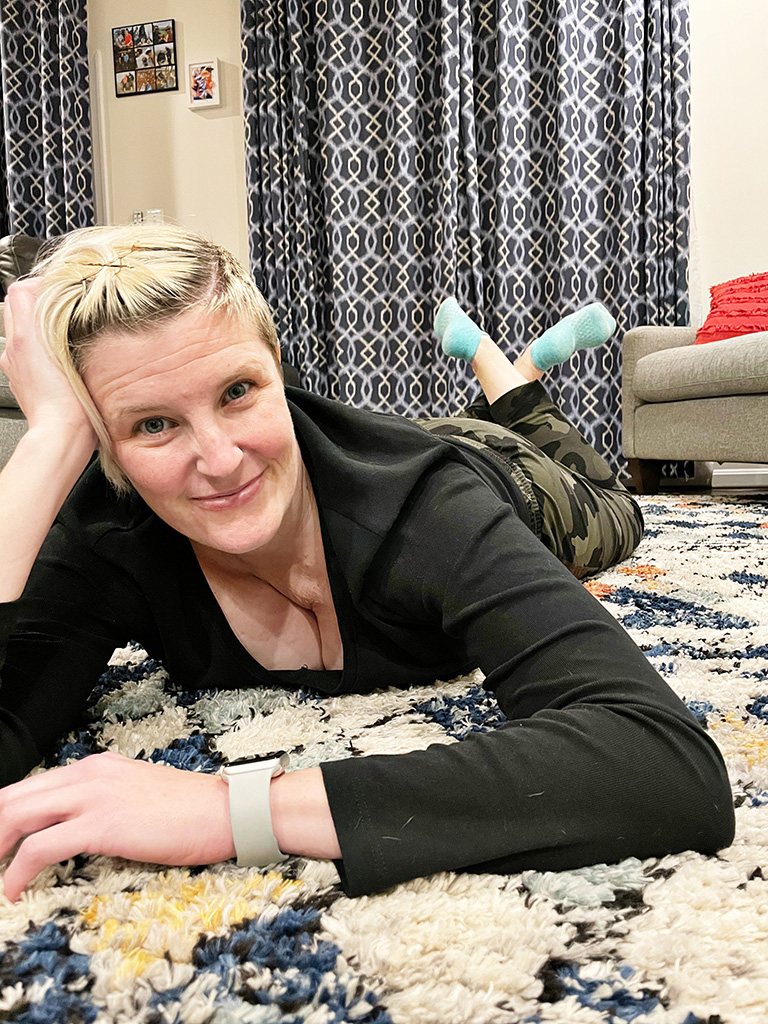 A little bit of lounging on the floor next to my Ruby girl tonight. She didn't want to leave her Cozy Cave to be in the photo with me, but that's okay. Stretching out on the floor for a little bit felt pretty good. I've been doing a LOT of sitting these last few months, even sleeping sitting up before and after my surgery. To be able to climb down on the floor without pain from my incisions felt pretty good. I've been living in these lounge clothes. Joggers from Old Navy, a random long sleeve tee, and my amazing Bombas socks. This has become my uniform of late and I'm so comfy every day I may never change it! This day turned out not to be so terrible and I'm glad I listened to my body and rested and took it easy today. It's hard for me to go slow, but that lesson has been forced upon me in totally new ways this year and I'm trying to pay close attention.
---
Although these are not the super creative, outdoor, active photos I thought I'd be taking today, I am still pleased with the results. I still think there is some creativity in each one of these and show what life is truly like right now, which I always appreciate.