March 2020 was such an interesting month in our lives, and one unlike any other. The month started with me in Disney World and ended in the middle of a global pandemic and living our day-to-day lives under a Stay-At-Home order in our state. To document the COVID-19 pandemic, I decided to create an insert this month that includes photos and stories and some other ephemera from our lives at this time.
Here's a look at how my March pages came together: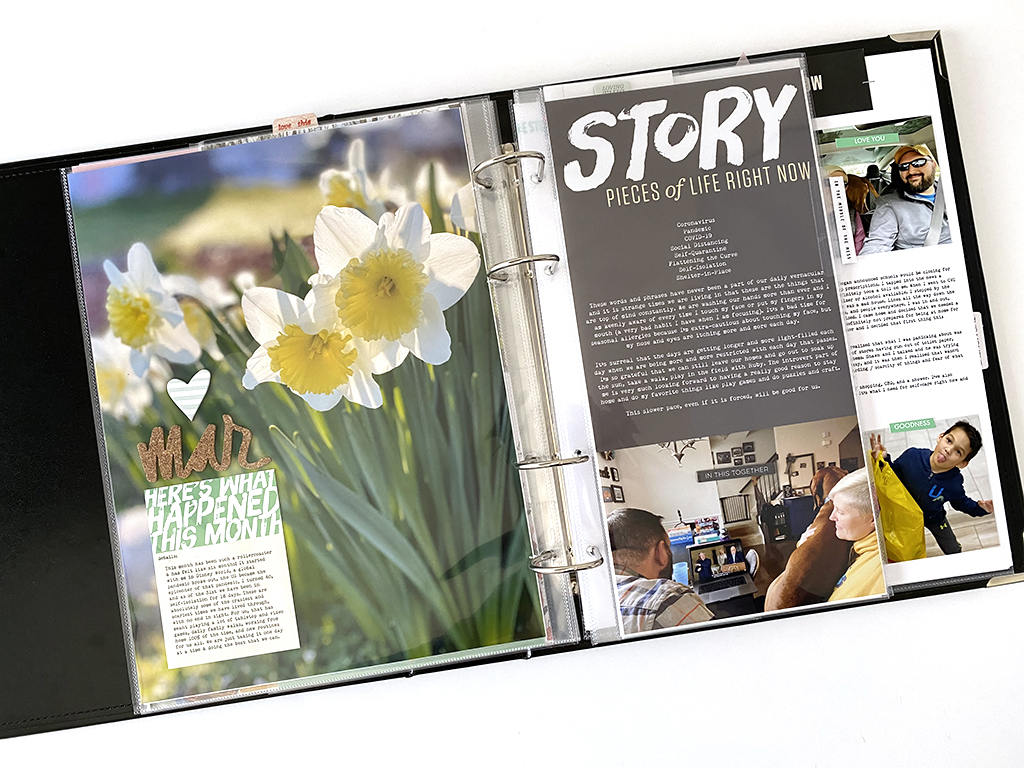 I started with a full 9×12 photo of some daffodils I found on my walk. Daffodils are my favorite flower and I was really pleased with how this large photo turned out. I added journaling as an overview of the month to a card from the March 2020 Stories by the Month Kit and finished the page off with the cork "March" that was a One Little Word add-on this year and a chipboard heart from the kit as well.
The adjacent page is the start of my pandemic documentation insert. For these inserts, I made my own digital templates in Photoshop to include my photos and words as hybrid pages. I started with a photo of the three of us watching one of our Governor's press conferences and added some journaling and word art from the Watch and Pieces Story Kits made into a 6×12 page.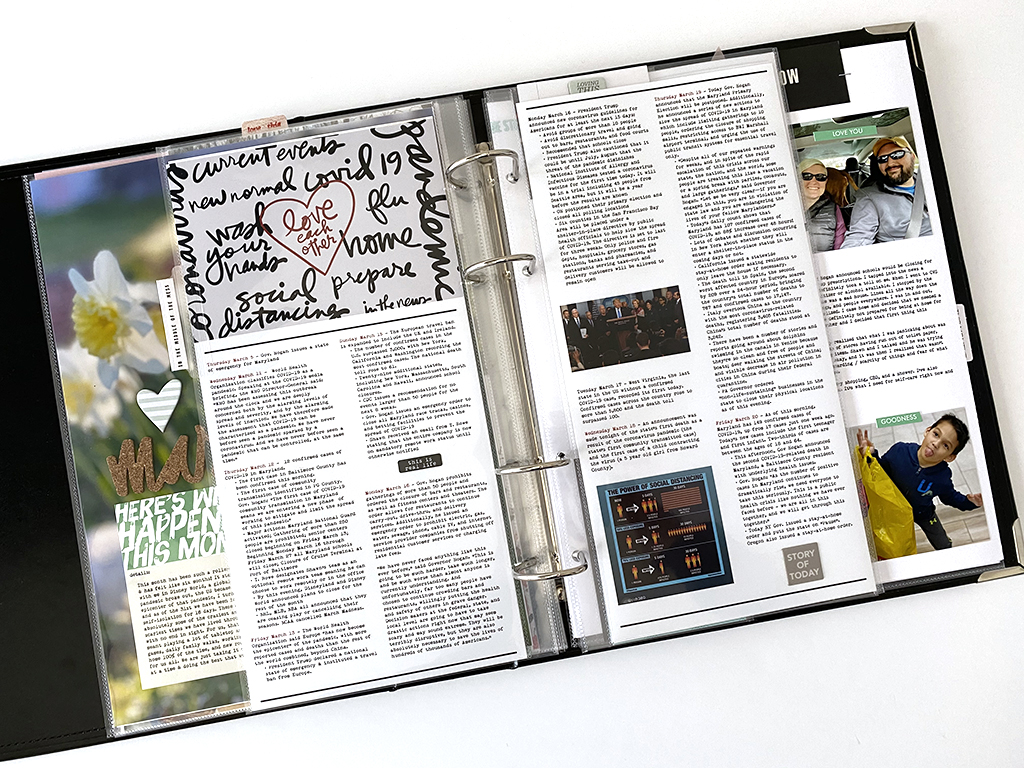 On the back of my first insert, I added another hybrid page with a header image I made in Photoshop using the COVID-19 related word art from Ali Edwards and the beginning of my timeline journaling. For this journaling I documented major happenings around the world and locally based on news headlines. I added in a few embellishments from my stash in the empty spaces.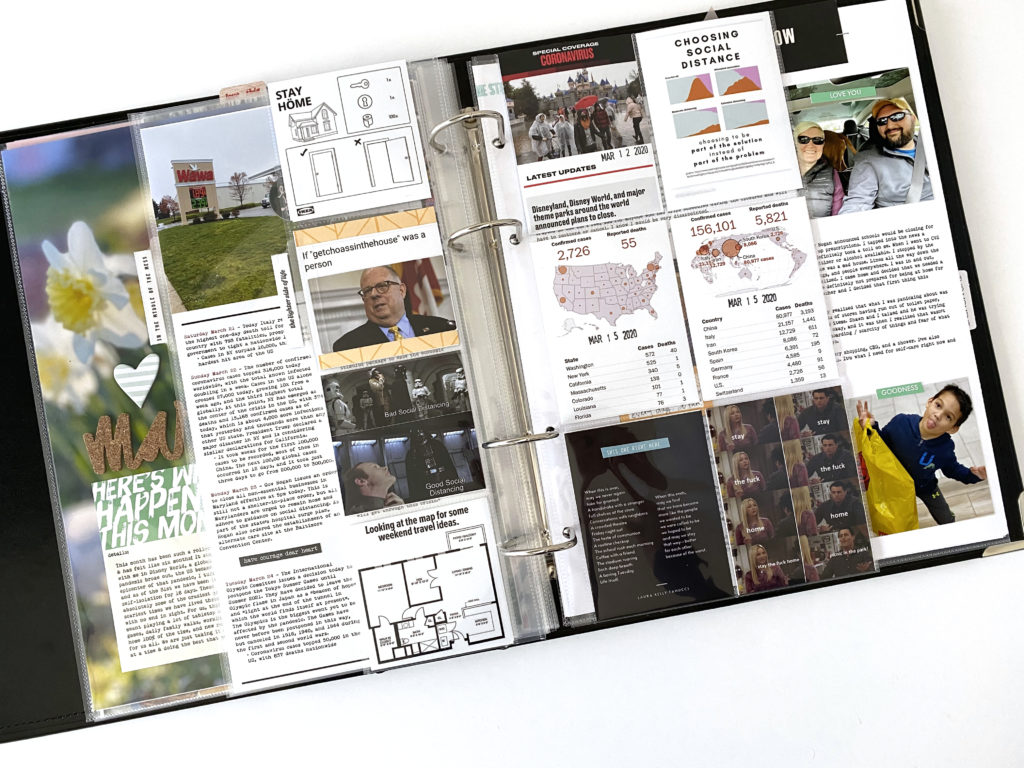 Another component of my pandemic documentation for March included a 3×3 insert featuring funny memes and a 3×4 page including screenshots of data, infographics, news headlines, and a few memes that wouldn't fit in the 3×3 pockets. I like having these mementos included as documentation of this strange, uncertain time.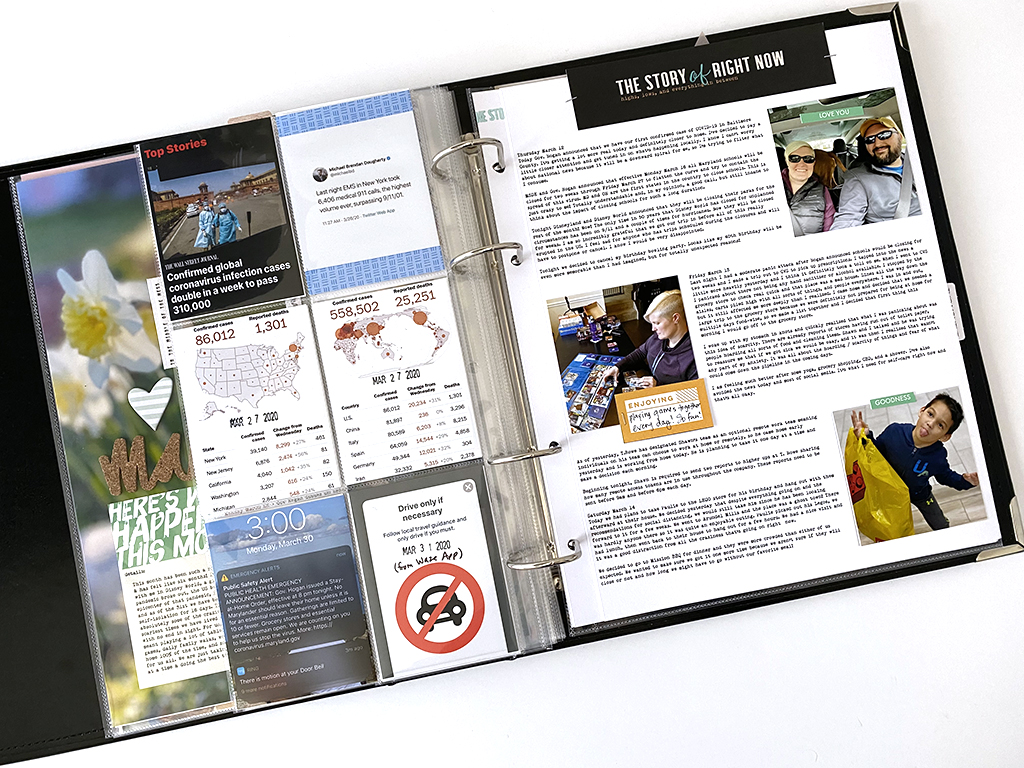 The final insert for my pandemic documentation is a full page, hybrid, fold-out insert that includes journaling about my thoughts, feelings, reactions, and stories about how our lives are being affected by this situation. I created the template in Photoshop and added all my journaling digitally then added my photos on top and some embellishments from the March 2020 Stories by the Month kit and other things from my stash. I cut out "The Story of Right Now" from a 4×6 card from the kit and aded that to the top of my page.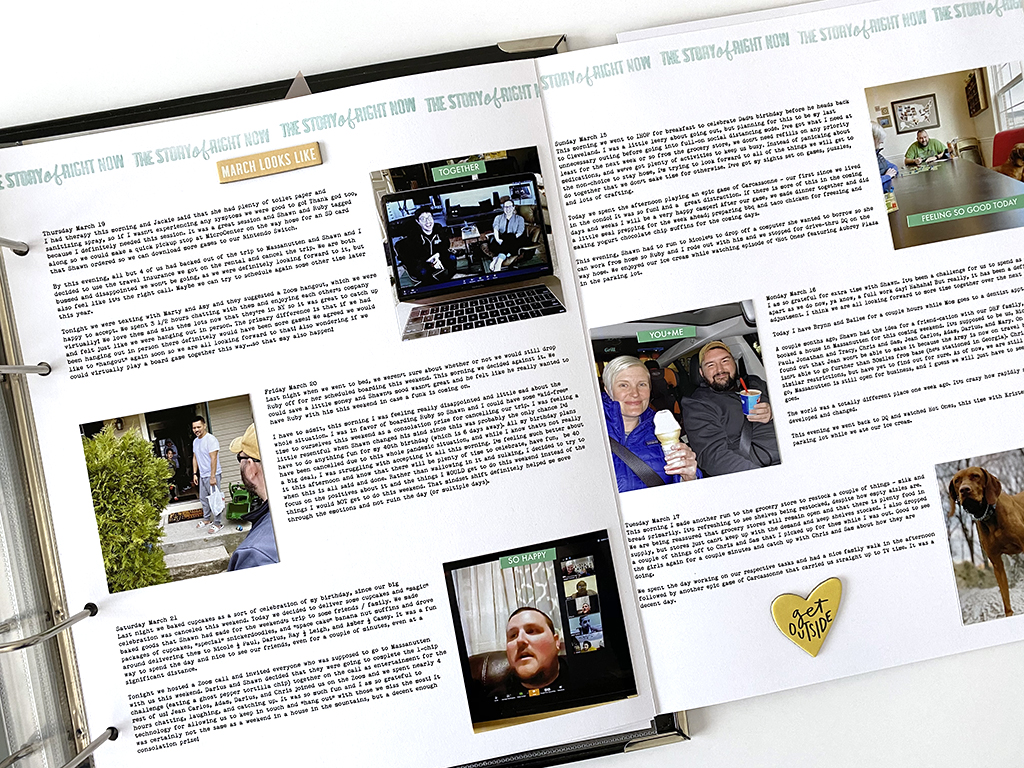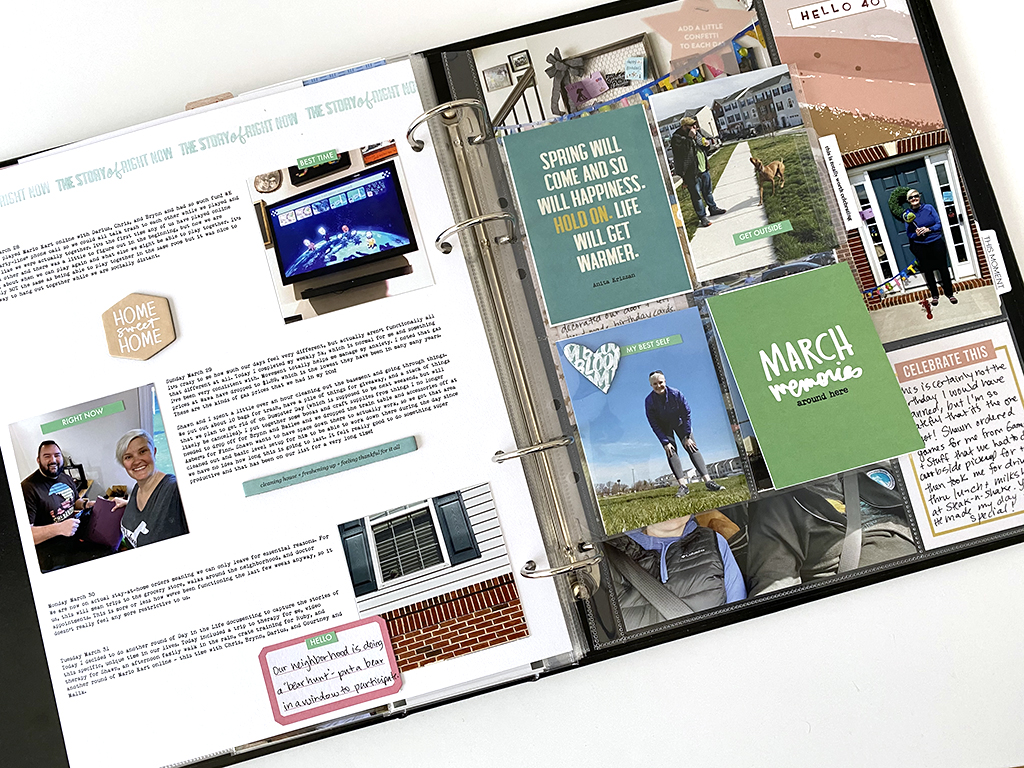 Following the inserts, I added one more 6×8 insert with four 3x4s to include a few extra small stories from March using pieces from the Stories by the Month kit. To finish things up for the month, I documented by 40th birthday using pieces I had leftover from the Celebrate Story Kit. This was not the celebration I planned on documenting, but all our plans got cancelled and it ended up being a surprisingly wonderful day.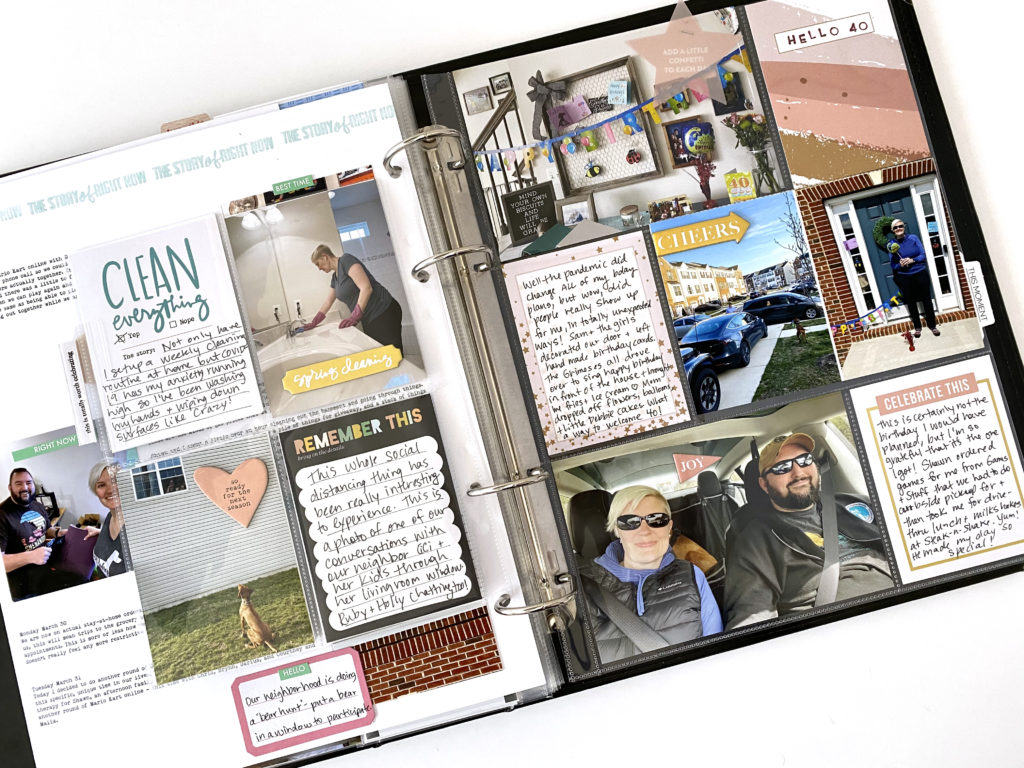 And that's what I've got for March! A quarter of the way into the year and I am really loving the 9×12 format and a monthly approach instead of weekly. I've also got a video walkthrough of my process putting these pages together.
If you have any questions, please let me know in the comments! Thanks for taking a look!