Well I'm a couple months behind on sharing my monthly Project Life® spreads for February, but that's okay. I've got them done and that all that matters! As a reminder, I am working in a 9×12 monthly format this year for Project Life® and my goal is to use primarily the Stories by the Month kits from Ali Edwards each month. I am absolutely in love with this format! It is quite different from working week by week, but definitely a welcome change that is leaving me more time for other projects.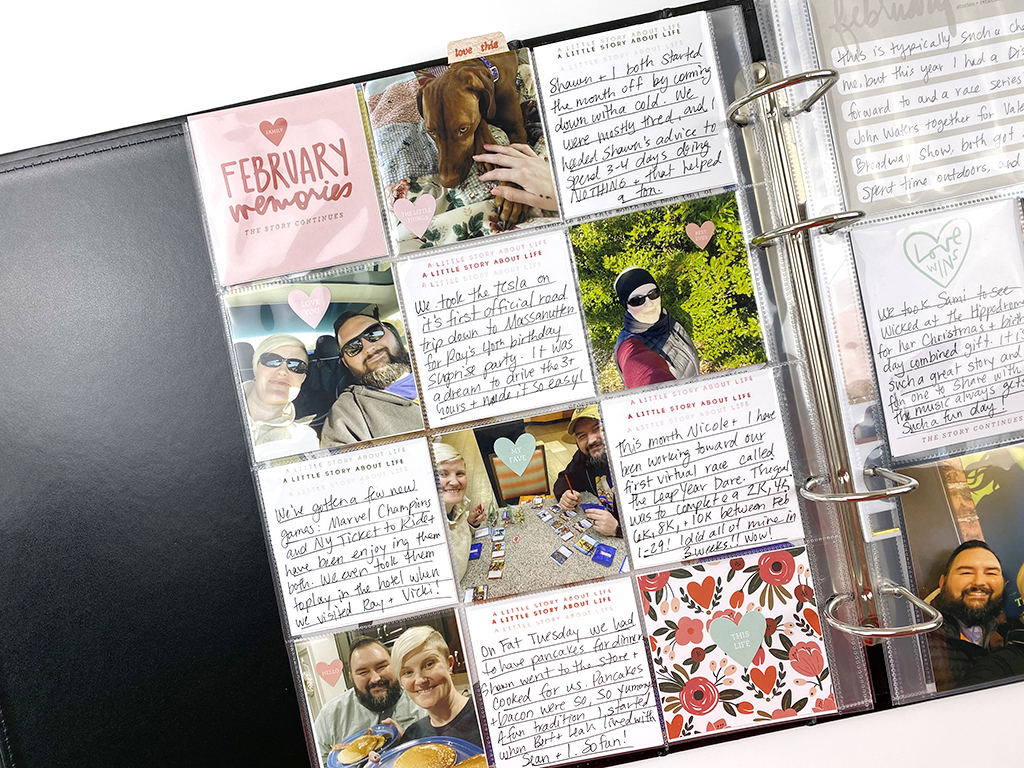 I began this month's pages using the backside of a page divided into 3×3 pockets. I used this page to tell mini stories about a few different stories from the month. I used a stamp from this month's Stories by the Month kit to create my own journaling cards to go along with each of my photos on this page. I also trimmed down two of the 3×4 cards included in the kit to fit in the 3×3 pockets as a title and filler card. I chose to use the paper heart phrase stickers to use as embellishments on each of my photos.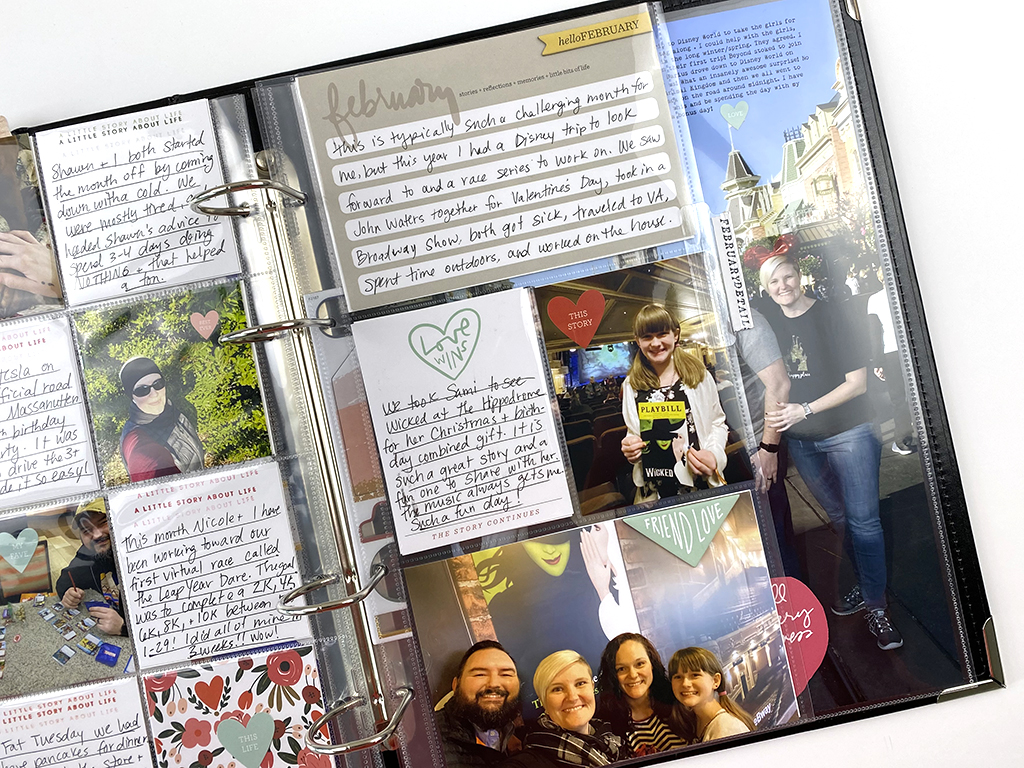 For the remainder of the pages, I chose to highlight 3 different stories that were bigger stories from our month. Using a 6×12 insert, I told the stories of taking my cousins to see Wicked for the first time and one of the hikes my husband and our dog took this month. I used the "february" 4×6 card from the kit to record an overview of our month and then used the remaining pockets to tell the story of Wicked.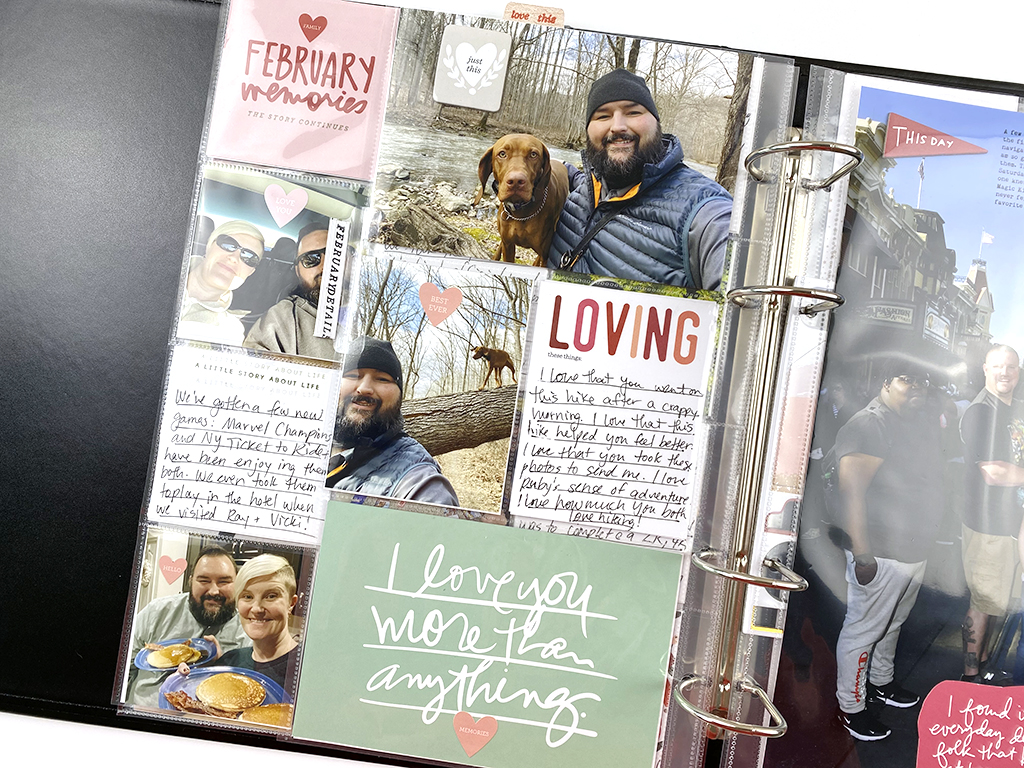 On the back, I used the 4×6 quote card that says "I love you more than anything" to go along with these pictures of my husband and our dog out on a hike then used the "loving" 3×4 card to include my words about this. I am enjoying including at least one insert each month and covering multiple key stories across a few pages.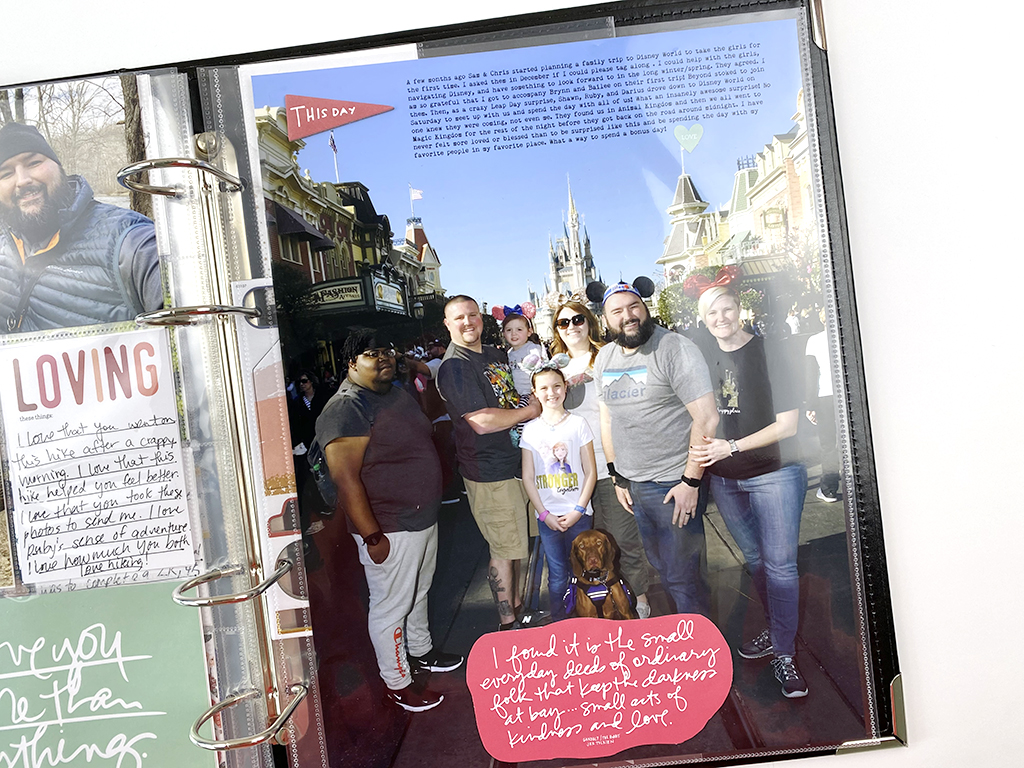 For the final page of February, I used a full-size 9×12 photo from a trip to Disney World that I took with my brother's family at the end of February. This trip will have its own separate album, so I didn't feel like I had to include a bunch about it in here. This photo just about sums up the awesome-ness of that trip as a special Leap Day surprise we won't soon forget! I cut out one of the quotes from a 4×6 card included in the kit to use as a large embellishment on this photo and added my text in Photoshop before I printed it. Then I added the chipboard banner and a small heart sticker to finish it up.
Here's a video of my process of putting these pages together:
Please let me know in the comments if you have any questions, I am happy to answer!
Helpful Links