To document my February 2020 Disney World trip (which ended only 10 days before the Disney parks closed!) I wanted to take a fresh approach. We have been lucky enough to travel to the stateside Disney parks many times in recent years. In fact, this album is only one of three Disney trip albums I have to complete from 2019-2020 alone. So I was definitely looking for something other than a chronological, here is where we went and this is what we did, type of approach.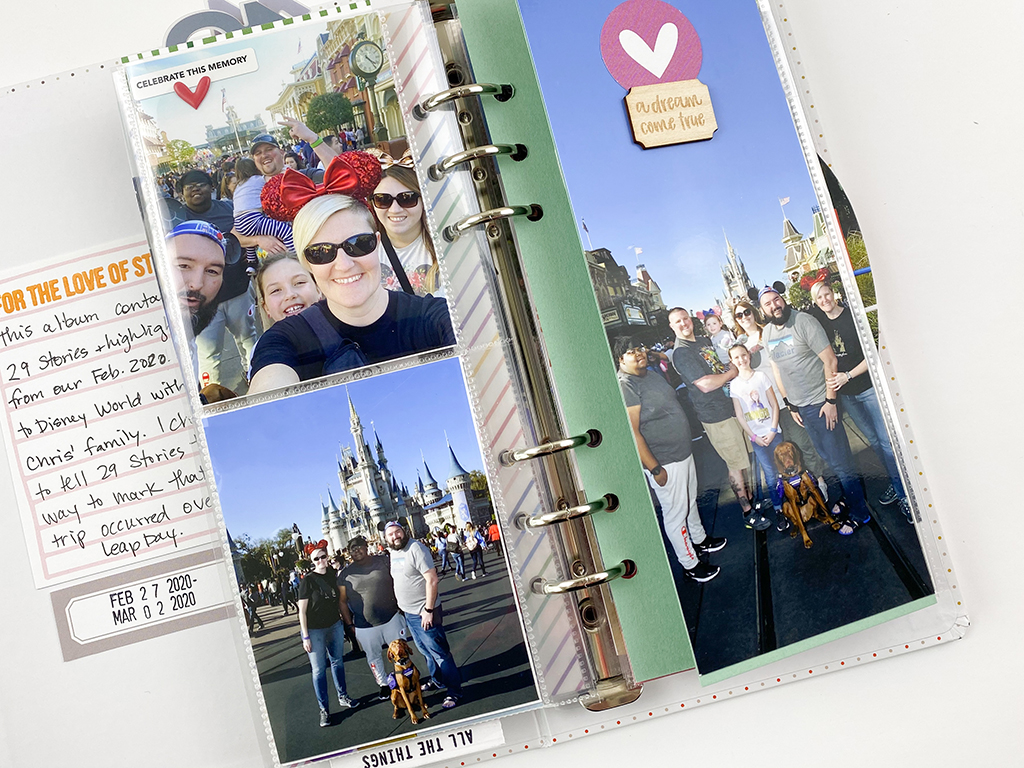 My inspiration came directly from the Ali Edwards List Story Kit (January 2020). Included in the kit was a set of 31 little acetate numbers, and I had the idea to document 31 little stories from our trip. This was back in January and I had plenty of time to think about the idea, see how it resonated with me, and refine it. Then I had the idea to capitalize on the fact that our trip spanned over Leap Day (February 29th) and, instead of 31 stories, focus on 29 stories. I also made the decision before our trip that I would document this all in a 3×8″ album.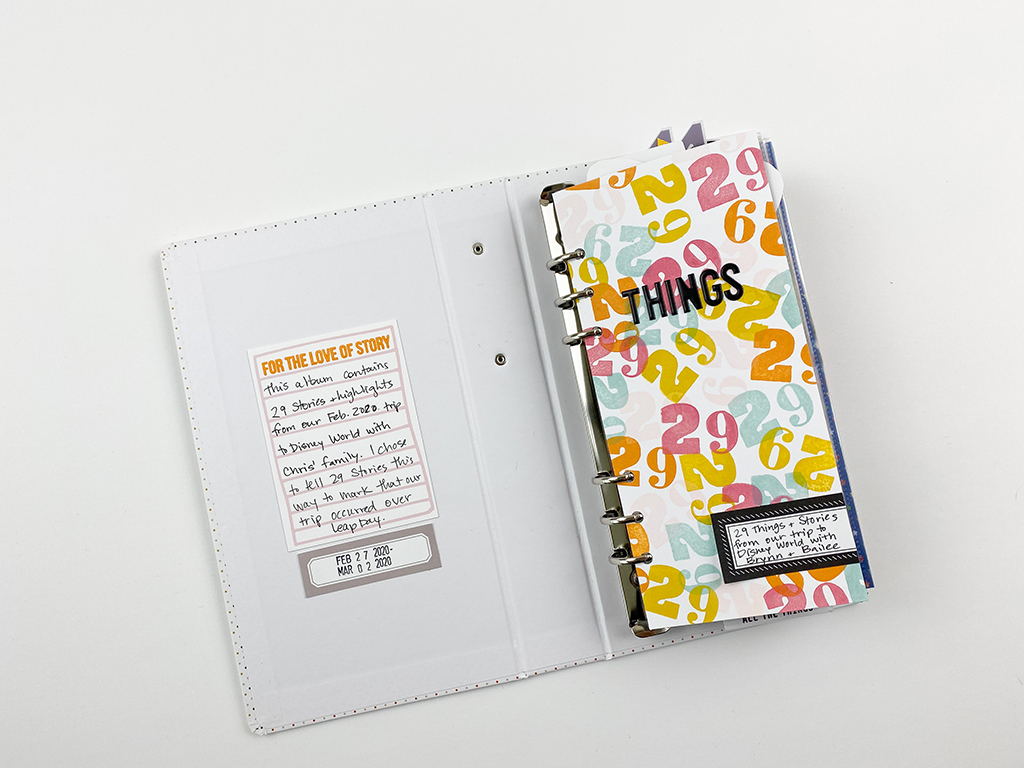 Knowing ahead of time that I would be using a 3×8″ album helped me make decisions about the orientation of my photos as I was going and paying attention to special things that were happening so I could make note of the stories I wanted to focus on when I sat down to pull the album together. This size album is definitely a challenge to work with, and can be intimidating, but I find it to be like a fun puzzle, where I have to figure out how to include my words and photos (and sometimes ephemera and embellishments) in a way that is interesting.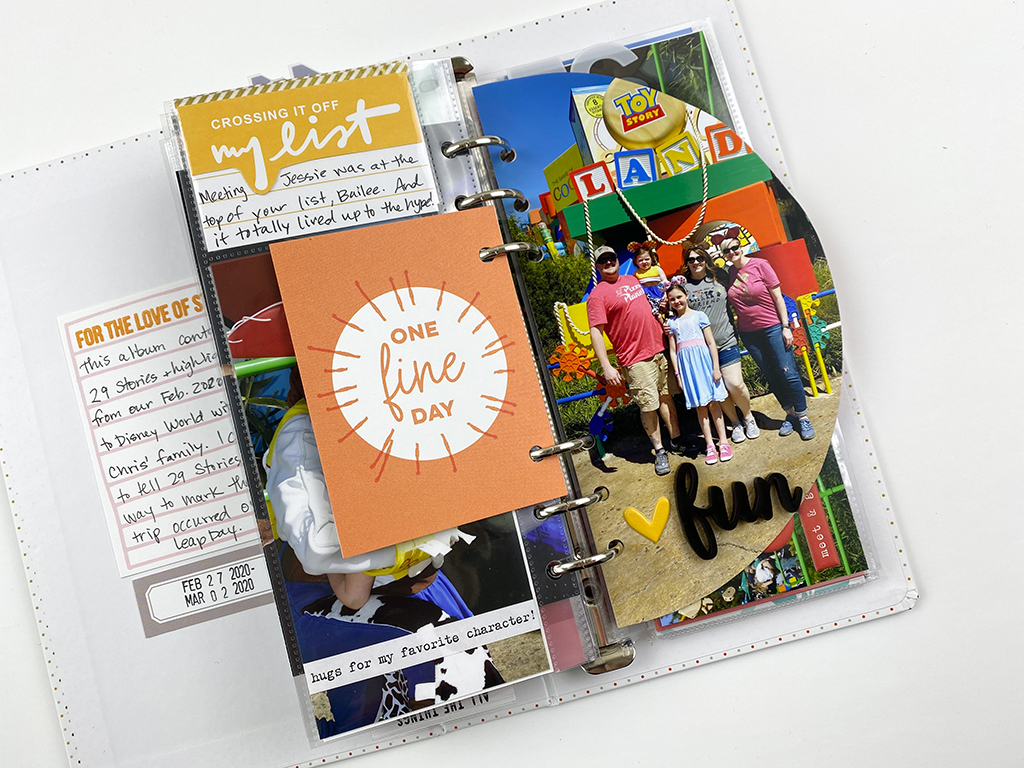 For me, this means LOTS of interactivity! I love page flips, pull-outs, tags, shaped photos, and really any kind of interactivity that provides more interest to this small format. In this album, I employed all of those techniques and you can find more details about each one in my video walkthrough below.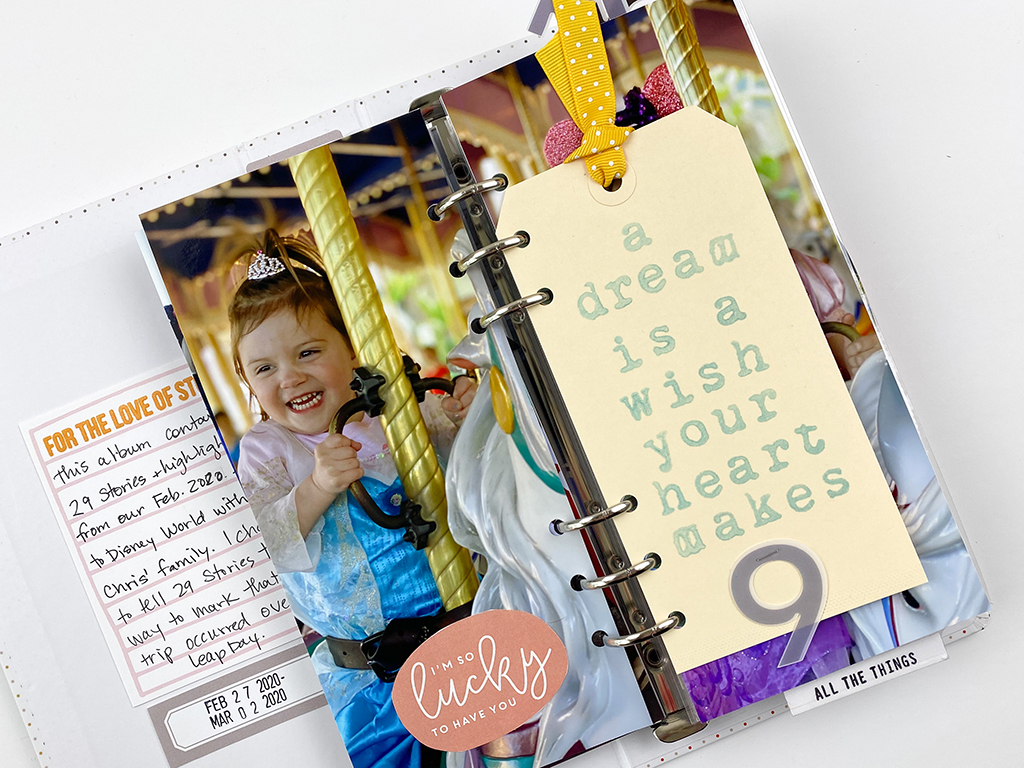 Another fun challenge for this particular album was to find a creative way to include each of the 29 numbers I wanted to use to indicate each story. Some stories have a small photo and lots of writing, some stories have big photos and a tiny bit of writing, and some of the stories have multiple photos and pages, so it was definitely a unique challenge to figure out how to incorporate each number without each page having the same format. Sometimes I didn't even have space on my "page" for a number, those were particularly challenging!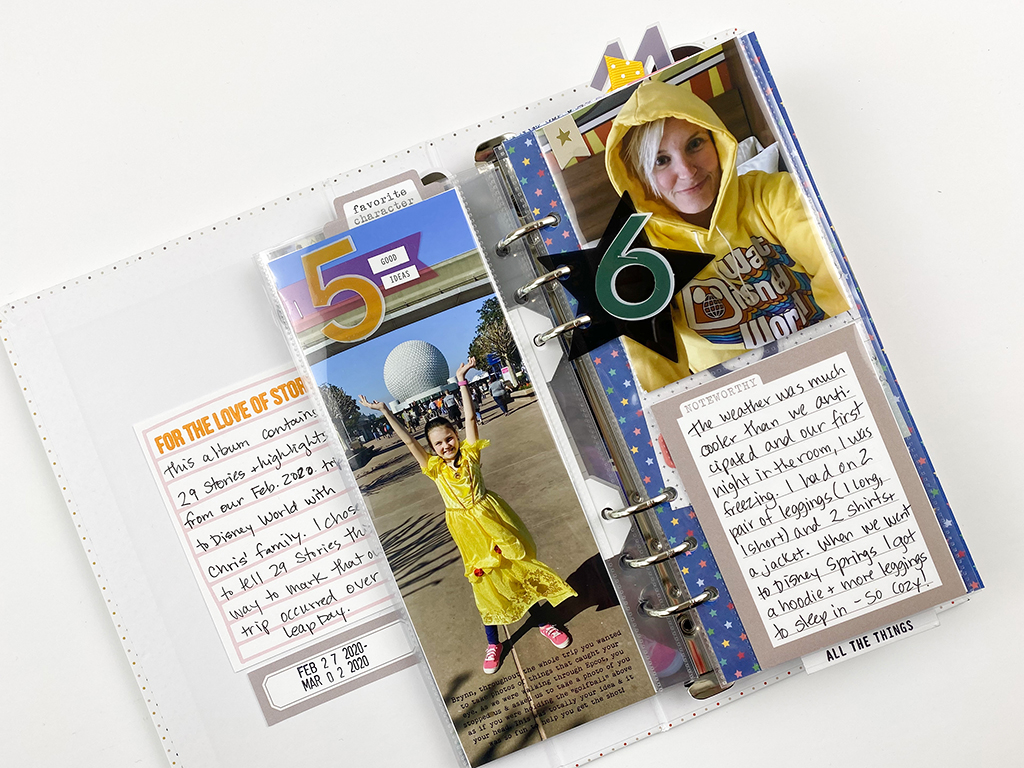 You can watch the video to see each page in detail and a full-walkthrough of the interactive elements included. If you have any questions, please let me know! I'm happy to answer.
Helpful Links
Elle's Studio 
Ali Edwards
Felicity Jane
3×8 Chipboard Album – Ali Edwards
3×8 Page Protectors – Ali Edwards
9×12 Page Protectors – Ali Edwards
Ranger Ink Inkssentials Craft Tag #8 (large)
Ranger Ink Inkssentials Craft Tag #5 (small)
Susan Brochu on Instagram (thanks for the inspiration to use tags as a page holder!)