I have been so inspired by the #storykitcrush initiative started by Tazhiana Gordon, Krystal Idunate, and Amanda Wilder that I totally had to join in! The goal of this initiative is to use up the Story Kits from Ali Edwards that we all have been hoarding or just have been neglected in our stash to tell more stories and use as much of the kit as we possibly can on a series of projects.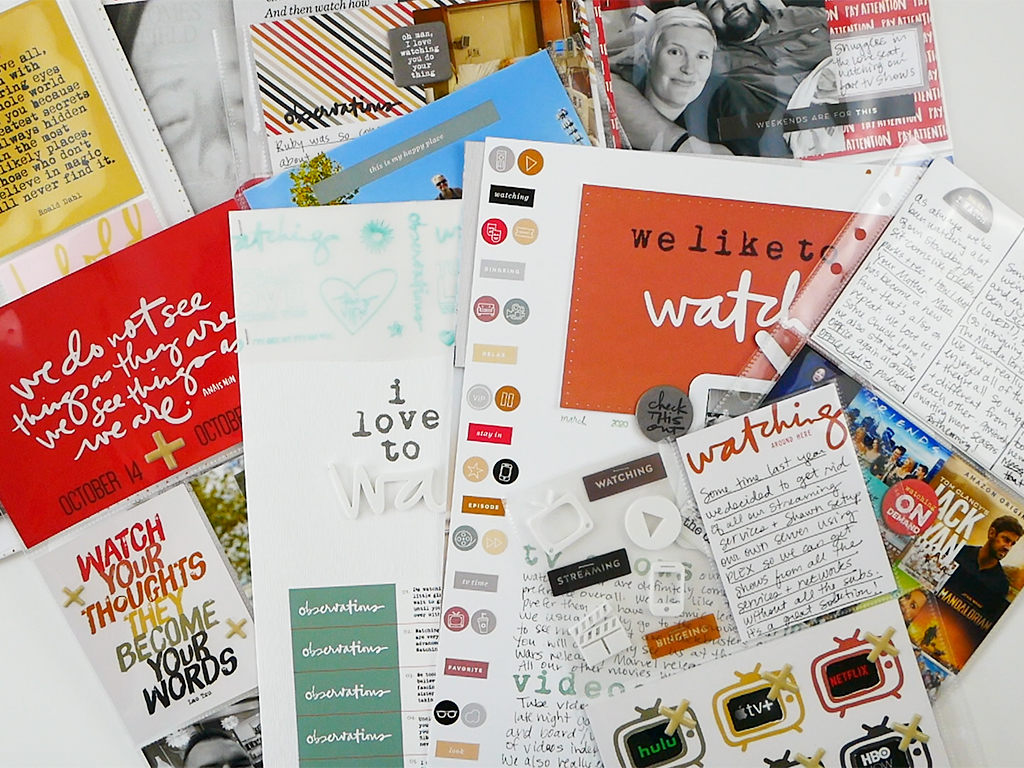 This time around I've been playing along with Tazhiana and Krystal as they have crushed the Watch Story Kit. I am happy to report that I completed 7 different projects using only the Watch Story Kit and have less than 5 components leftover. I would definitely call this a successful kit crush! Here's a look at each of the projects I made and at the bottom you will find a video walkthrough of all my projects.
The Projects | Watch Story Kit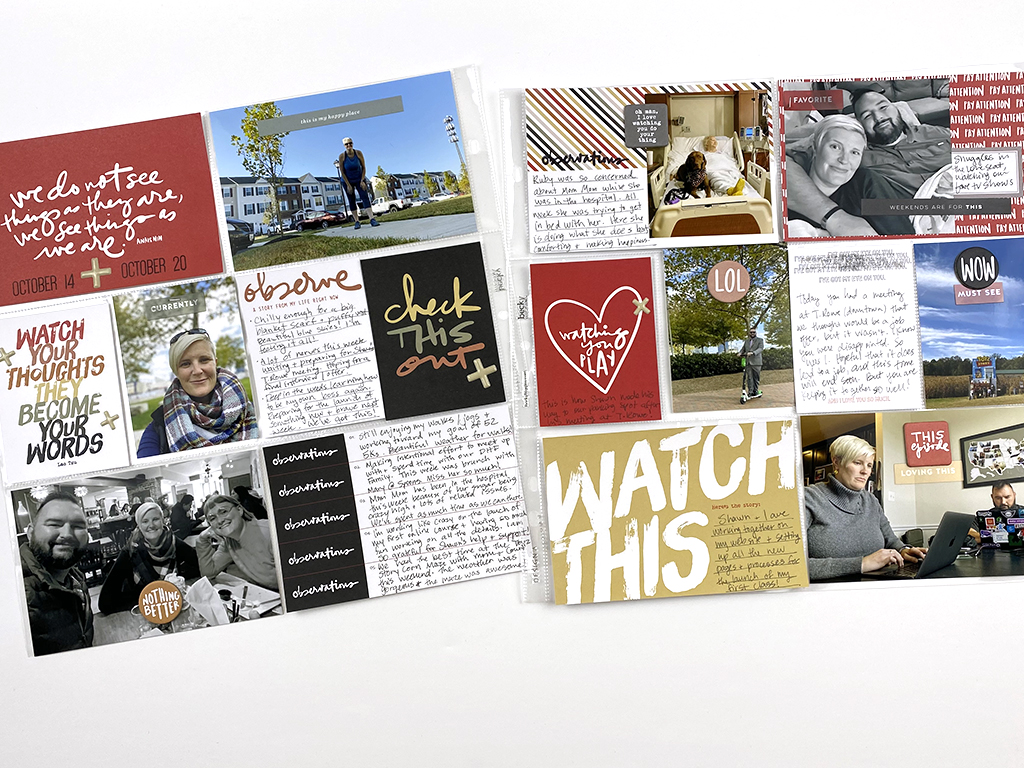 12″x12″ October 2019 Project Life® | A great way to use up a lot of your cards in a kit is with a 12″x12″ double page spread. I was able to use 10 cards from the kit on this single project and I love how easily everything coordinates together! All I had to do then was add my journaling, select my embellishments, and place everything in a layout that's pleasing to the eye.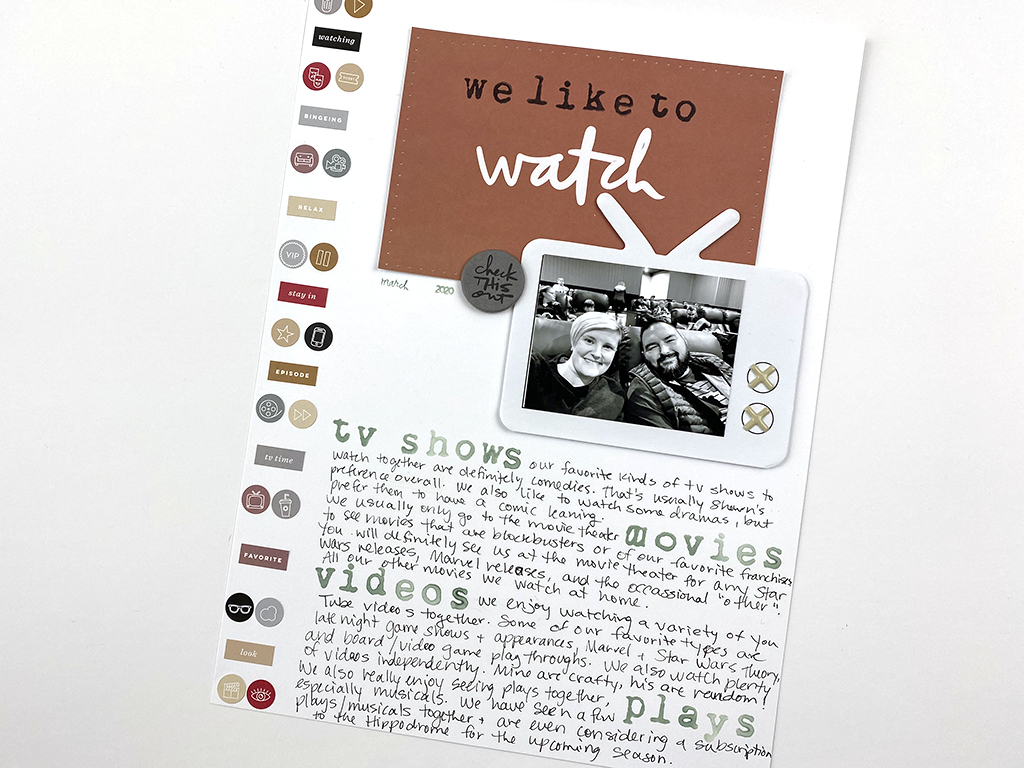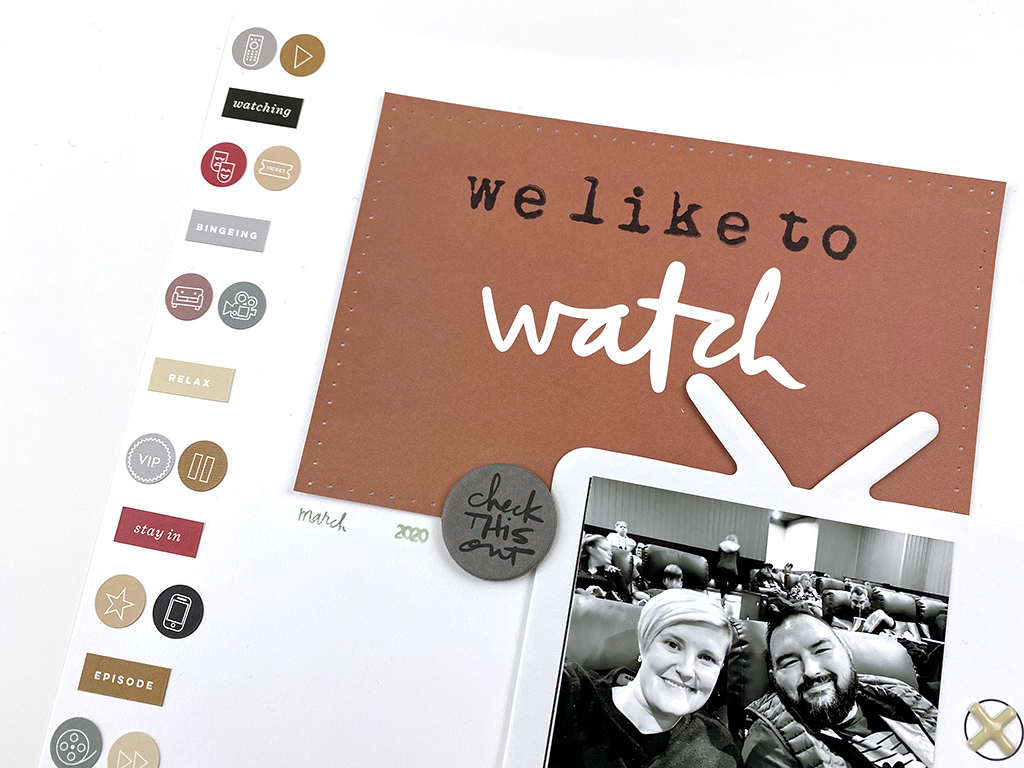 9″x12″ Story Album Page | For this project, I was inspired to make a border using almost all of the stickers included on the sticker sheet from the Watch Story Kit. If I hadn't used them all on one single project, it would have taken me forever to use them all up, so I just went for it! Then, I decided to use the 4″x6″ 'watch' card as my title by stamping "we like to…" on it. I added a photo of Shawn and I at the movie theater a few months ago onto one of the paper televisions included in the kit and then stamped out words of the kinds of things we like to watch "tv shows, movies, plays, videos". I hand-wrote my journaling for quickness and ease.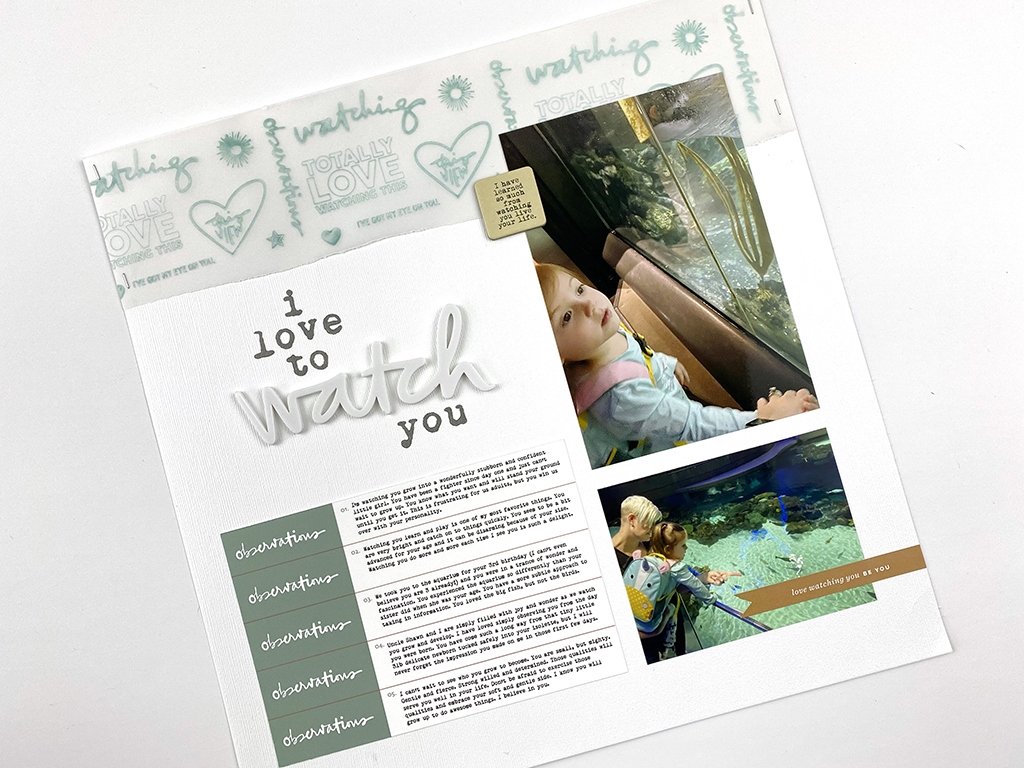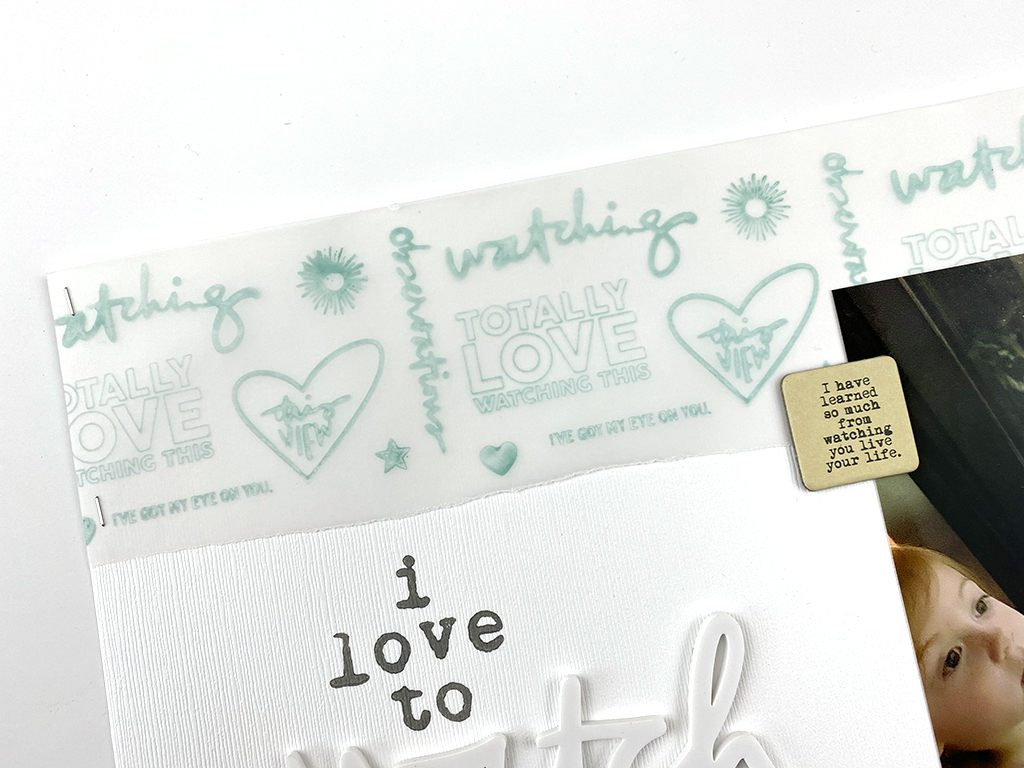 12″x12″ Story Album Page | For this project, I was able to incorporate the acrylic word "Watch" from the kit into my stamped title. This page is all about what I've learned from observing and watching my niece grow and learn. I altered the color of the "Observations" 4″x6″ card in Photoshop to better match my photos, added my journaling digitally and printed it out to add to my page. Then, using a large stamp block, I added a collage of stamps from the Watch Story Stamp and repeat stamped the whole block on vellum to add as a border along the top edge of my page.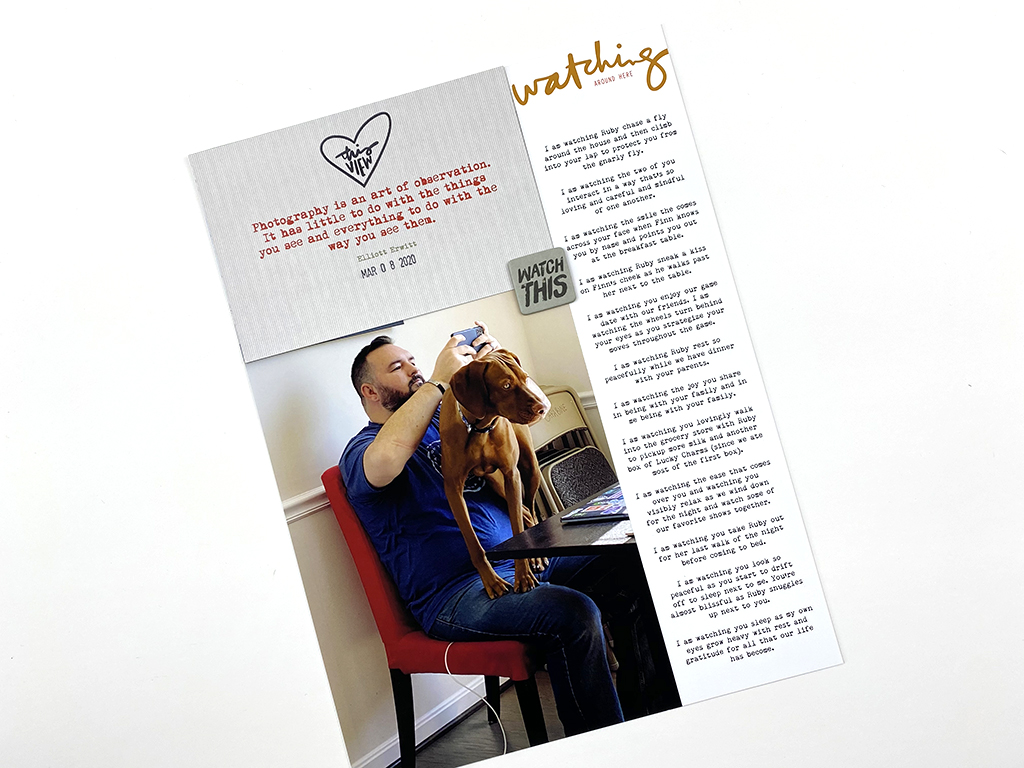 9″x12″ Story Album Page | The inspiration for this hybrid layout came from Ali in the Story Kit Subscription Classroom where she shared the idea to use "watching" as a story prompt. So I spent one full day watching my two loves – Ruby and Shawn – and jotting little notes about things I saw occur throughout the day. I brought the "watching" 3×4 card into Photoshop and changed the size to 3×12, added my journaling digitally, and printed it on photo paper to add to my layout. I printed a photo of the two of them from that day as a 6×8 and added a 4×6 quote card from the kit to the top portion of the page above my photo. On the quote card I also stamped "this view" from the Watch Story Stamp and the date. I finished this simple layout off with the "Watch This" chipboard from the Story Kit.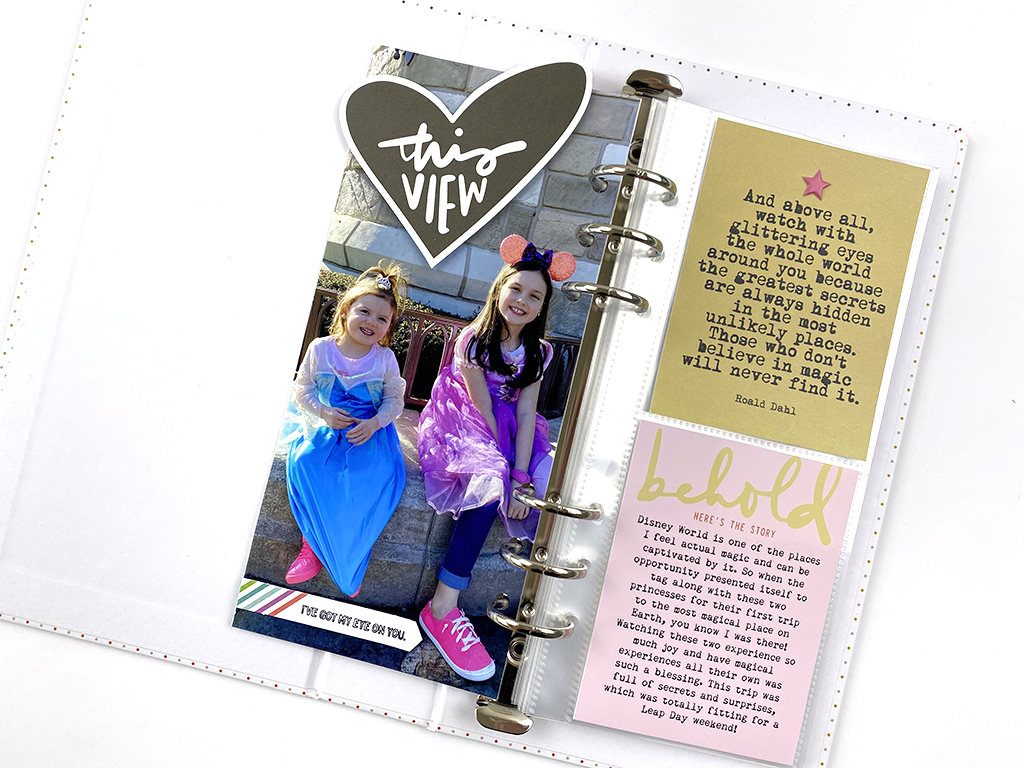 3″x8″ Disney World 2020 Album Page | I loved the 3×4 quote card that mentioned magic and secrets that was included in the kit. I knew I wanted to use this in my album documenting a trip I took at the beginning of March with my brother's family to Disney World for the first time. So I paired it with a full size photo of my nieces in their princess dresses, cut out the "love this view" from one of the 4×6 cards and used dimensional adhesive to add that on top my photo. Then, I opened the "behold" 3×4 journaling card in Photoshop, changed the background color to a light pink to match my photo and added my journaling digitally before printing on photo paper and adding to my pockets.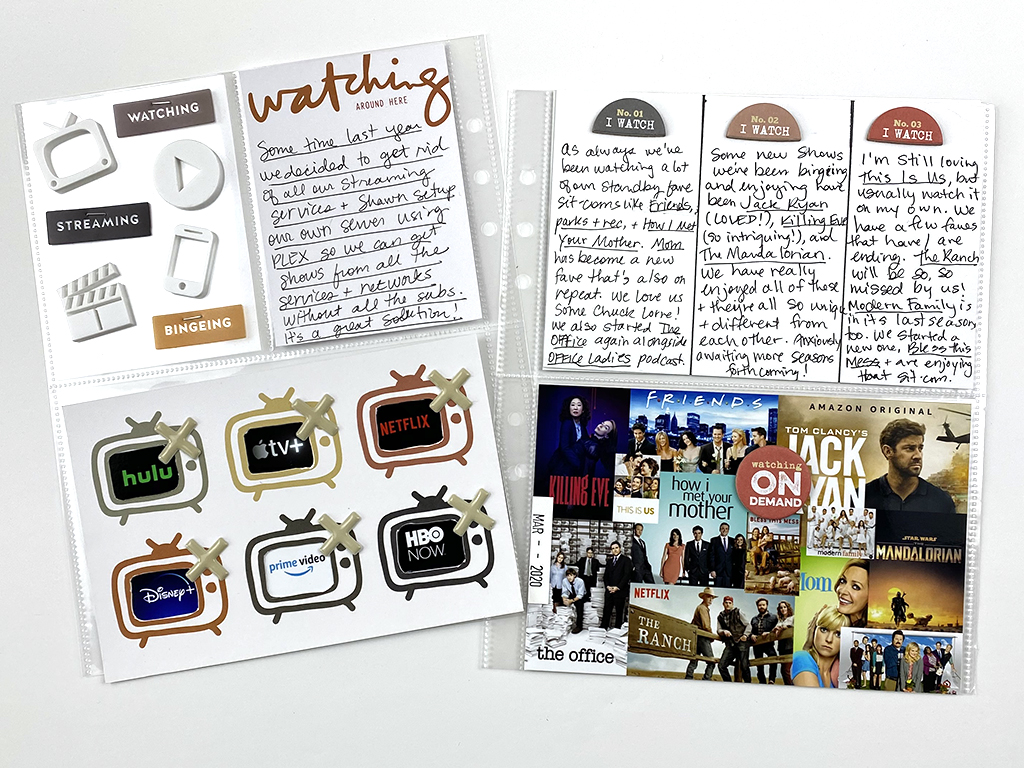 6″x8″ Story Album Page | My final project using the Watch Story Kit tells the stories of how we watch tv and what shows we are currently into. I used the acrylic media pieces and some of the acetate words from the kit and adhered them to a transparency to make a see through pocket. Then I used the paper television icon card and cut out the center of each one (with a craft blade) to line up with a separate card I printed with the logos of many of the popular streaming services available now. On the opposite page, I added some of the chipboard pieces to accentuate my journaling.
So there you have it! A detailed look at each of the projects I was able to create using the Watch Story Kit. I am so happy to have these stories told and in my albums! The video below includes some additional information about the projects and reviews the pieces I have leftover after all of these projects. If you have any questions, please let me know in the comments!