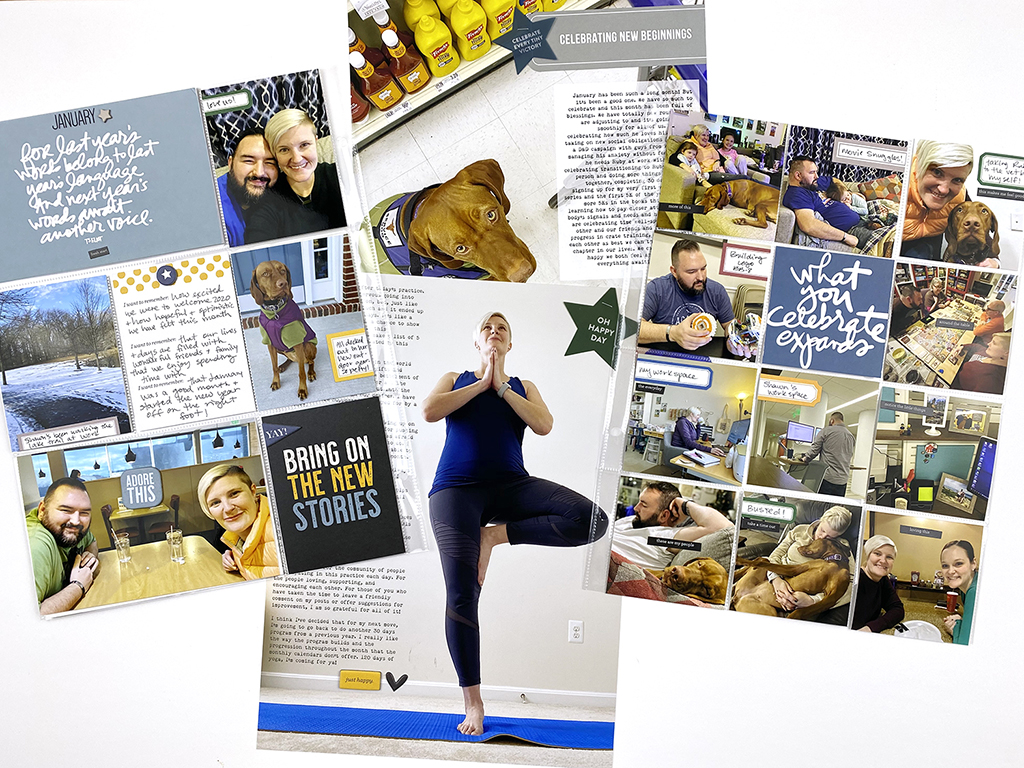 I am feeling excited about another year of Project Life® and even more excited for a fresh approach to this project! I've been doing Project Life® since 2013 in a weekly format, and I have loved it! It got me looking at my life in a totally new way and led me to a fond appreciation for the every day stuff of my life. This project has changed me.
And this year, I am excited to bring a change forth in my approach to this project. After so many years of weekly documenting, I have fallen behind and have more projects that I'm working on throughout each year now. This has meant that I can't keep up with the weekly format. So this year I decided to change to a monthly format. I talk more about this in my 2020 Memory Keeping Plans post from a few weeks ago. This change has been primarily inspired by Ali Edwards, but I've also just been feeling like a change was needed to help me keep up with this project.
Since the monthly format is new to me, I had to come up with a new workflow for organizing my photos. I setup a folder in Google Photos for January and a couple times throughout the month went into our photo library and added photos to the folder that I thought I might want to include or related to a specific story I might want to tell. Then, at the end of the month, I opened that folder and viewed my photos to find commonalities and stories from the month.
For January, I ended up with two spreads, or four pages, depending on how you view it. I worked fully in the 9×12 size for each of the pages this month and I am really, really happy with how it turned out. I started by working on the back of my title page, which dictated the size of each of my photos or elements I included to start of the month of January. The first page is a mix of 4×6 and 3×4 photos with a quote card, filler card, and journaling card all from the January 2020 Stories by the Month™ kit.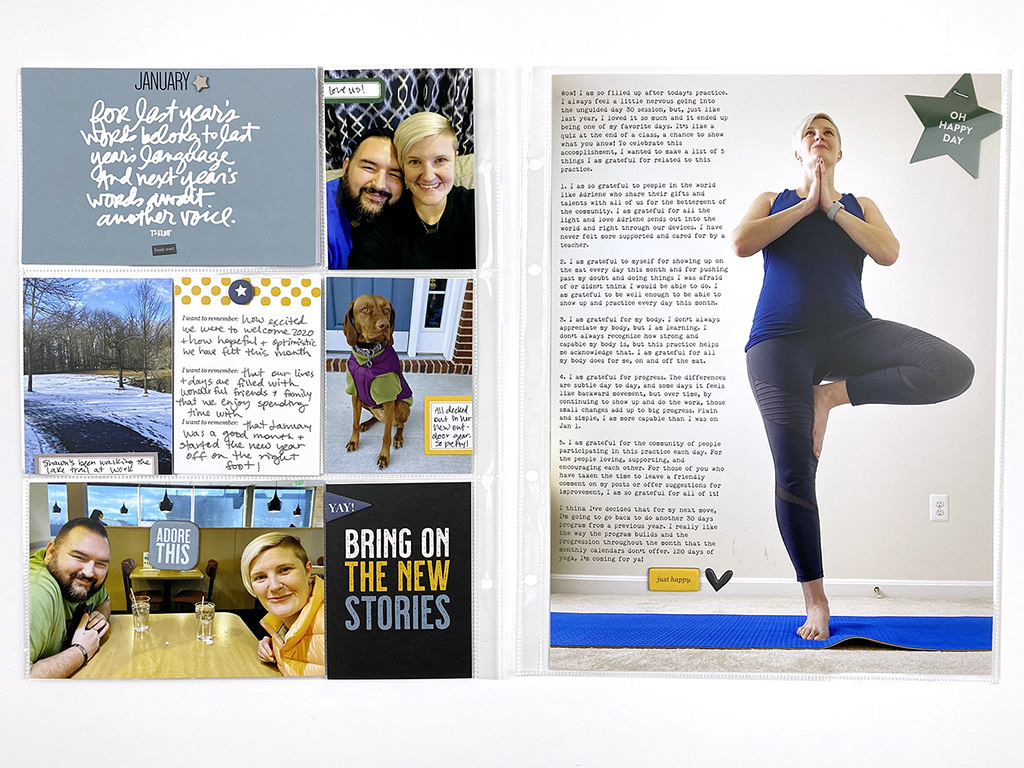 I came up with two bigger stories about my daily yoga practice and things we are celebrating. For each of these main stories, I added text digitally in Photoshop to a full-page 9×12 photo and printed them. For the other stories, which were generally about smaller things in the month, I used smaller photos to fill my pockets and edited and printed all my photos before sitting down to assemble.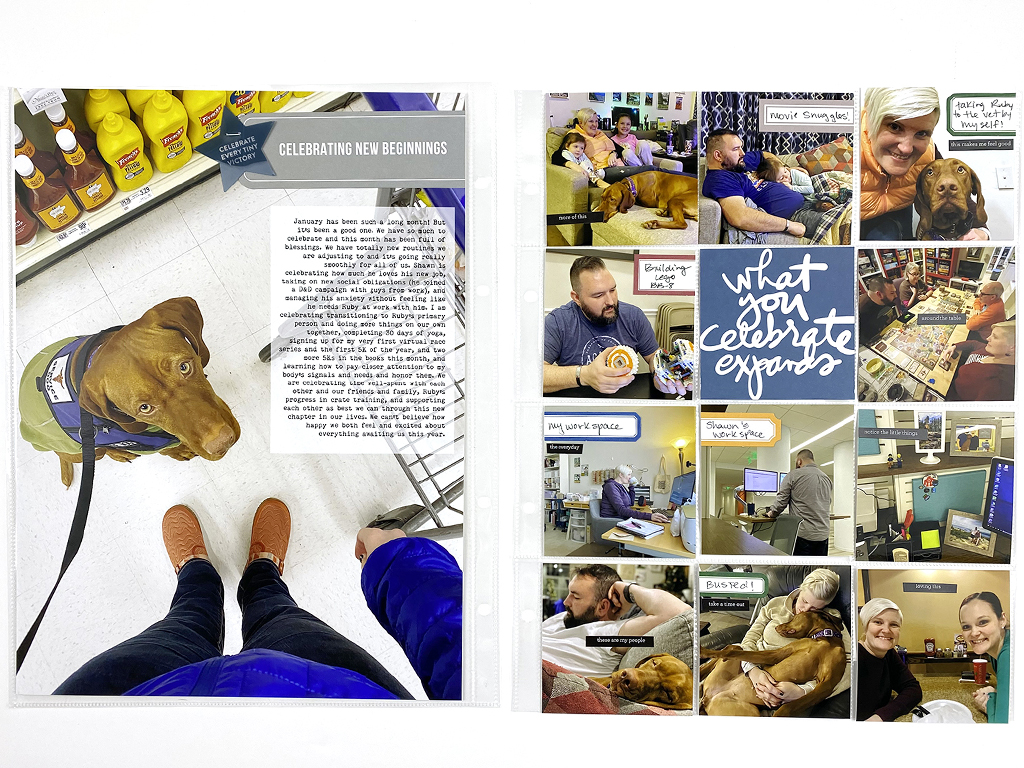 I loved the 4×6 card from the Celebrate Story Kit™ that says "what you celebrate expands" and used that as the centerpiece for my page full of 3×3 photos on the last page for the month. On top of my photos I added either a colored label die cut from Elle's Studio with a little more context for the photo, or a black and white word phrase sticker from the Stories by the Month™ kit.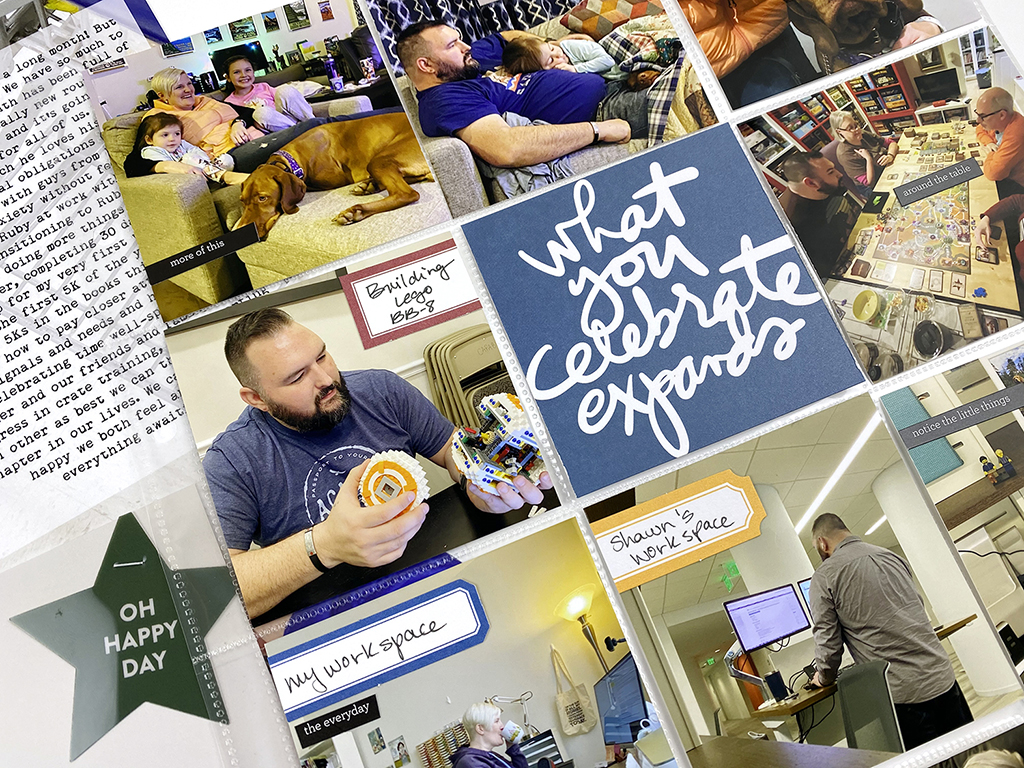 My plan for each month is to focus primarily on the Stories by the Month™ kits this year and supplement with other products from various kits or my stash. It worked out very well this month to limit my supplies to these two main kits and work with what was on my desk.
Here's a look at how it all came together in this month's process video (psst…this is my VERY FIRST process video!):
Thanks for checking out my first monthly Project Life® pages! Check back next month for February's pages!
Helpful Links