Last week I participated in a self-portrait challenge extended by Ali Edwards called Pieces of Us. The idea was that each day of the week, there was a different prompt to follow as a lens for taking self-portraits. The goal of this project is to get the community thinking about stories related to our bodies, increasing self-love and appreciation for various parts of bodies, and getting more of ourselves in the story. You can learn all about it over on Ali's blog.
---
Pieces of Us | 1/2 Face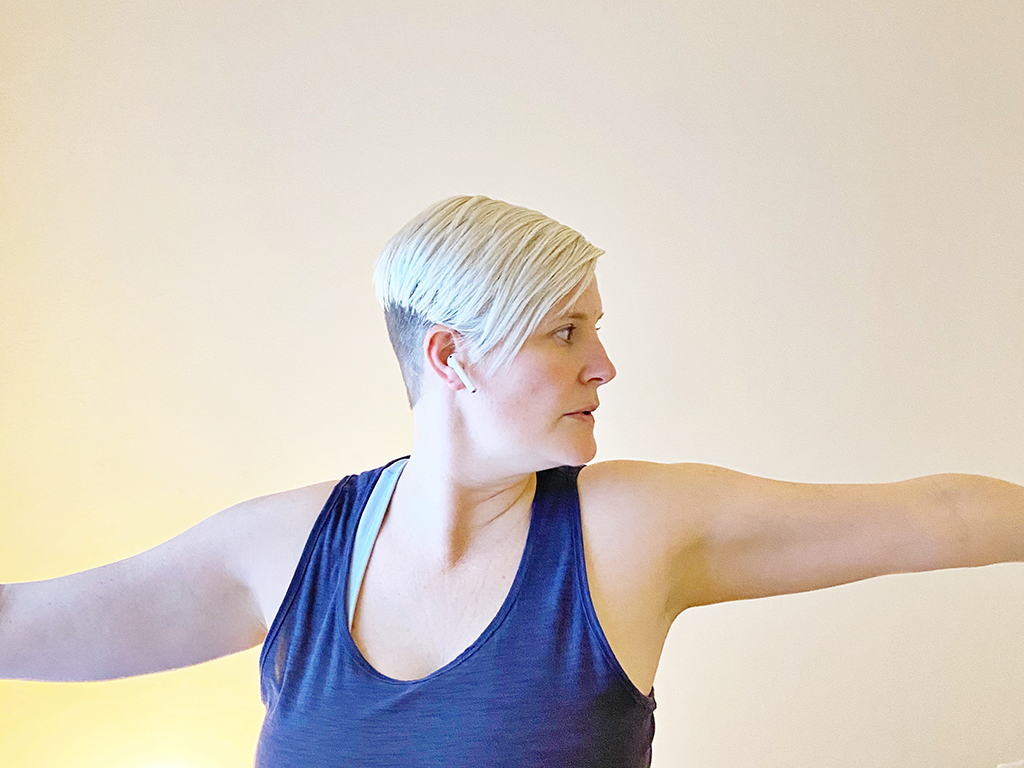 Hitting the ground running this morning on this busy busy day. Already thinking about the prompt of 'half face' and what that means to me and how it shows up in my life. As I was working through my yoga session first thing this morning, I was reminded of how the two sides of our bodies are different. Poses and moves that feel one way on my right side, often feel very different on my left side. The sensation is different, the ability is different, the flexibility is different, and the balance is always different. Sometimes what comes easily to one side of my body is very challenging for the opposite side. We don't use the sides of the body the same way. They have different functions in our day-to-day life and carry out different tasks. We live life each day embodying two different sides to ourselves. These sides show up in so many ways. The positive side, the negative side. The happy side, the sad side. The energetic side, the restful side. The brave side, the fearful side. These endless, seeming dichotomies coming together to form one self. One body. One mind. One heart. On this journey of life I'm learning to love, appreciate, and express both sides of myself confidently and continuously.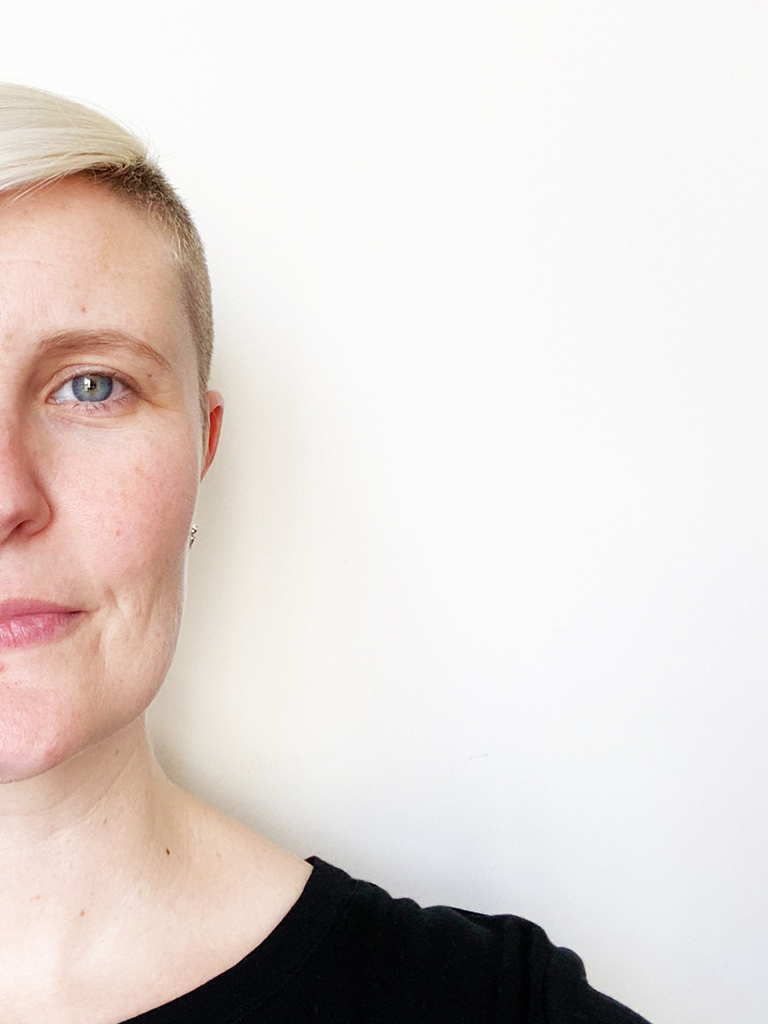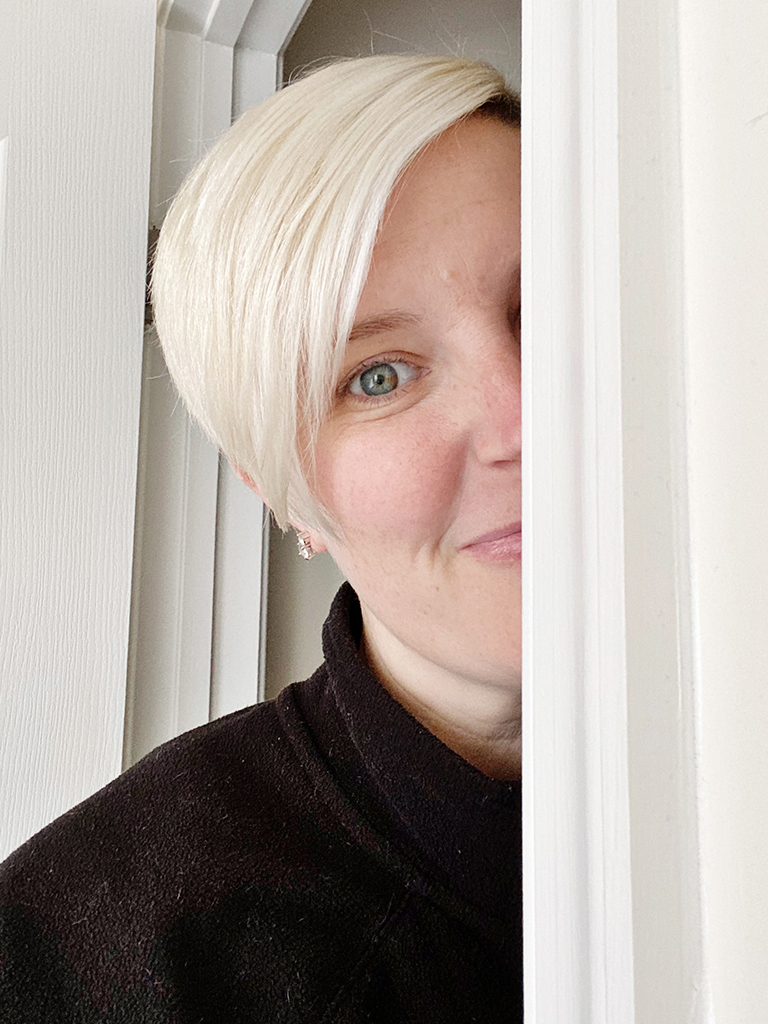 I don't particularly think that I have a "good" or "bad" side of my face. I love the contrast between the side of my face with longer hair and the side of my face with a shaved head. It feels spunky and edgy and like the perfect hairstyle for where I am currently in my life. I don't notice many other differences between the two sides of my face, except in my eyes. My eyes have always been this intensely icy blue, but my right eye features a brown spot not present in my left. It's my birthmark. It's a brown line that shoots right through the cool blue iris that's barely noticeable unless you look closely. I've always loved this part of myself. It's a truly unique physical characteristic that I've never known anyone else to possess. I think my eyes are my best feature and I think this marking just makes them even better.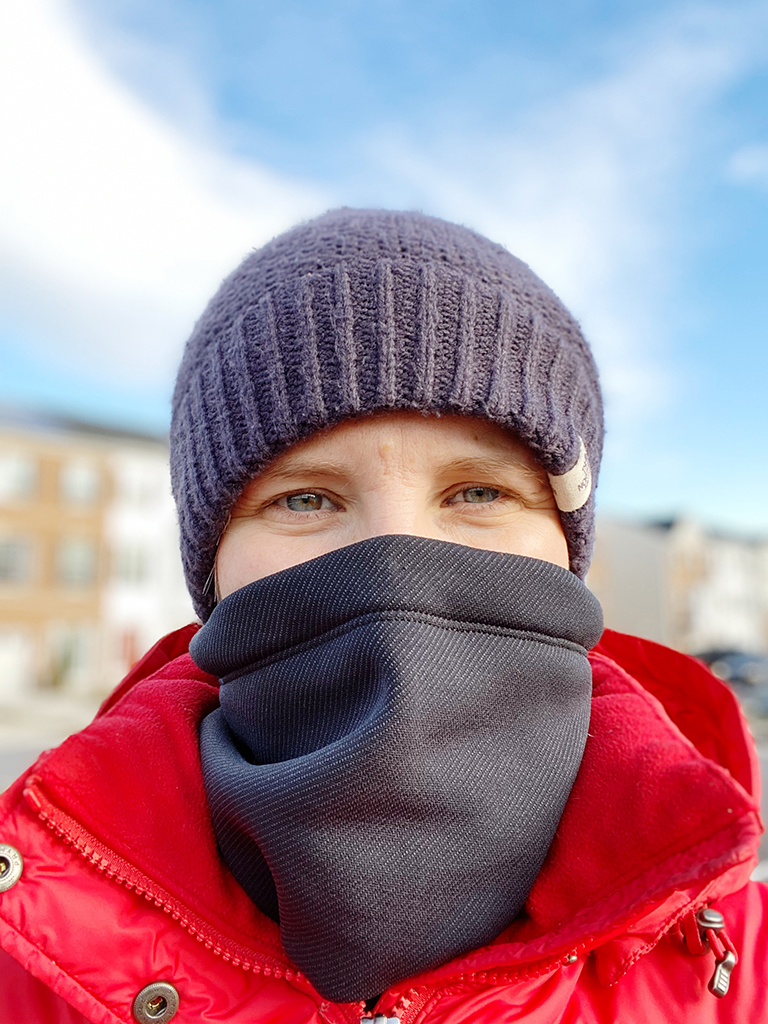 I guess, technically, this is only 1/3 of my face, but it's how I spend much of the winter. Over the last two years I have grown increasingly fond of cold winter walks. But this love affair depends on having the right gear. For me, that gear consists of a few key pieces. Headwear options, depending on the weather and outdoor activity. One hat that's a little thinner and perfect for most days when I'm walking, one hat that's thicker and warmer for the truly cold or windy days, and a wool headband for when it's just cold enough that I need to cover my ears or when I'm running. A gaiter for keeping my nose and neck covered, which is especially necessary on windy days and made such a huge difference in my comfort level when Shawn got it for me for Christmas last year. Gloves, another staple for winter weather because my hands are always cold anyway. But this has been a bit trickier for me since I also need something I can use with my phone. I've recently found a good pair without too much bulk that work great with my phone, but they don't keep my hands quite as warm as I'd like. I use these mostly for running. Warm coats. I have two; a nice long, warm, down filled coat from Land's End that is many years old, and a new Patagonia down filled, slim, short coat that is perfect for days when I want to run or that are slightly warmer. If you had told me a few years ago that I would be as active as I am, or that I would actually enjoy outdoor activity in the coldest months of the year, I would have laughed so loud and so hard I probably would have peed my pants. There is no way I could have predicted that this would be the path I found to bring myself joy and love for my body, but I am so grateful to have stumbled upon it!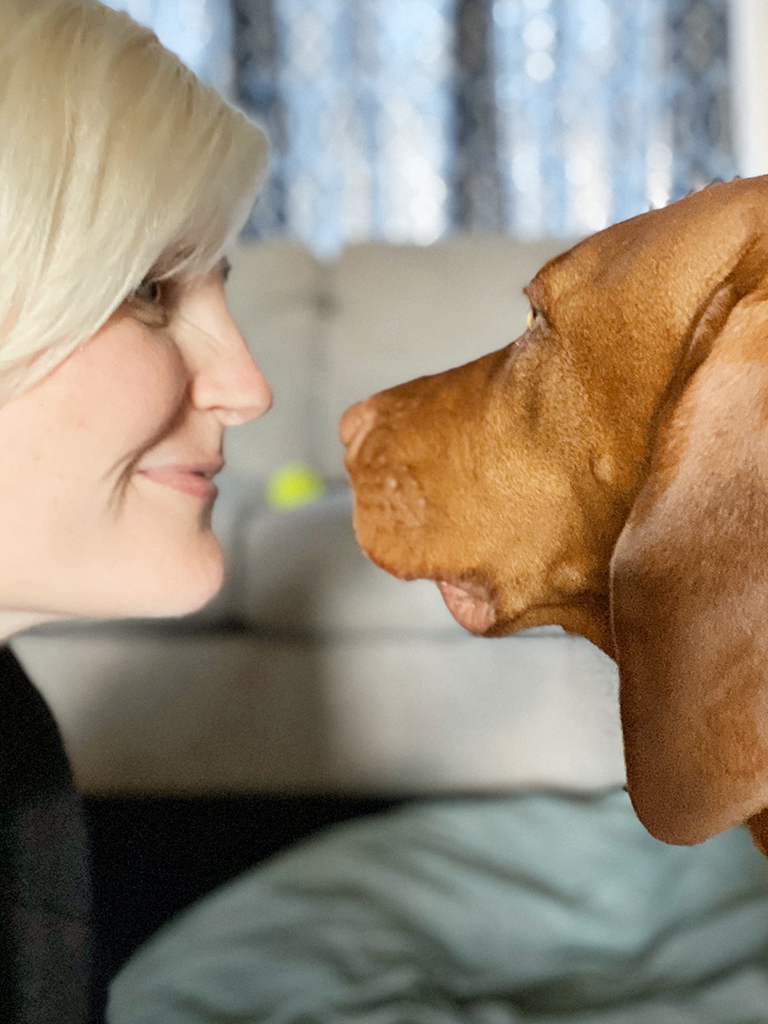 I have never loved or bonded with a dog like I have with Ruby. She brings me so much joy and delight. I have been blessed to know some great dogs throughout my adult life (we didn't have furry pets growing up) but none as special as this girl. She seems to have a human soul and really is happiest being with her people. She loves the outdoors, and has made us both love the outdoors more. She has made me more adventurous. She knows what I am thinking and feeling sometimes before I know myself. She is simply magical and has made our lives a lot more magical. There are not enough words to express the gratitude I have for this girl entering our lives. I feel so blessed to have this intense one-on-one time with her at this current phase of our lives and our bond has really strengthened as a result. I love this girl with all my heart because she completes us.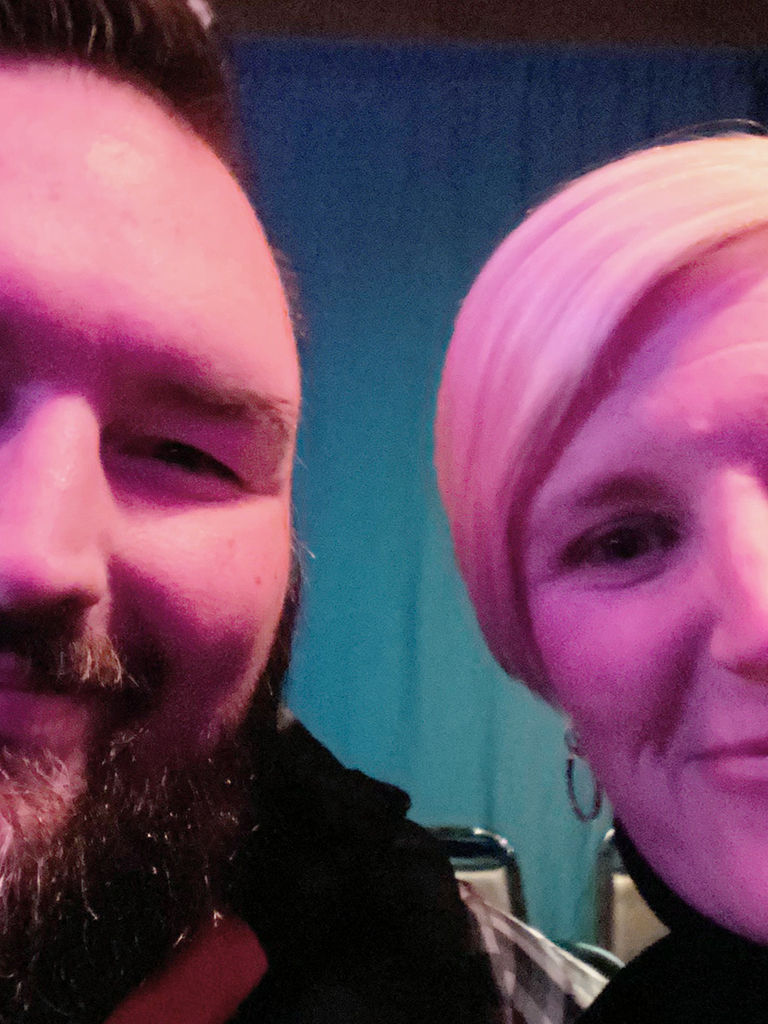 A Date with John Waters with my Valentine! A perfect way for us to celebrate this "holiday" with a healthy does of filth and a heaping portion of political incorrectness. Our early days were spent bonding over John Waters. I grew up watching Hairspray and Cry Baby with my mom, and Shawn was new to the John Waters catalog. We have so much in common, growing up in near proximity to one another in the neighborhoods of Baltimore, an appreciation for all things Baltimore, and a great sense of hometown pride, it was natural for us to fall deep into the rabbit hole of the John Waters universe. We watched so many of his movies together in those early days, before we were a couple, when we were just helping each other make it through each day. Working through grief and loss together, when every day felt like moving through waist high mud to get to the next, hoping that we were doing the right thing and growing in the right direction. John Waters' specific breed of humor and treatment of the obscure was often a respite from the craziness of our own circumstances, and always, always much worse than what we were facing. In more recent years, we've really enjoyed listening to John's audiobooks together on long trips. "Role Models" was a fascinating look into his personal life and the people he admires, what a strange, but wonderful cast of characters. "Carsick", which chronicles John's hitchhiking trip across the country was riveting as he begins by writing out his imaginary worst case scenario (grotesque and disturbing) and his best case scenario (insanely funny). Eventually he gets to sharing the actual real-life details of what happened on his trip and the characters he met along the way. We really enjoyed tonight's show. I laughed so much and just enjoyed how down to earth the "Pope of Trash" really is.