This week I am participating in a self-portrait challenge extended by Ali Edwards called Pieces of Us. The idea is that each day of this week, there is a different prompt to follow as a lens for taking self-portraits. The goal of this project is to get the community thinking about stories related to our bodies, increasing self-love and appreciation for various parts of bodies, and getting more of ourselves in the story. You can learn all about it over on Ali's blog.
---
Day Two of the Pieces of Us self-portrait project has us focusing on Hands. These first two days have been a lot of fun because I don't normally pay much attention to these parts of my body, let alone look for stories to tell about them. I am grateful for this challenge and the prompting to look for stories about myself that I otherwise may not have told.
Pieces of Us | Hands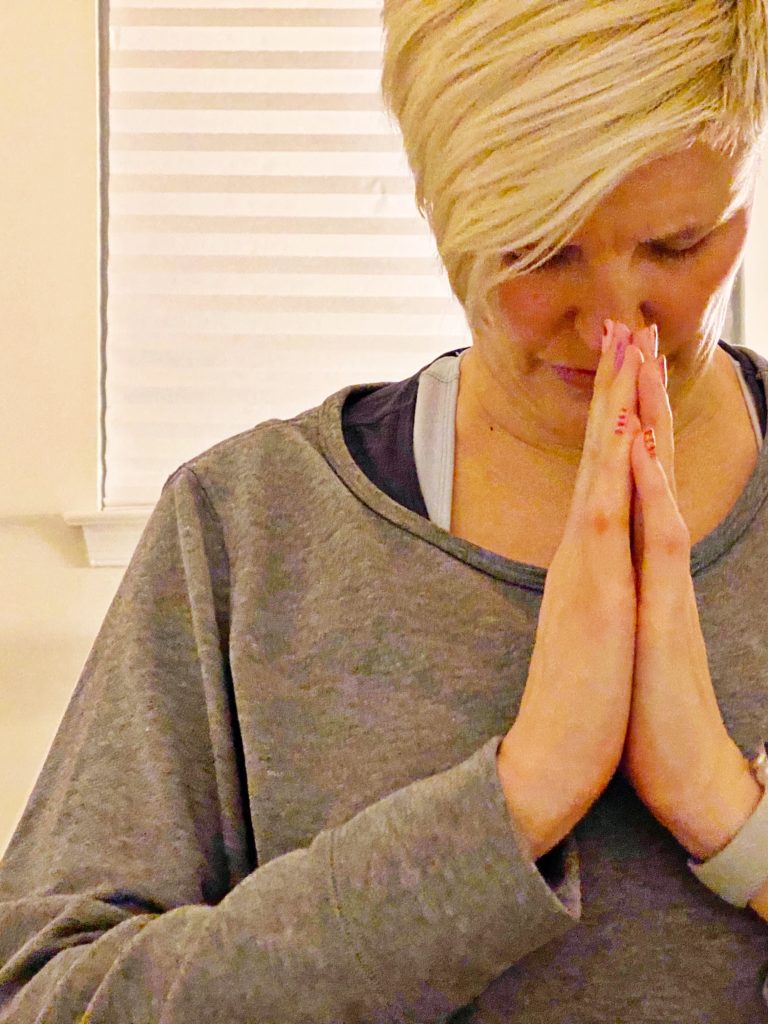 I'm not a prayer person, nor am I religious, but these days I often find myself with my hands in a prayer position with my head in a reverent bow. This is how I end my yoga sessions and I very much enjoy the feeling of my hands pressing into one another and pressing into my heart space as I give thanks for showing up for myself and whatever it is the practice offered me on that particular day. My hands have gotten so much stronger through this practice, able to now carry more of my weight and stretch a little further to better support my body that is also growing stronger and more flexible. I am so grateful for all that yoga has brought into my life, but I really enjoy the focus on hands because they are the unsung heroes of so many of our daily work often overlooked despite all they allow us to do.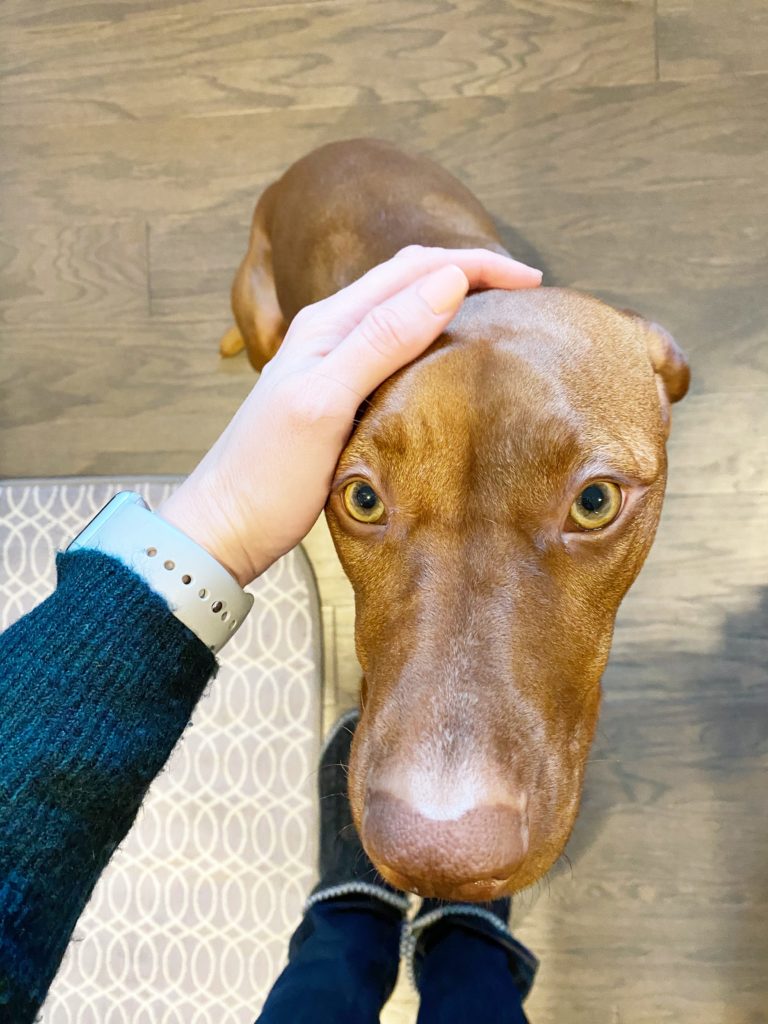 These hands are for early morning head rubs and ear scratches whenever a certain four-legged friend and I encounter each other as we move through our routine. Ruby has the softest fur I've ever felt on a dog and I enjoy petting her as much as she enjoys being pet. It is with these hands that I show affection to Ruby. Whether it's care taking, holding onto the leash when we walk together, belly rubbing, head patting, treat dispensing, or butt scratching, my hands allow me to express my love to her and guide her safely through the world.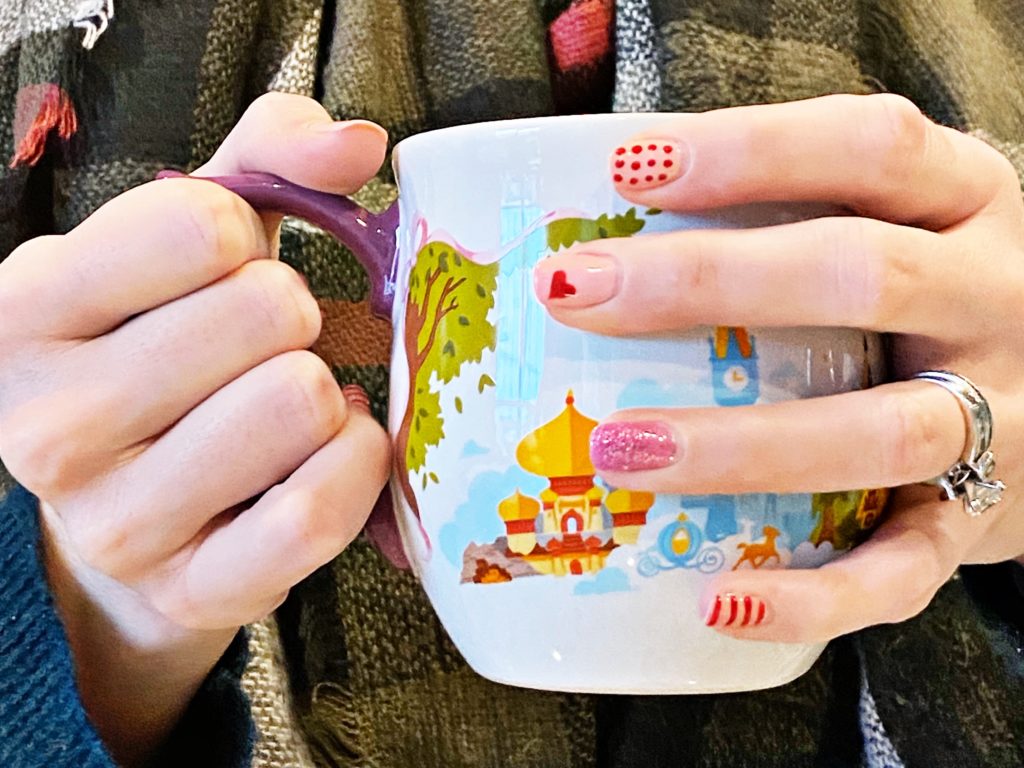 My body temperature tends toward the always cold end of the spectrum and there's nothing I enjoy more each morning than wrapping these icicles I have for fingers around a warm mug of tea. There is something meditative about holding onto a warm mug and pondering my day. Today's mug is my current fave, one that I bought as a souvenir in Disneyland last year. It brings me a lot of joy, in addition to warming up my cold hands.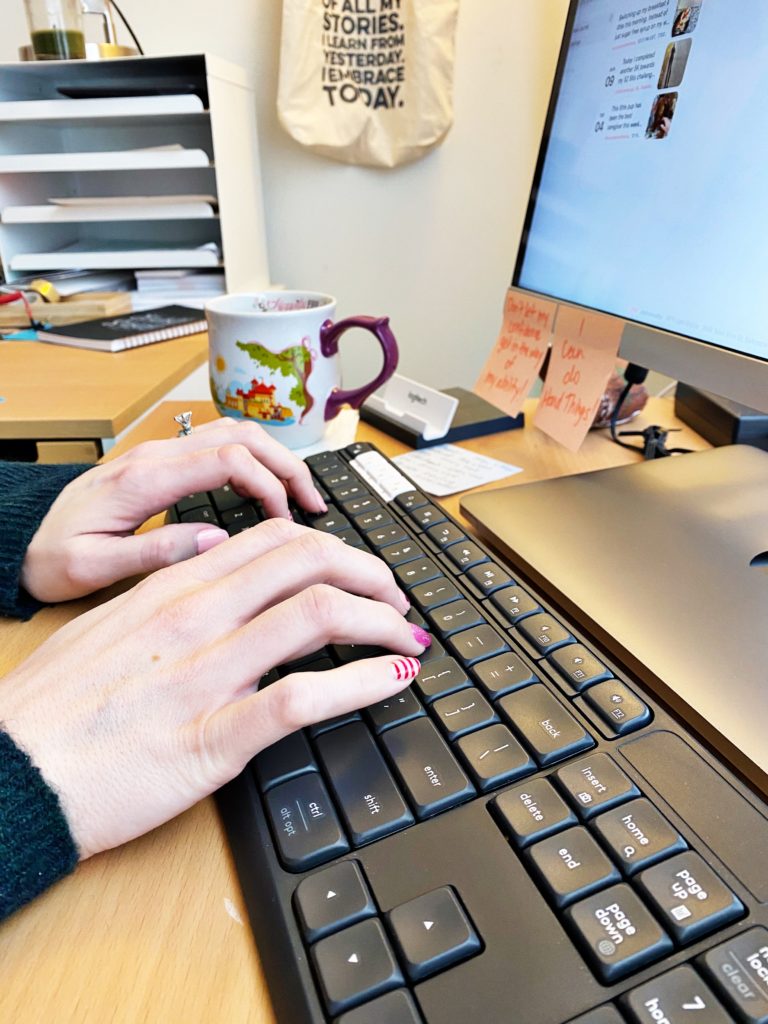 I was thinking this morning about the crucial role my hands play in communicating my thoughts and ideas with the world. Typing out documents on my keyboard for a contracting job I'm currently working on. Sharing my memory keeping projects through a blog post I typed on my laptop. Giving my thumbs a workout by texting with Shawn about how his day is going from my phone. Sending my bestie a yoga video I think she would like with a few taps from my iPad. Writing notes and ideas in my planner for upcoming projects and future courses. Typing out my grocery list each week on my phone and tapping to check things off as I go. Speedily typing out an Instagram caption on my phone's small keyboard to share my ideas with hundreds of people. Dusting off my sign language skills from high school to communicate discreetly with Shawn. The neurological connection between my brain and my hands is one that I ought not take for granted because these hands and this connection have allowed me to create a life I love, build and maintain important relationships, and express myself with ease and without giving it very much thought. I am immensely grateful for all that my hands do to help me communicate.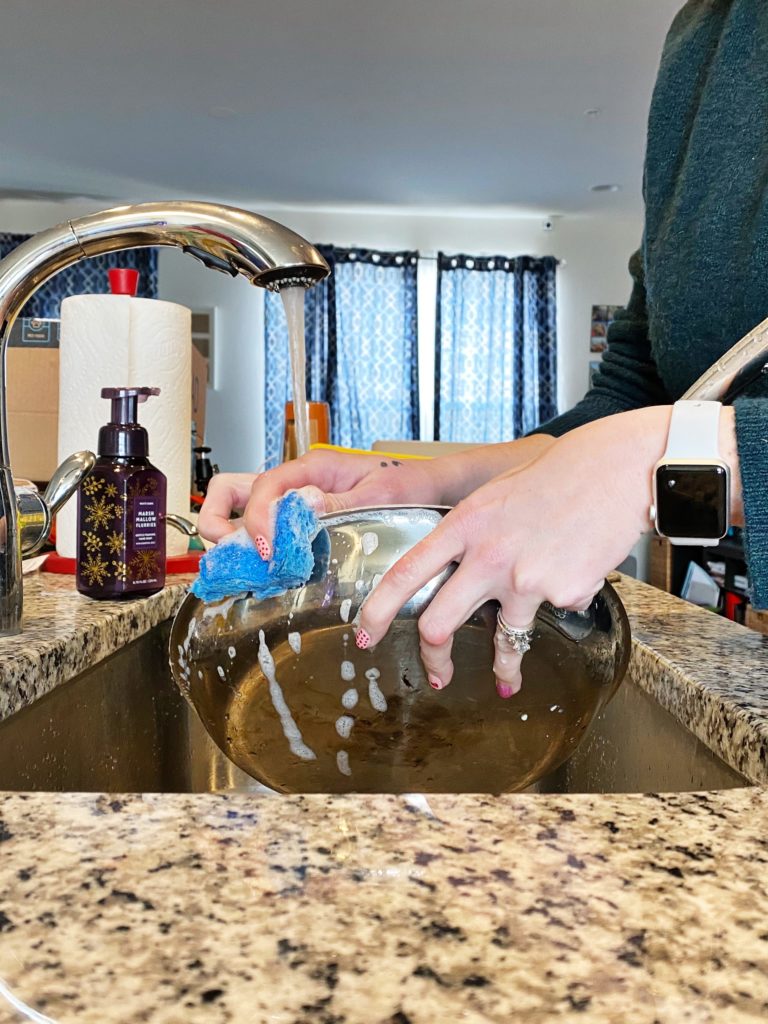 My hands spend a lot of time in this sink these days. I always prefer a clean, cleared out sink. We have a dishwasher so dishes don't need to pile up in the sink. But for many years, we were both always so busy that dishes and a cleared out sink weren't always a priority and didn't always get accomplished. However, now that I am home all the time, I can wash the dishes, load the dishwasher, or clean the sink as often as I like! I like to clean my dishes after each meal or at least load them into the dishwasher, and then run the dishwasher usually every 2-3 nights (with only two of us it takes a while to fill up). Growing up, we didn't have a dishwasher so it was a constant chore for me as I was the oldest. My hands have been washing dishes for as far back as I can actually remember. It's hard for me to remember a time when I didn't have this chore. I wash dishes and put away dishes and unload the dishwasher when I am stressed. At family dinners, I will usually offer to wash the dishes instead of cook a dish. There's something soothing to me about cleaning up a mess.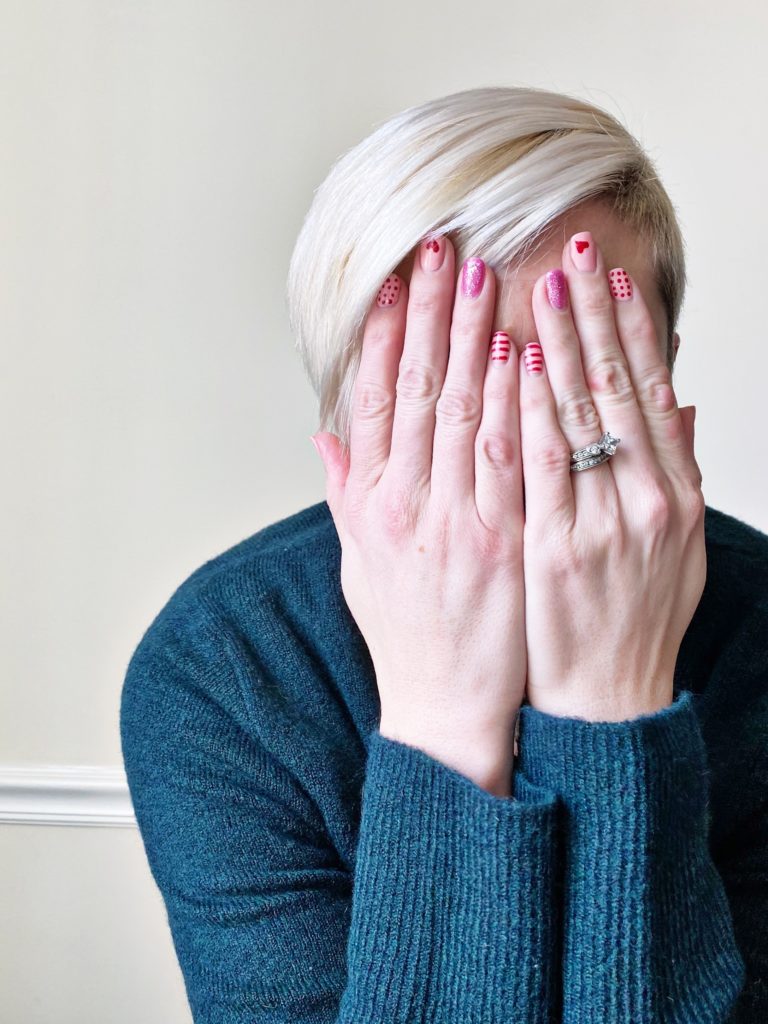 These are my hands. Nearly 40 years old. They're in the best shape they've ever been. I am exclusively right-handed. As a kid, I had warts that needed to be frozen off. It was painful and embarrassing. When I was in fifth grade, I broke my right pinky at the ice skating rink and got to miss a few days of school because I couldn't write with the splint on. As a teenager I cracked my knuckles and was constantly told by my mother that I would have ugly, giant knuckles when I was older. I also started nail biting and skin biting when I was a teen as a manifestation of my anxiety. I have never had "nice nails". They've been either really short from biting, dry, or peeling for most of my life. Recently, I decided that I'd like to start getting gel manicures a couple times a month. I am having fun choosing colors and designs to have painted on and it's a luxury to be pampered in this way every other week. Since I started, I'm no longer biting my nails and the manicures make me really happy (Shawn, too). My left hand has been home to two different engagement rings and wedding bands. My right hand is marked by a semi-colon tattoo as a constant visual reminder that life is precious and hard and short, but always worth continuing on for as long as you have the choice. Shawn has the same one in the same place and we got them together one day during our lunch break at work. My hands are usually busy and I am so grateful for all they do for me and in service of those I love.