This week I am participating in a self-portrait challenge extended by Ali Edwards called Pieces of Us. The idea is that each day of this week, there is a different prompt to follow as a lens for taking self-portraits. The goal of this project is to get the community thinking about stories related to our bodies, increasing self-love and appreciation for various parts of bodies, and getting more of ourselves in the story. You can learn all about it over on Ali's blog.
I wasn't exactly sure how I was going to approach this project – whether I would take one photo or many, whether I would include words or not, how many words I would write, the format of the stories I would tell. I spent some time when I woke up this morning looking through the hashtag (#aepiecesofus) on Instagram and what folks were sharing in the Facebook group to gain a little inspiration. Ultimately, I decided on taking multiple photos each day, each that tells a brief story through a few accompanying sentences; sort of Day in the Life style. I kept that journaling on my phone using the Day One app so that I could add to it throughout the day from either my phone or computer. Here's what I came up with for day one.
Pieces of Us | Feet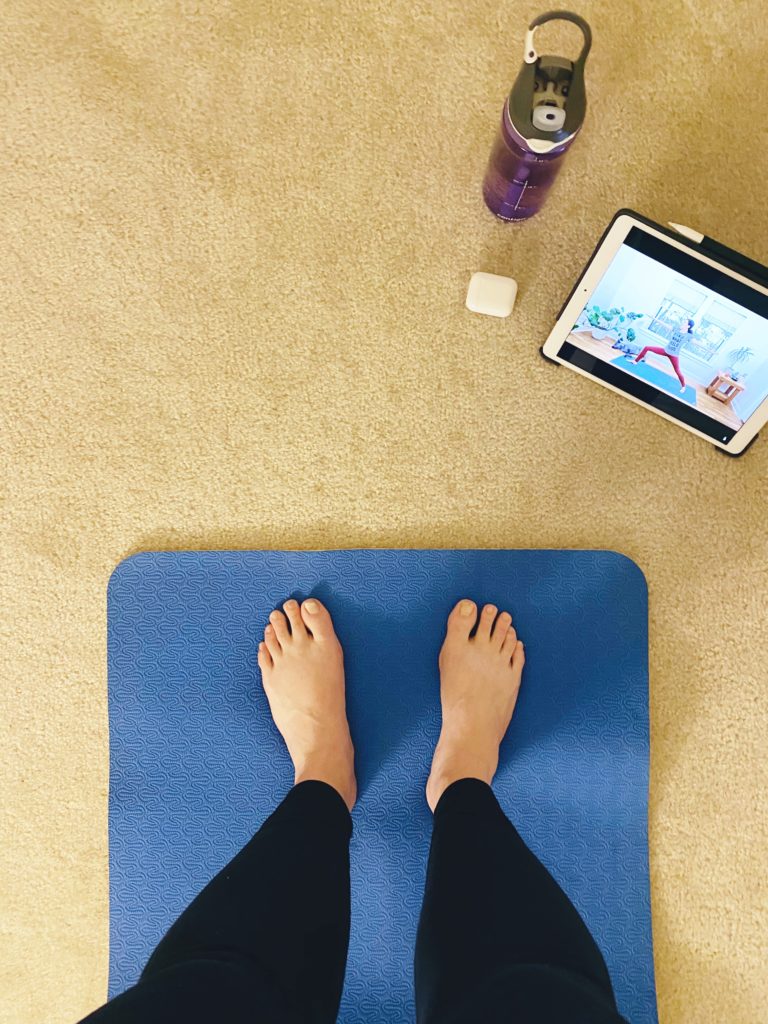 My feet are currently sore from my 10K walk this past weekend. My toes are tender and my feet need a little rest. But nearly every morning since January 1st I have made it on this mat where my feet have grown stronger, more flexible, and are working to provide me a balanced and firm foundation throughout my days. It feels so good to flex and stretch my feet in poses like a Toe Stand and raise them in the air with the soles shining toward the sun in other poses like Happy Baby.
I am currently paying a lot of attention to my feet because I have a toenail fungus that I am treating. Every morning I have to apply a clear medicated nail polish to the affected toes and their neighbors and on Thursdays I use alcohol to remove the previous 6 days of polish and trim when needed. I am seeing progress, but it is slow going. The doctor said it could take 6-12 months to clear up and I started in November. This is the longest I've gone without having my toenails painted in my whole adult life. It may be giving me a new appreciation for bare nails.
Mostly my days are spent wearing these super comfy and warm MukLuks slipper booties I bought myself back in December when I started spending my days mostly indoors. They have a squishy foam footbed and keep my toes cozy and warm throughout the day, which is generally a challenge for the rest of my body. I like to hear them scuff across the floor when I walk from room to room, it reminds me of wearing Grandmom's slippers when I was a kid and would sleep over.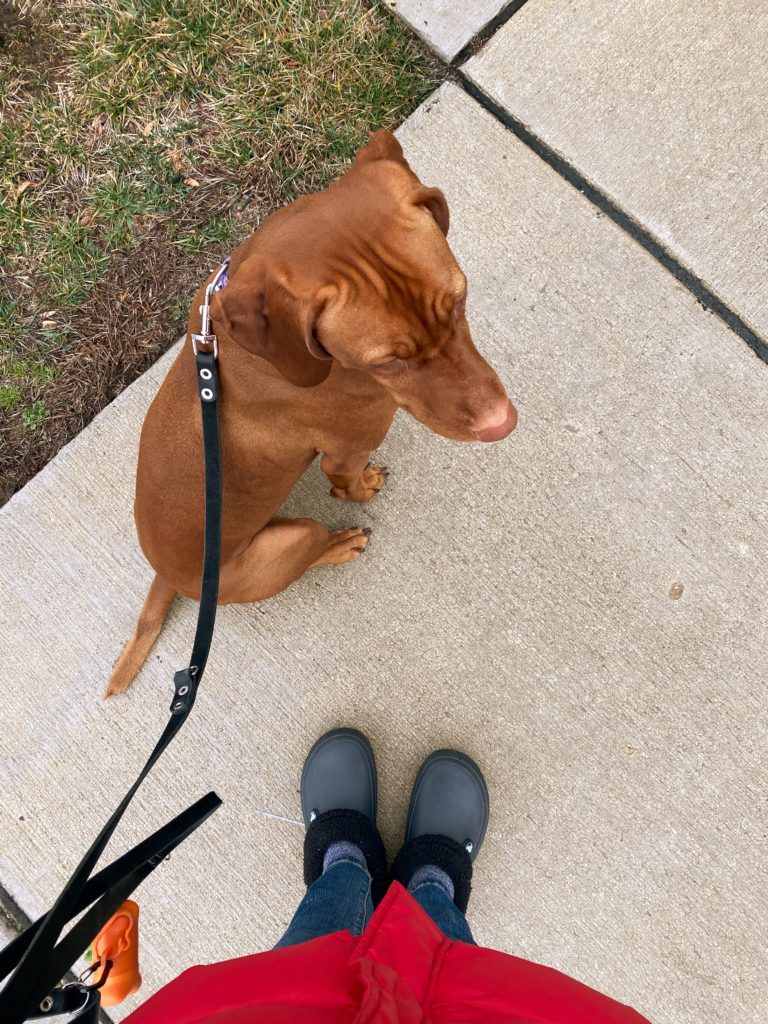 These days my feet aren't taking me very far. Around the neighborhood, to the field, from the car to the pool, and maybe around the grocery store during the week. On the weekends, they get a little more mileage since I'm currently doing the Leap Year Dare race series which is made up of a 2k, 4k, 6k, 8k, and a 10k. I'm also still working on my 52 5k challenge. On the weekends is also usually when we are out and about running errands or visiting people. This is big change and I find myself thinking about my footwear a LOT less than I did when I worked outside the house. I no longer have to consider what the weather is going to be like, or what meetings or events I have, or what shoes will be the most appropriate and comfortable to get me through all I have to do in a day. It's a very welcome change of pace and freeing up of some brain space.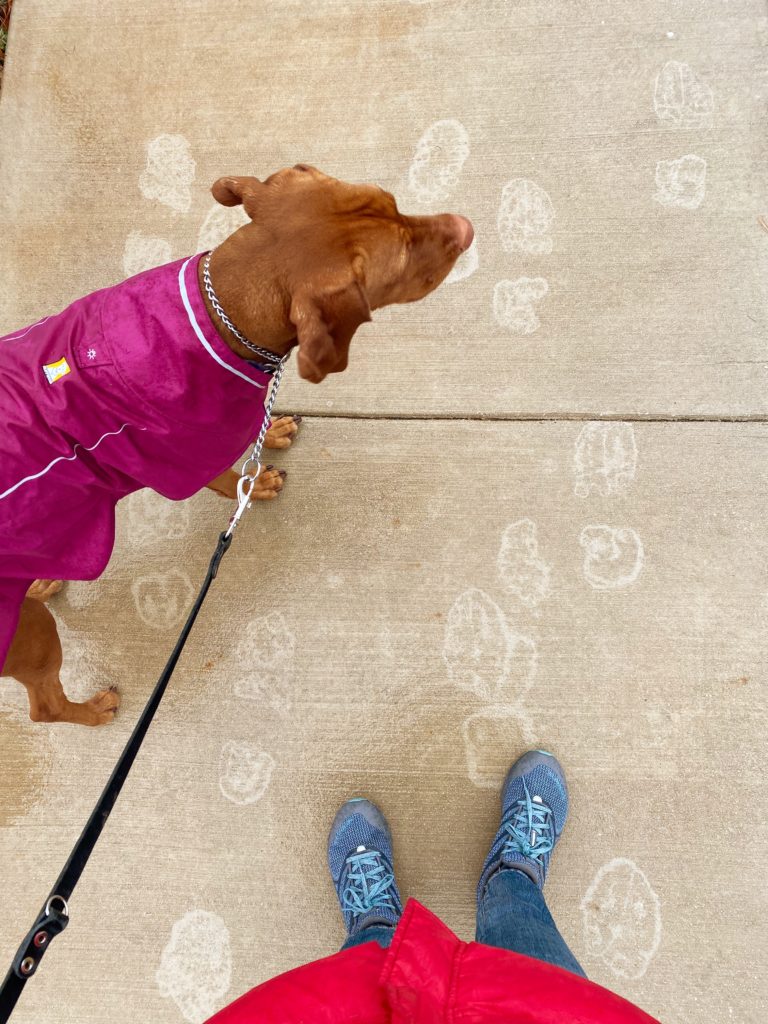 Taking a mid-day walk in the rain together because we both need to get our blood flowing a little. Ruby was hesitant to join me once she saw me pull out her rain jacket. She's not a fan of the rain and we have had a lot of rain lately. I'm not a fan either, but I find myself minding the rain far less now that I don't really have to go out in it save for a potty walk here and there. I may be accepting that our winters are becoming more wet as each year passes and far, far less white. If I am going to resist getting out to move because it's raining, I am going to have some really long winters. It's better if I just accept it, get some better weather gear, and try to find some joy in it.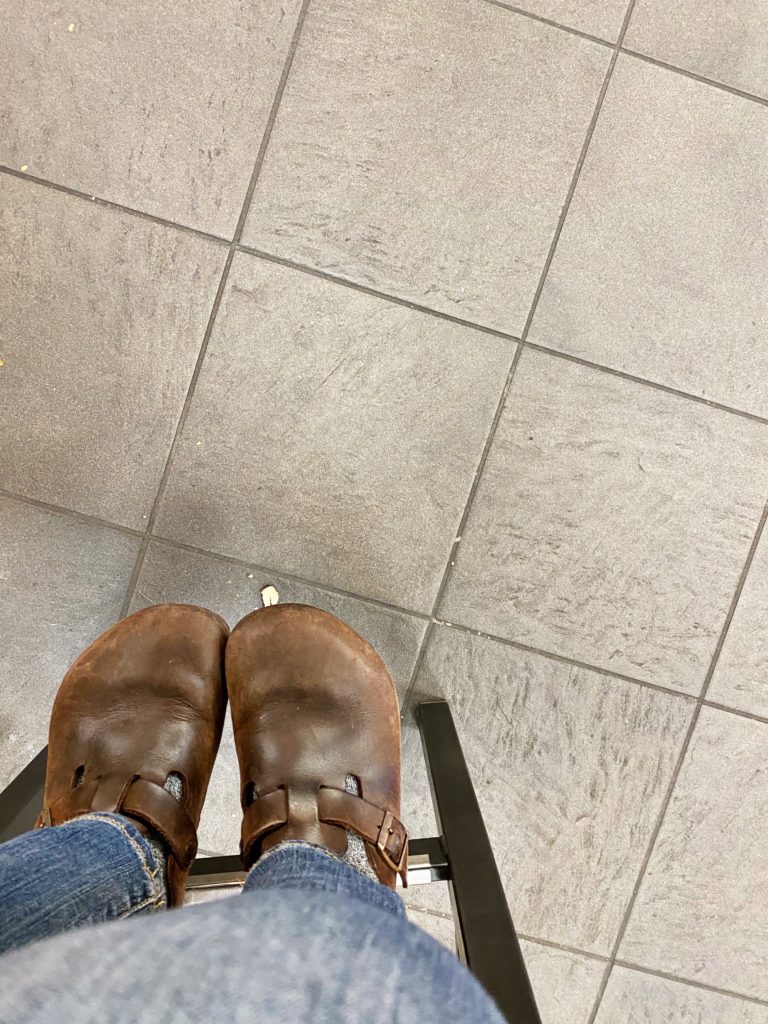 Yet another different pair of shoes tonight as I venture out in the steady rain to pickup dinner at Five Guys. As I sit here and wait for my food, I am thinking about how these Birkenstocks are one of my most loved pairs of shoes. I have loved Birkenstocks since I was in high school. I have had this pair of leather clogs for many years and, while they are scuffed, they are still in really good shape. I am also thinking about how I like to sit in high, bar stool height chairs because I like to let my feet hang and swing. I have always had long legs that don't allow for my feet to be off the floor in most seats, so anytime I get to sit in a seat that allows my legs to get heavy and feet to hang freely, I feel excited.