While I was working on some updates to my craft room this month, I came up with some tips I could share for making periodic updates to your organization and storage systems. Most systems are not good enough to last forever because every so often our workflow changes, or the types of projects we are working on changes, or we are just tired of the system and want to try something new. It's all good!
Today I'm excited to share with you 3 simple tips I've come up with for making updates to your own craft room organization and storage systems.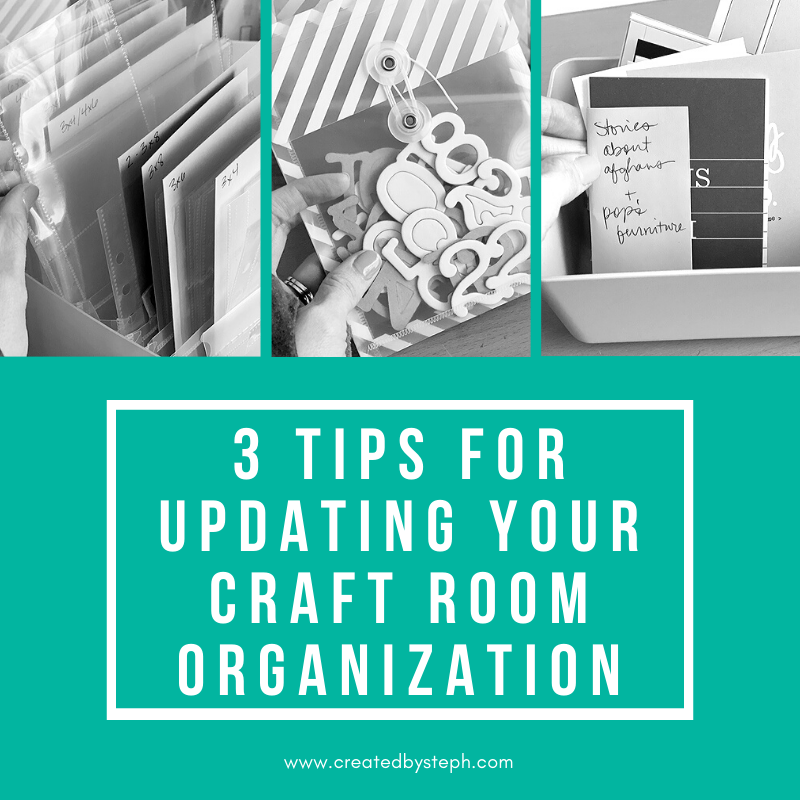 1 – Use What You Have
When it comes to changing up your storage or organization systems with your scrapbooking supplies, my biggest advice is to use the containers and solutions you already have on hand, or at least start there. This may require you to make adaptations to your plan and get creative, but if you can save some money and repurpose a storage piece you already have this will allow you to try out a particular change to see if it is going to work for you before you invest more money in storage pieces that may or may not suit your workflow. Search your whole house for pieces you might be able to repurpose, you never know where you might find just the right container (hint: check your bathroom storage, some of my best crafty storage supplies have come from the bathroom sections of IKEA and Target). Once you've tried it out for a little while then you know whether or not it's worth investing in more suitable pieces for the system.
There's one exception here, and that is if you don't already own any other pieces that are similar enough to the solution you're attempting to implement. For example, for my large page protectors, I knew I wanted a stacking solution and I simply didn't have anything on hand that would work in that way. So instead of buying them outright for myself, I asked for them as a gift and lived with my current solution until then. If you have tried a few things and you already feel like a particular solution would work really well for you, you may just decide to go ahead and purchase new pieces to make it happen. It's all okay!
2 – Make Your System Work for You
It's great to get storage and organization ideas from others; that's so fun and it's how we evolve as a community and help one another! However, you will likely have to make adjustments to any system you adopt to make it work for you. We each have our own specific workflows and preferences about how we work and no single approach is going to suit all of our needs. If you prefer to sort your embellishments by color, then a system that organizes by type may not work for you, but there's probably still something you can learn from that system. This tip requires that you really know how you like to work when you craft. If you're not sure, that's okay, just take some time to pay attention to your preferences when you are working and use that to evaluate whether a particular aspect of a system you are attracted to will work for you or will need to be adapted.
3 – Give It Time
The only real way to know if an organization system is going to work for you is to implement it and live with it for a while. I suggest using a system for at least 3 months to really get a feel for what you like or dislike about it, if it really works for you or not, and what changes might make it a better fit. Three months is generally a good amount of time for you to utilize the system and really give it a chance as you work to complete projects. If, however, that period of time happens to be one in which you haven't been working on many projects and don't feel like you've really tried out the system, you can simply add more time. Sometimes, you know the first time you sit down to work that a system isn't going to work for you, and that's okay too! If that's the case, don't be afraid to change it up immediately. The goal here is that your organization system works FOR you, NOT AGAINST you! When you feel like you have a pretty good understanding of whether or not the system works for you and the changes you'd like to make, go for it!
I hope these 3 simple tips will help you evaluate whether a system you have in place is actually working for you and figure out how to play with it to make changes that help you work more effectively and efficiently!