Welcome to the December Daily season! Now that Thanksgiving has officially passed, we can all feel free to really dive in to the next big thing. This post is for all of us out here who either are already documenting our lives or are interested in doing so who are without children of our own. This guide will contain specific information related to documenting the holiday season and participating in December Daily without kids.
If you don't know about December Daily, it's a project geared toward documenting the month of December created by Ali Edwards. You can read all about it here.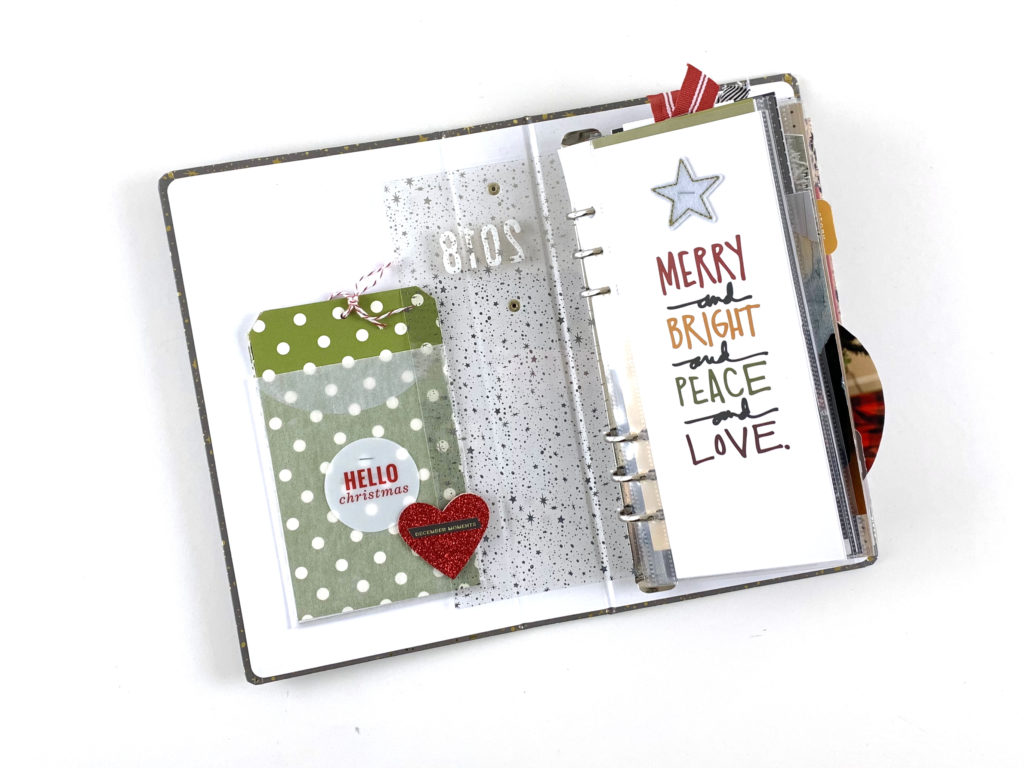 How This Guide Came to Be
The idea for this guide came about after some chatter on social media among memory keepers who don't have children of their own and the question being raised, "What do I document each day if I don't have children?" (or something to that effect). I do not have any children. I am married and we have a dog. I participate fully in December Daily and other memory keeping projects throughout the year. I do not feel limited by my family structure in ANY way to participate in this project and I want others in a similar situation to feel the same way!
The goal of this guide is to share ideas and insight into participating in a daily project like this without regard for your family structure. I hope to help everyone feel like they can participate in this project (or a similar project) if they are interested.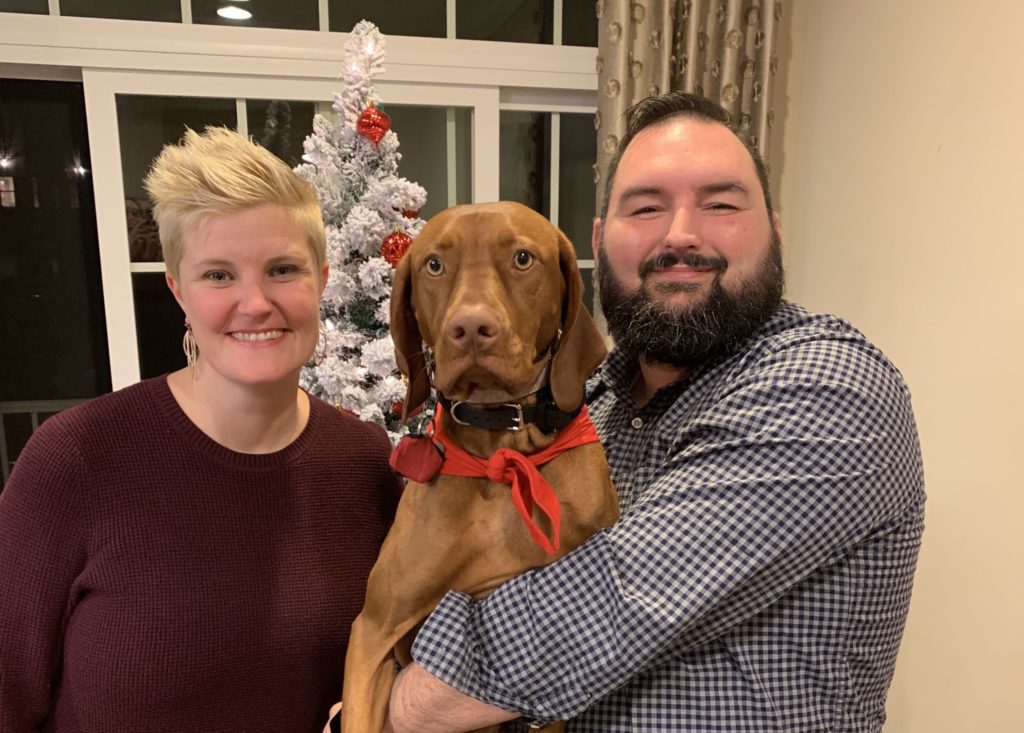 This is an Opportunity
Like many things, I find that the approach to this, or any project, has a lot to do with your mindset. If you believe that your family structure limits you in some way, you will find that to be true. If, on the other hand, you believe that it doesn't matter who your family is and you can find a story to tell each day throughout a month, that will be true. You can change your mind. You can choose what to believe.
Capture What is Real
This project presents an opportunity to capture what is real and true for you right now. Your life will not always be the same as it is right now. Things will change: circumstances, job, home, routines, etc. Perhaps one day you will have children of your own, depending on your personal situation. There is beauty in every phase of your life and many treasures to be found. You just have to be willing to find them. Sure, your life may not be everything you want it to be. Perhaps you are wishing for some changes or working through a tough time, but that is your truth right now and telling that story is always meaningful and worthwhile.
Create Your Own Traditions
December Daily also offers an opportunity to create your own traditions to document. Your life without children may look very different from those you know who do have children of their own, but it isn't any less valuable! You are capable of creating the life you want. Personally, I view this project as an opportunity to make new traditions as a way to enhance our holiday season and have stories to document for my project. Now, this does not mean that every day is a new thing or something we have to do, but when we decided not to have children, we needed to redefine what the holidays would look like for us. We don't do much with Santa in our house, so, for me, this means I have to find ways to create our own magic. I'm not suggesting that you create meaningless traditions or activities just for the sake of taking photos and telling a story. Whatever you choose should be meaningful to you, but is totally in your power to do so.
Look for the Good
There is good in every day. You have to be looking for it and aware that it exists, but it is there. Even in the tough times and the dark days. This project is an opportunity to look for the good in every day. There is nothing saying that your daily story needs to be holiday focused, so it's totally okay to just find something good in each day and tell that story. This will also change in every season of your life and your future self will thank you for telling the stories of right now.
Focus on What You Can Do Without Children
Many years ago when my husband and I were deciding whether or not we wanted to have children, I talked about it a lot with my therapist. One of the most impactful things she said to me was that yes, I would miss out on so many things if I decided not to have children, but by deciding not to have children there was still so much I could do that having children may not allow for. In my work with her, we have talked lots about the fact that every decision has consequences (some positive, some negative) and that while I may be envious of those around me who have children of their own and their life experiences, there are people in my life who would be envious of me and my life experiences without children. We can make last minute decisions about travel, which is something we value. We can work intensely at jobs we are passionate about and give more of ourselves that we might not been able to if we had children of our own.
This project, and any project really, offers an opportunity to focus on what you can do in your own specific life circumstances. Instead of feeling like you can't participate or don't want to because your life doesn't look like those around you, embrace it for what it is and find ways to celebrate all the things that make your life what it is right this minute.
Permission Granted
In case you need permission from someone out there to allow yourself to participate in and find joy in December Daily, I've got your back!
Do What Works for You
If you're anything like me, you are following the December Daily hashtag on Instagram, you've watched every YouTube video ever made featuring albums and layouts folks have made for this project, and you're thinking about how you can make it work for you. Here's the thing, if you want to do it, do it! Who cares? There's no scrapbooking police who are going to come knocking at your door demanding to see your album and judge you about how you do it or what you don't do with it.
Permission granted to make this project work for you in every way. Choose the format that works for you, pick your own style, tell however many or few stories you'd like, include as many photos as you want, and use the size album that makes you feel excited. Just because some people make it a 6×8 album and tell one story every day until December 25th with some embellishment and creativity does NOT mean this is how you have to do it.
Permission granted to do what works for you (just in case you need that).
Adopt Any Ideas You Love
There is plenty of inspiration out there for this project, in fact, sometimes it can feel like too much inspiration. If you find an idea you love – even if that idea centered around the person sharing's children or specific family situation – use it any way. Life is too short to miss out on ideas you love simply because your life circumstances are different than the original inspiration.
A great example of this comes from my 2018 December Daily. I saw in one of Ali Edward's December Daily videos that she planned to have each of her family members (her, her husband, and their 5 children) fill out a tag with some information about their thoughts and feelings that Christmas. I could have dismissed this idea as uninteresting because I would only have two tags, and wouldn't that be boring, and who would care. But I decided I wanted to do it anyway and use it as an opportunity to get my husband's voice in my album. So I made three tags, one for each of us and one for the dog, and we completed them together one evening. Each of us wrote our on responses and we collaborated on what we thought the dog would say as her responses. Odd? Maybe! But that's okay. It's one of my favorite things about the album that year because it includes different perspectives.
Permission granted to use any ideas you find that you love and make you feel excited (just in case you need that).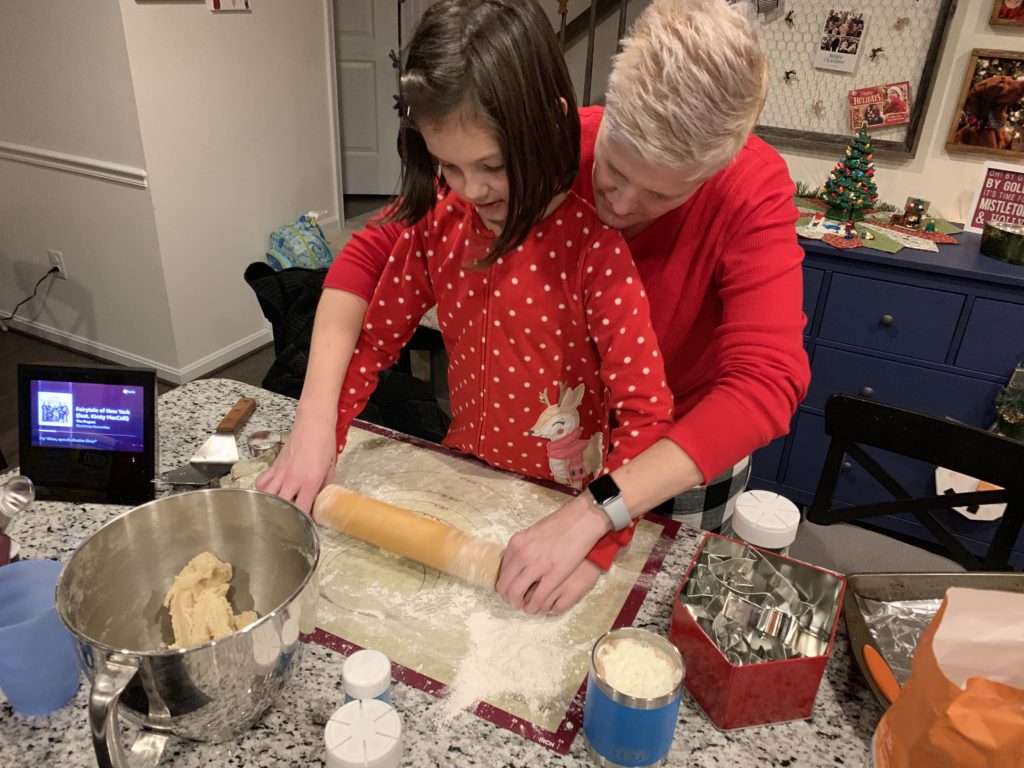 Ideas
Again, there is a ton of inspiration out there for December Daily, but I've put together a short list of ideas to consider using in your project. These ideas are really for anyone to use, but specifically intended as inspiration for those of us without children of our own.
Activities
This project is a great excuse to create some new traditions or introduce some new activities into your holiday season.
Borrow a Kid If there is something you really want to do with a child this season, borrow one for the day! Offer to babysit a niece or nephew, a young cousin, or friend's child and then come up with special activities you'd like to do with them. Go to the book store and read all the great holiday picture books, bake cookies, make art or handmade presents together, or go see a holiday movie together. I believe you can do all of these things without kids, but sometimes it's more fun with a kid! Their parents will likely be extremely grateful for the kid-free time and you will likely have a lot of fun.
Make a New Tradition Make your own magic. Create opportunities for new stories to develop and possible traditions to take shape. Drive around to see holiday light displays, visit the mall or your favorite small biz shop and pick out an annual ornament (one of our faves), create a tradition based on something you did as a kid, watch a bad, cheesy holiday movie, or do something that you might only be able to do in this phase of your life.
Create Joy Look for opportunities to create joy in your season. What makes you happy? Do more of that. Is there something from your childhood Christmases that made you really happy? Can you find a way to recreate that? Looking for ways to infuse more joy into the season will make it a more joyful season.
Stories & Photos
Here are a few ideas for stories you can tell this season that honor this phase of your life. You may choose to write these or add photos alongside your stories.
Write a Grown-Up Letter to Santa We often hear of little ones writing letters to Santa expressing their wishes and hopes for Christmas, but why not do this as an adult? We don't have to send this letter off to the North Pole, but this could be an opportunity to reflect on your own thoughts, dreams, and wishes for this year's holiday (or beyond).
Tell Non-Holiday Stories Yes, the concept of this project is a daily story, but there's nothing dictating that it has to be a holiday-related story. You can use this as an opportunity to tell the real, true, tough stories of your life that don't necessarily have anything to do with Christmas.
Focus on Gratitude This is a practice that can actually change your life. Find something that you are thankful for in this season of your life. Instead of wishing it away, what can you find to be thankful for in this current phase of your life? These stories can be included in your album and would be valuable and meaningful.
What Makes your Life Unique? Really think about what makes your life special and unique right now. What makes it YOUR life, and not someone else's? Celebrate this and write about it.
Holiday Favorites What are your favorite holiday movies, songs, treats, or ornaments? What are your favorite gifts you've given this year (or any year)? What are your favorite gifts you've received this year (or any year)? You can have every member of your family (regardless of whether or not you have children) contribute their favorites.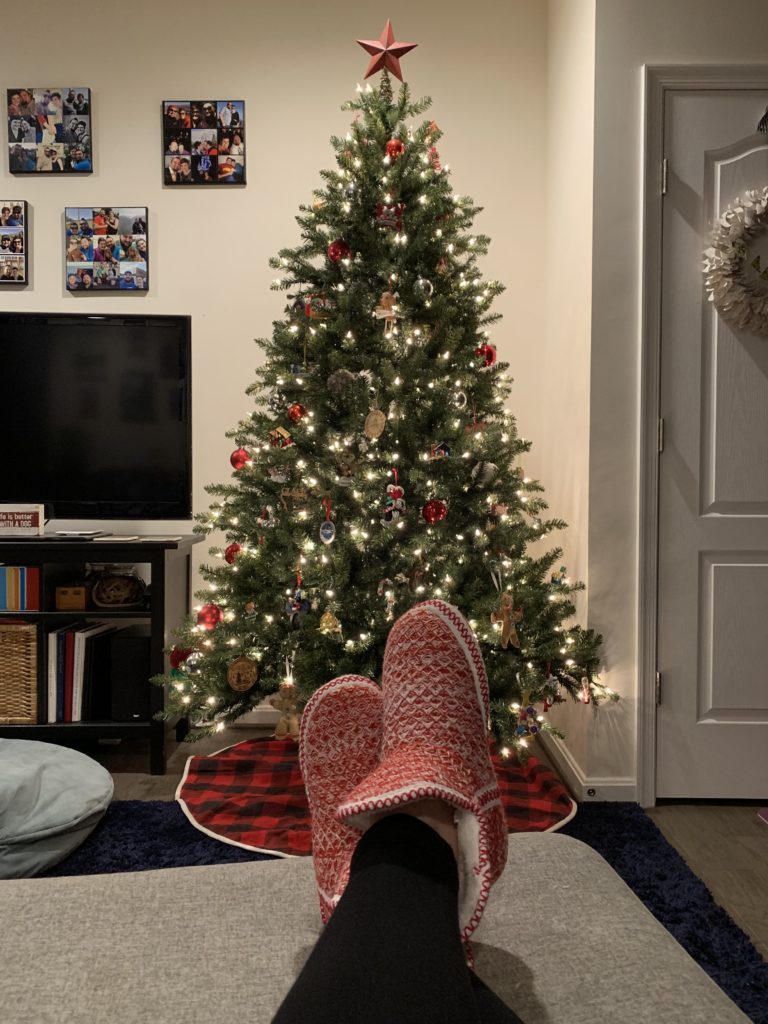 Final Thoughts
The whole goal of this guide is to inspire you to participate in a project like December Daily, if you are inclined to do so, without worrying about how your family does or does not look in comparison with those around you. Your life is unique and so special and every season and phase should be celebrated for what it is because it won't ever be like that again. Sure, on the surface we may not realize the day-to-day differences from one year to the next, but if we look closely, we will see them.
I believe that our lives can be rich and full even if children aren't a part of our story and that there is no use in holding ourselves back from telling those stories and capturing our lives for what they truly are and celebrating each moment. I hope to inspire others to see the value in this approach as well. Just because our families look different (and let's face it every family is completely unique, even when they look similar from the outside) doesn't make them any less valuable or meaningful.
I invite you to share your thoughts in the comments below. Share your ideas for activities or stories for making this holiday season special and celebrating it's uniqueness. I look forward to hearing from you and Happy Holidays!