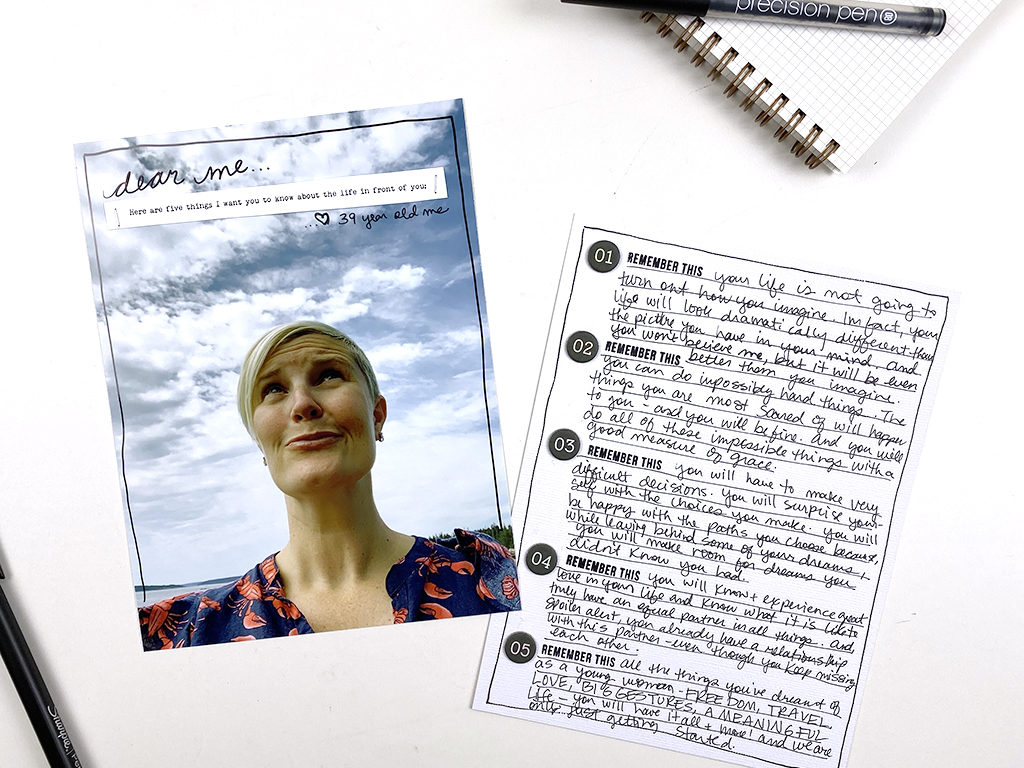 I've been discussing letter writing for the last few weeks – how it changed my life and how to write reflective letters to yourself – but today I wanted to share with you a little background on why I created a course on letter writing. The photo above is a project that I completed at Story Camp with Ali Edwards last month. The writing prompt was to write a letter to our past self. Not long after leaving Story Camp, I felt inspired by this project and my own letter writing practice to create a course to share all that I've learned with others. LOVE LETTERS TO YOURSELF was born out of passion for shaping our own stories and seeing ourselves clearly. But before we get into that, I want to get vulnerable with you for a minute.
My life has not been easy. I was a widow at 27 years old. I've suffered from anxiety my entire life. I was recently let go from a career I loved for no clear reason. And those are just the headlines on the marquee! I've been on a journey my whole adult life to better understand myself and set myself on a path that felt true to who I am.
I know your life has not been easy either. Maybe you've felt lost and directionless in your life. Maybe you struggle with self-confidence. You may constantly second guess yourself or think everyone else's ideas are better than your own. You might be stuck in a comparison trap. You are not alone. I have been there. WE HAVE ALL BEEN THERE.
In my own life, I have found that writing letters to myself has significantly impacted the way I view myself, the stories I tell myself, and the outcomes of my life. I used to suffer from a severe lack of confidence. Once I started writing letters to myself, I was able to shift my mindset and begin to see my value. These letters allowed me to write freely to an audience of no one but myself and I became able to see my true self in those sentences. I got really clear on what I wanted and what I needed. And that's when I was able to move into the driver's seat, so to speak.
Instead of being a victim of my circumstances, I have been able to reflect on the hard times and my struggles and put them into perspective within my life's trajectory. This has allowed me to gain insight on what works, what doesn't work, and what I need to change or improve in my life to get more in alignment with the life I want to live.
I created my first course, LOVE LETTERS TO YOURSELF, because I believe that the practice of writing letters to myself has changed my life for the better and allowed me to live the life I want to live. And I want to help as many people as possible do the same for themselves. I want to empower others through this practice in the same way that I have felt empowered to make bold moves and brave stances.
In this course, you will get to know yourself better and begin to uncover the confidence you have deep inside so that you can see your true self more clearly. Then, you can use that information to make decisions about your life that help you grow.
We are going to take a small amount of time each week to focus on ourselves, practice listening to our inner voice (however quiet it might be), and gradually build trust and confidence through the practice of writing letters to ourselves. We are going to shower ourselves with love and appreciation for what makes us truly unique and begin to see ourselves in a new light. Then, we are going to share our triumphs and celebrate each other in a community built just for us!
I hope this helps explain why I feel so passionately about this practice and why I wanted to create a course to share what I've learned with all of you. I sincerely hope you will consider joining me for this exciting course. We get started on November 4th and enrollment is open now, for a limited time!
In the comments, let me know what questions you have about the course, or letter writing. Let me know if you're thinking about joining or what might be holding you back. I can't wait to hear from you!