It's October 10th and that means it's time for another awesome release from Elle's Studio! This month's kit and extras have some adorably spooky elements that have been perfect for documenting some of our Halloween memories from the last few years.
My first project using this month's kit and extras was this 9″ x 12″ layout featuring a photo of my oldest niece as Dorothy from The Wizard of Oz. This is the only photo I have from Halloween 2016 and I had never scrapped it. This seemed like the perfect time and the perfect kit for it!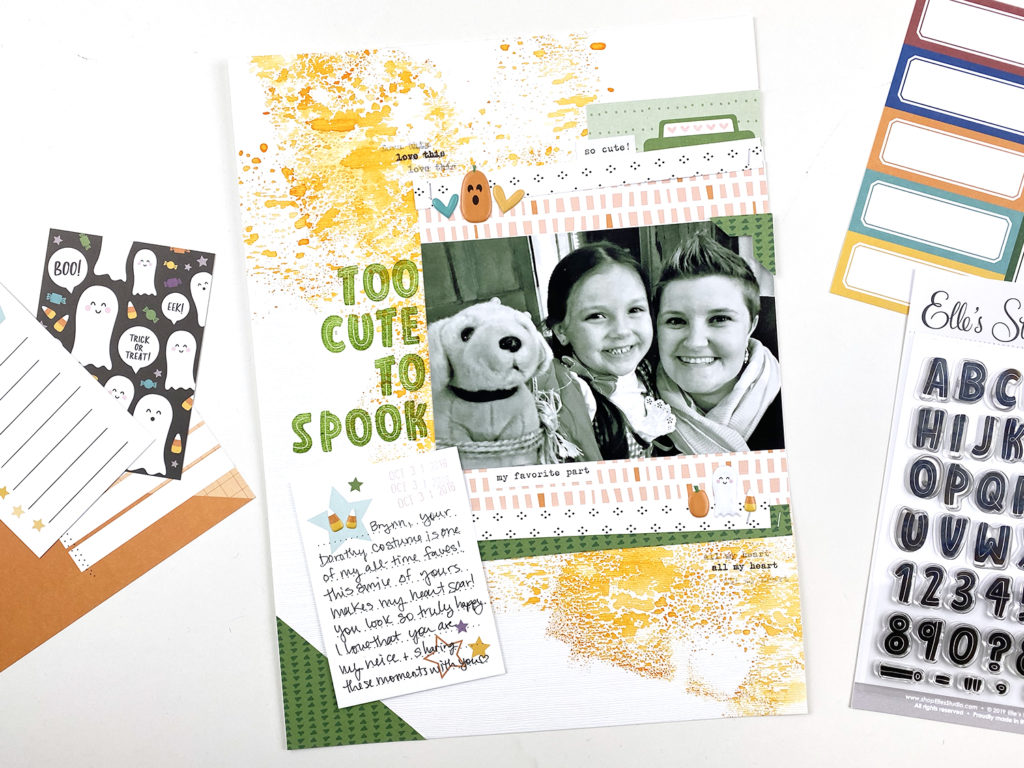 I started by creating an inky background using Tim Holtz's Distress Ink in Carved Pumpkin. Then, I layered on bits of paper from the Home Sweet Home 6 x 6 Paper Stack. I cut down one of the 3″ x 4″ journaling tags from the main kit to use the tab at the top of my layers, along with a phrase sticker from the Thankful Stickers.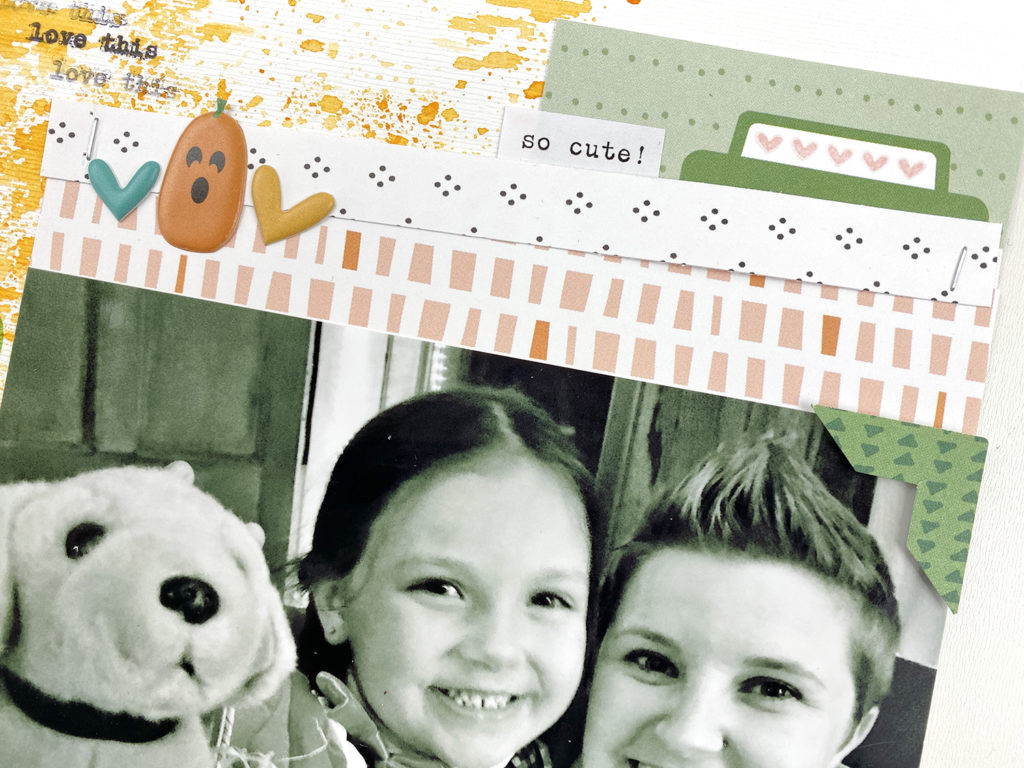 For my title, I stamped out the words "Too Cute to Spook" using the brand new Winifred Alphabet Stamp. I have to admit, this set wasn't an immediate favorite for me, but after using it on two of my projects for this month, I completely fell in love with it's whimsical design. This is definitely an alphabet stamp set that will get more use on my projects.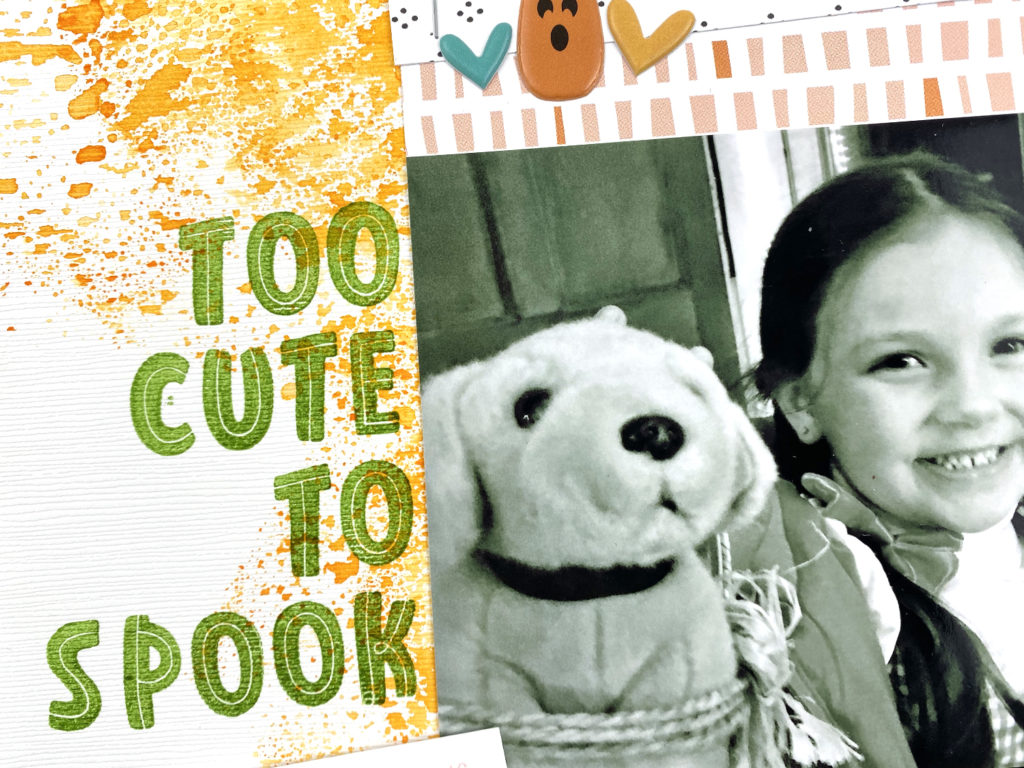 For finishing touches, I added my journaling to one of the cards from the monthly kit , added a bit of repeated stamping of some phrases from the Everyday Tabs Stamp, and piled on the adorable jack-o-lantern and candy corn stickers from the Halloween Puffy Stickers as well as a few hearts from the Puffy Autumn Heart Stickers. The Halloween Puffy Stickers are my most favorite thing from this month's release and I am happy to admit I used every last one of them on my projects already this month! These are a must have, for sure!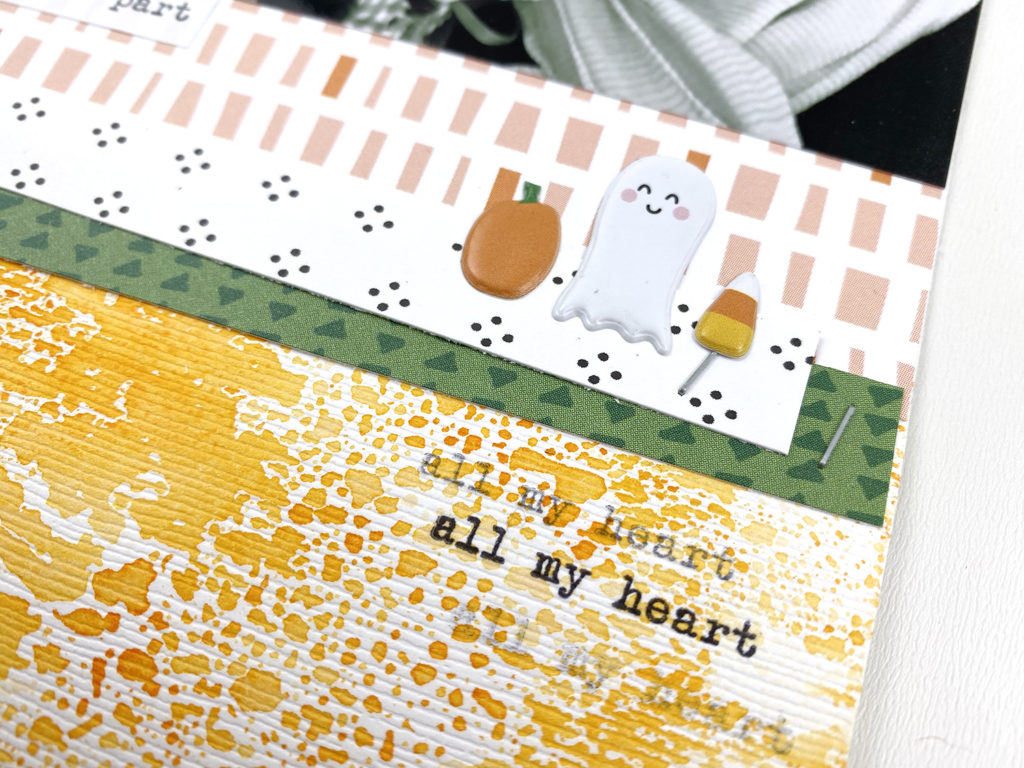 For my second project using the October 2019 Kit and Extras, I created a double page 12″ x 12″ pocket spread for our 2015 Halloween. This was another year I had not yet documented and this kit just has me inspired to document all the Halloween stories!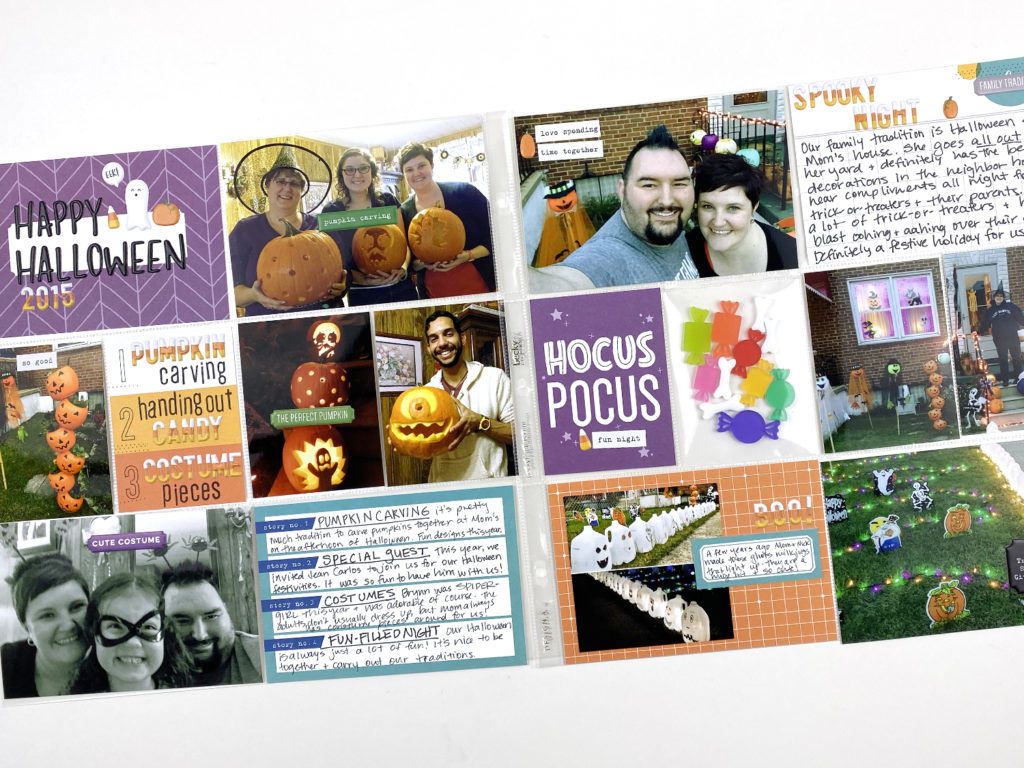 For starters, I knew I wanted to use the Candy Corn Puffy Alphabet Stickers in a big way. I don't really like candy corn, the candy, but I LOVED these puffy alphas! So I started by using them on the matching 3″ x 4″ journaling tag from the monthly kit and combined them with the Jane Alphabet Stamp to create some headline journaling summarizing the highlights of this year's Halloween festivities.
I also used the Candy Corn Puffy Alphabet Stickers on one of the 4″ x 6″ journaling tags from the monthly kit to create a sort of subtitle. The card is printed with the word "Today" on it, but since that wasn't really representative of this story, I covered the word with a phrase sticker from the Halloween Puffy Stickers that was more fitting. A simple way to make the card fit my project a little better.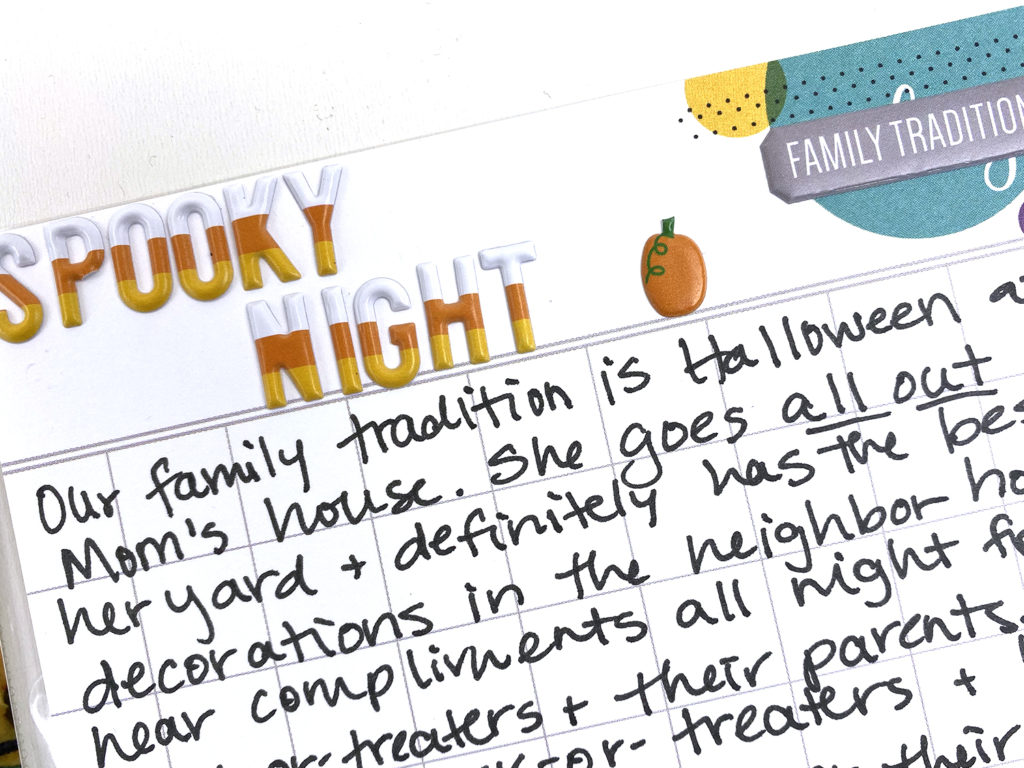 Next, I used the "Hocus Pocus" tag from the Halloween Journaling Tags and added a phrase sticker from the Thankful Stickers and a small candy corn sticker from the Halloween Puffy Stickers. In the next pocket, I wanted to create a see-through element and used my Fuse Tool to create a shaker pocket. Inside the shaker pocket I added the Halloween Acrylic Treats and fused the pocket closed.I love including elements like this in my pocket pages, and this one turned out especially cute.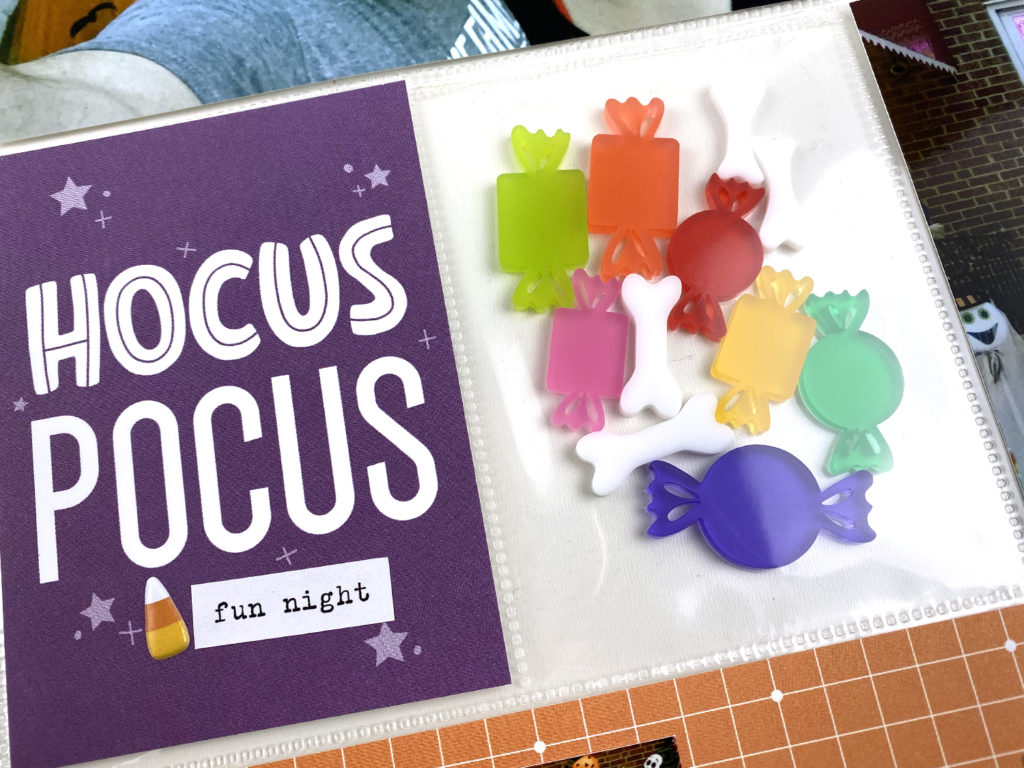 For my final touch, I created the title card using a 4″ x 6″ tag from the monthly kit , Halloween Puffy Stickers, and the Candy Corn Puffy Alphabet Stickers. I love Elle's Studio Puffy Stickers so, so much and this month's sets have been among my most favorite ever!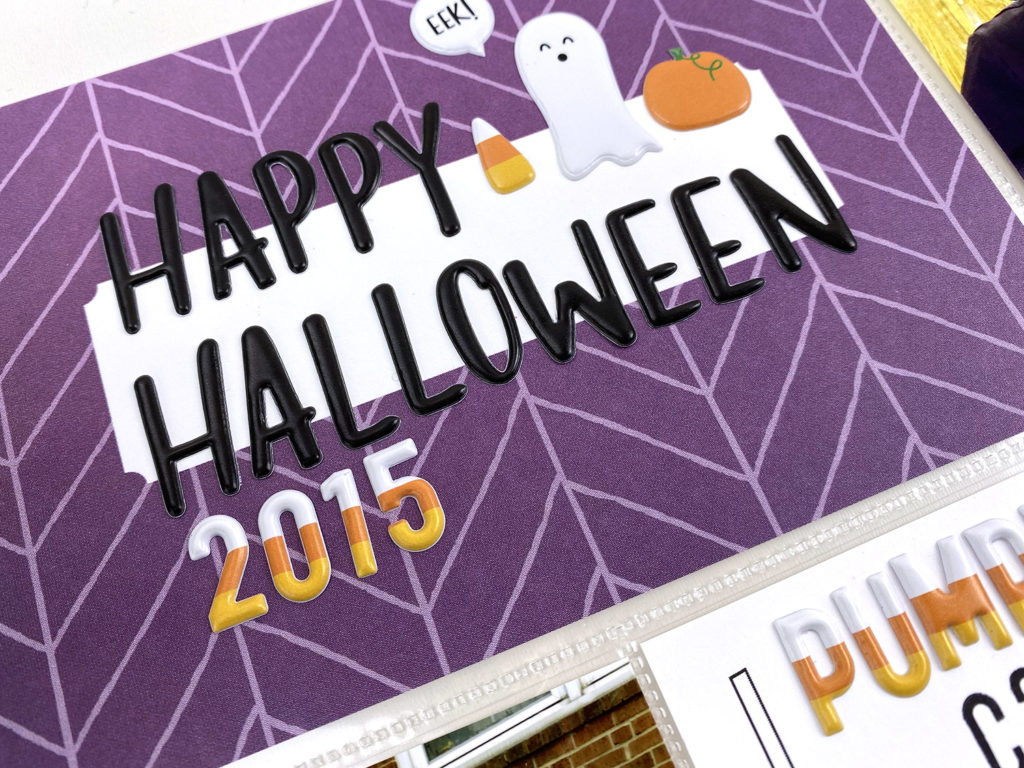 Here's an up-close image of the left and right side of my spread: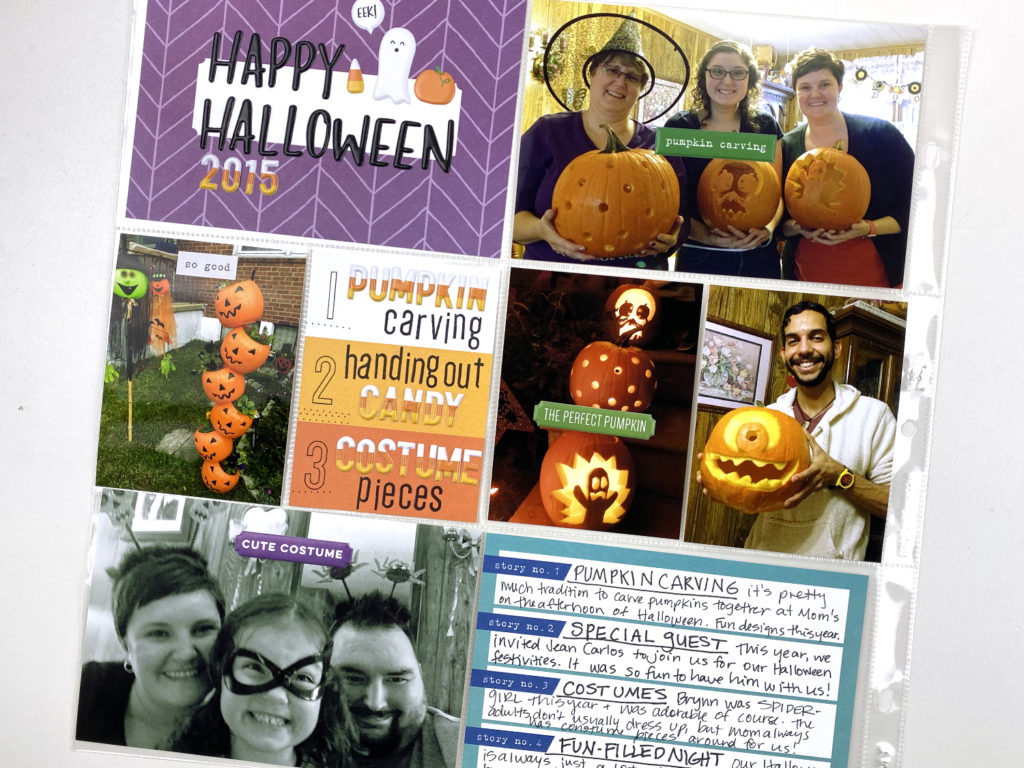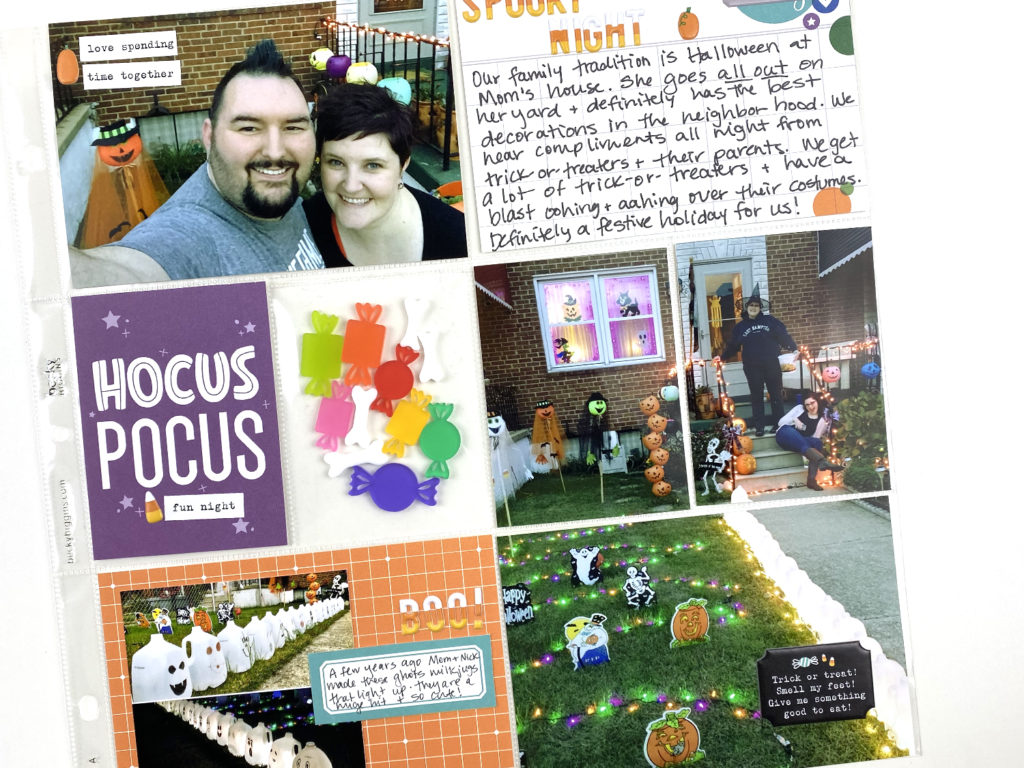 I had so much fun creating these two projects using the October 2019 Monthly Kit and Extras and can't wait to see what you'll create this month! You can use any of the links in this post, or this one below, to shop the new releases directly. Happy scrapping!
SHOP NOW: Elle's Studio New Releases – October 2019 Monthly Kit & Extras