The final set of words and photos for my 2019 Week in the Life. I have such an appreciation for this project! It's definitely my favorite annual project and I can't wait to begin the process of printing photos and bringing together the album. While this is the final day of words and photos, I will be back in a few days / weeks as I start working on the album and sharing parts of that process.
For this final day of this project for the year, I used the story lens "Through the lens…" for my main journaling, which is what I'm sharing here.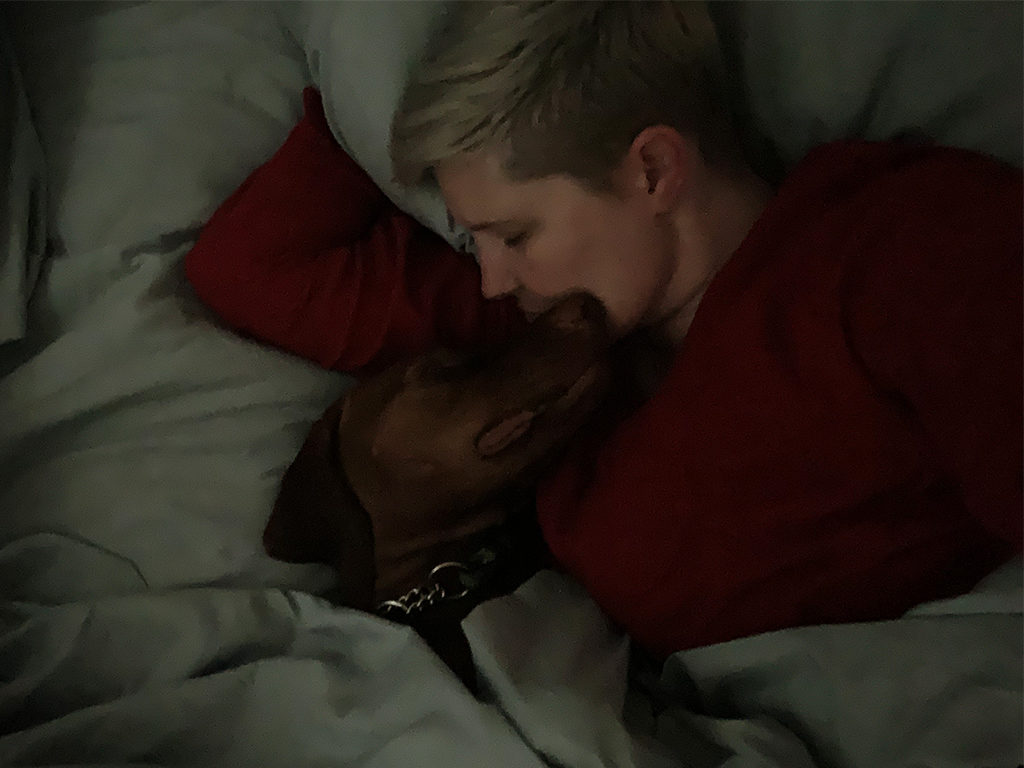 Through the lens I see two sleepy members of our family enjoying some good morning snuggles. Ruby is so good at snuggling and I typically don't partake in the morning because I am up and working out, but sleeping in a bit this morning and having a really slow wake up has afforded me this moment of luxury.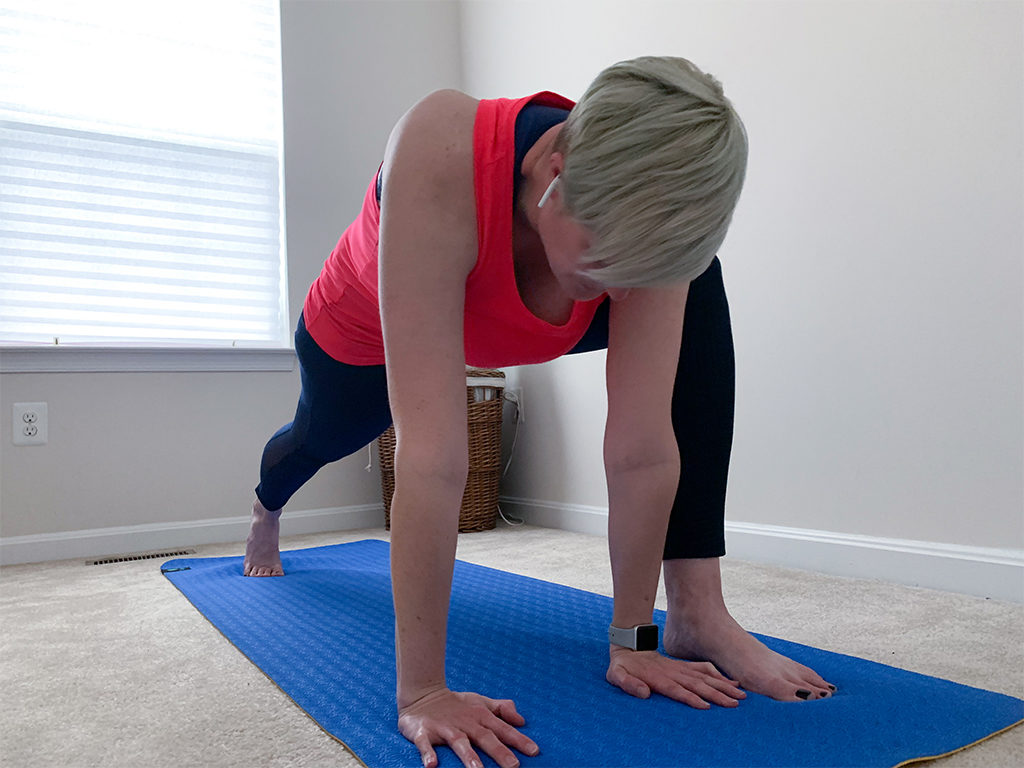 Through the lens I see a new habit that has formed of making it to my mat more days than not this year. I see increased determination and an improved mindset as a result of this practice. I see a mind and a body that are more healthy because of this near-daily practice. I see a body that is capable of more than I believe and a mind that is learning to quiet and be more open. I see a space that once was full of clutter and now is calm and peaceful and nearly empty. I see a habit that I love and that has actually been gradually changing my life as I show up here each day.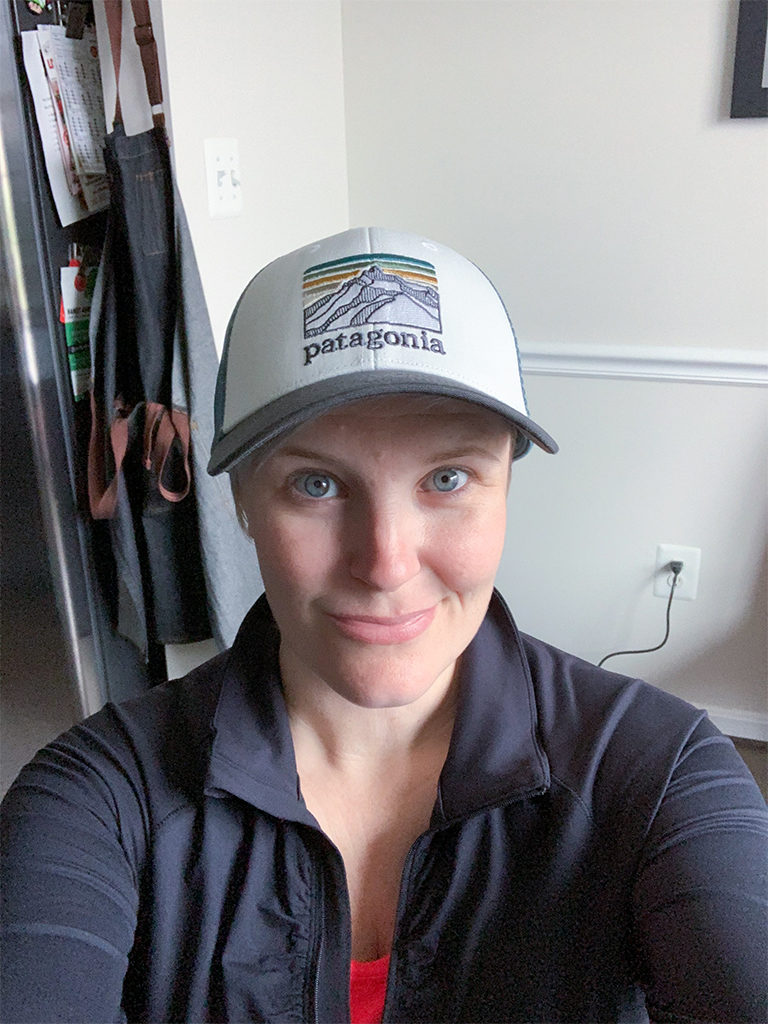 Through the lens I see a girl who has recently learned that she likes to spend time alone. This wasn't much the case for me growing up, but I think I'm much more of an introvert than I ever realized. After a busy day full of people I need time alone or with just Shawn and Ruby to recharge, sometimes more.
Through the lens I see a willingness to try new things. I do not consider myself a hat person, but really loved this Patagonia hat we found at REI last weekend and I figure hats might be good for the summer with longer hair. Shawn really likes the hat on me, but I'm still unsure. Feeling a little like an imposter but willing to give it a few gos to see if it will grow on me.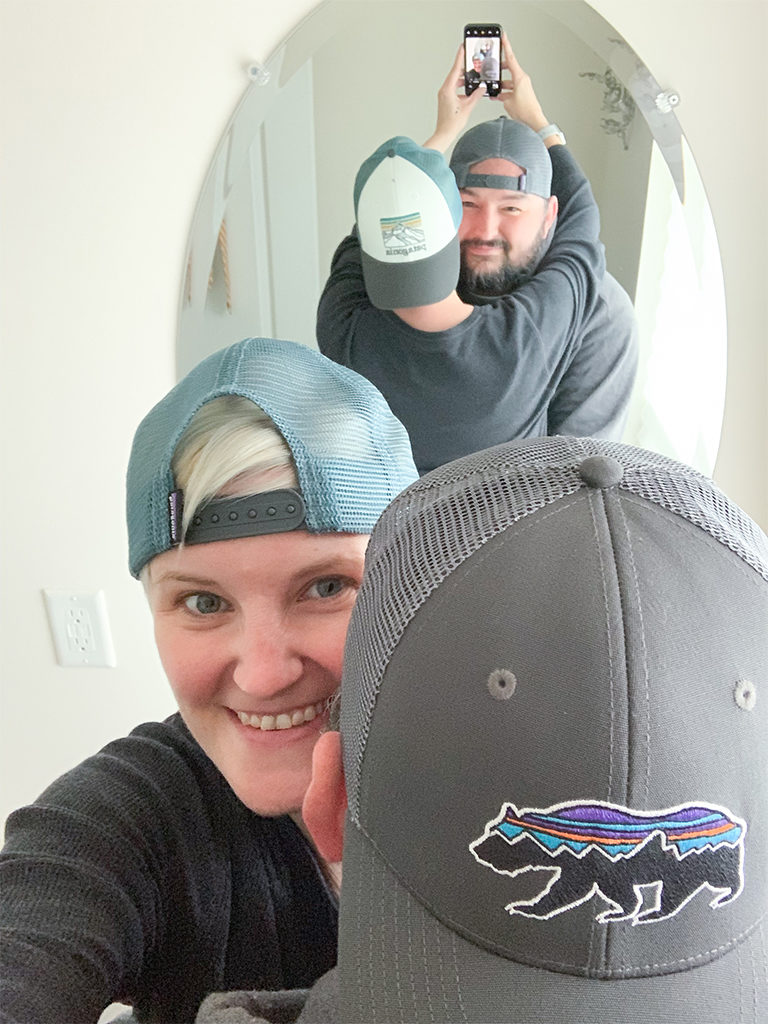 Through the lens I see a partner who is incredibly supportive of all the parts of me. In this moment, I appreciate his patience and even willingness to help contribute to this project. In other moments he's my biggest cheerleader and comfiest shoulder to cry on, we have developed amazing communication, and he is my best friend and true soul mate. I'm so grateful for him and all he does for me.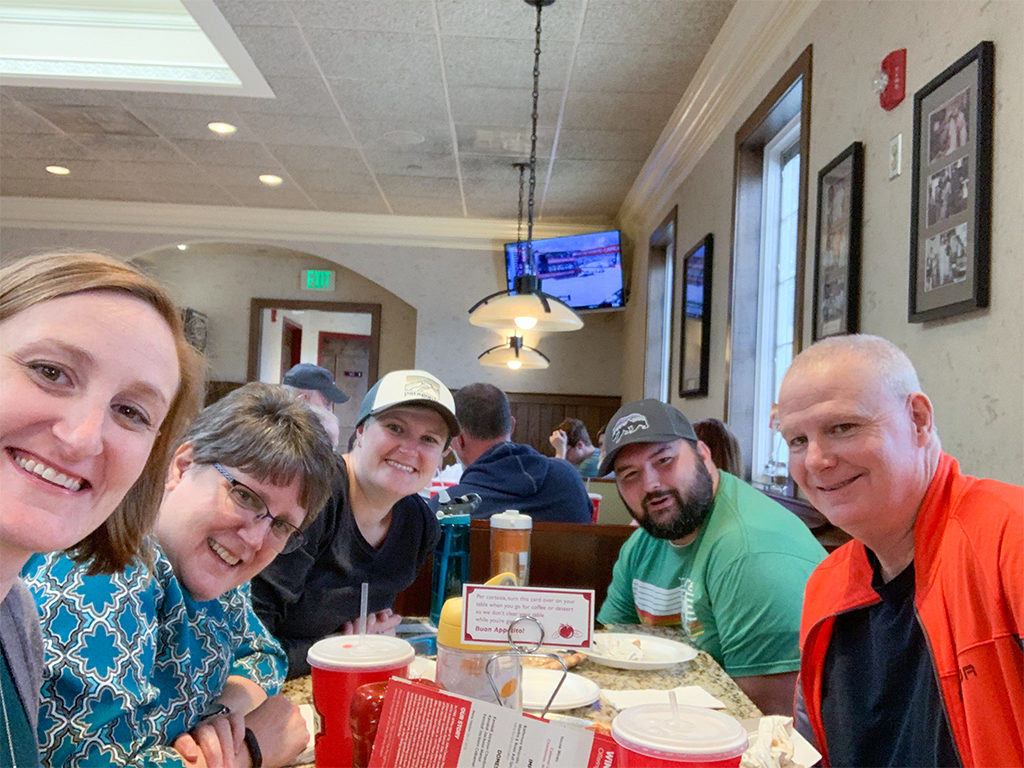 Through the lens I see a great lunch and chat with half of my family. It's so nice to just enjoy each other's company and eat delicious pizza! Nice to spend time with both of my parents together, since Dad is only in town some of the time.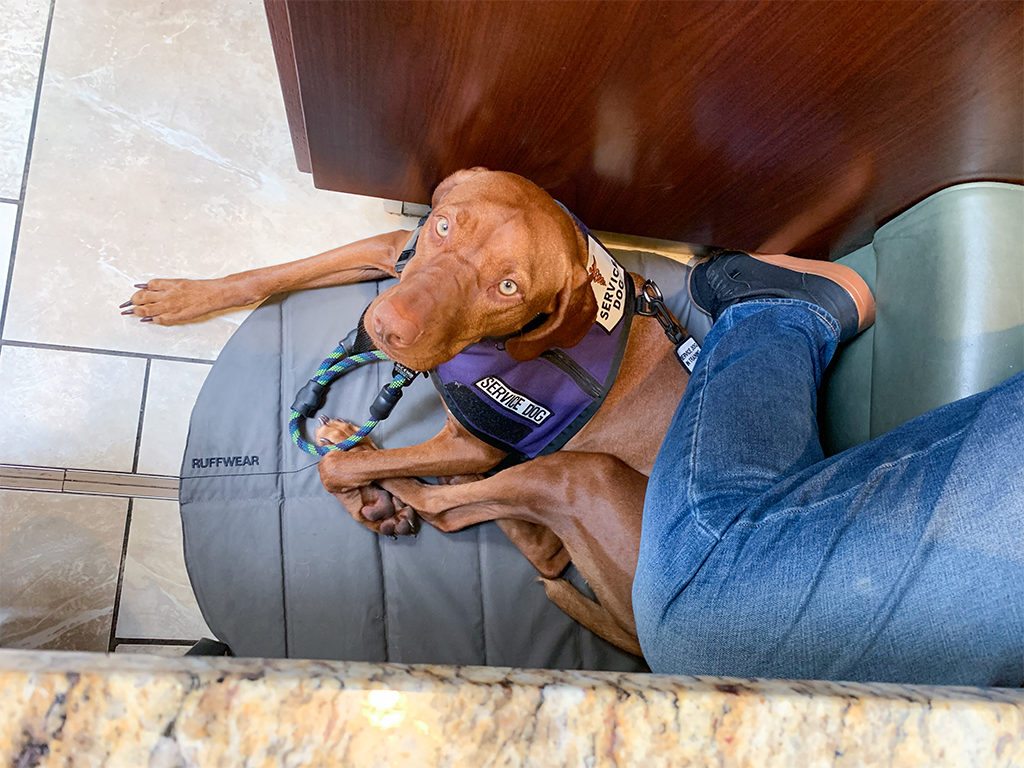 Through the lens I see our hard-working, well trained, well behaved awesome pup. She's so great most places we go and she's very adaptive. We are both so grateful for Ruby!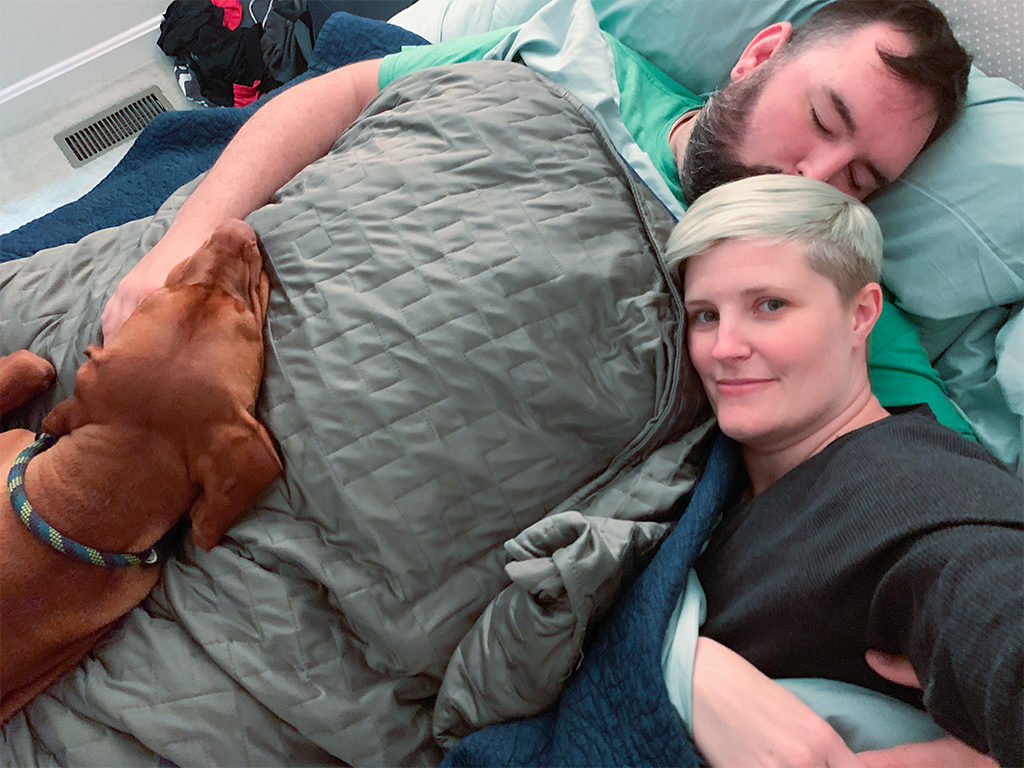 Through the lens I see a family cozying up together in bed in the middle of an easy Sunday to fight of the chill from the cool temps and pouring rain. A family responding to their needs by taking a well-deserved nap. Shawn surrounded by all his favorite nap-time necessities: his gravity blanket, Ruby in a deep pressure position, and me snuggled up beside him. A recipe for a great nap!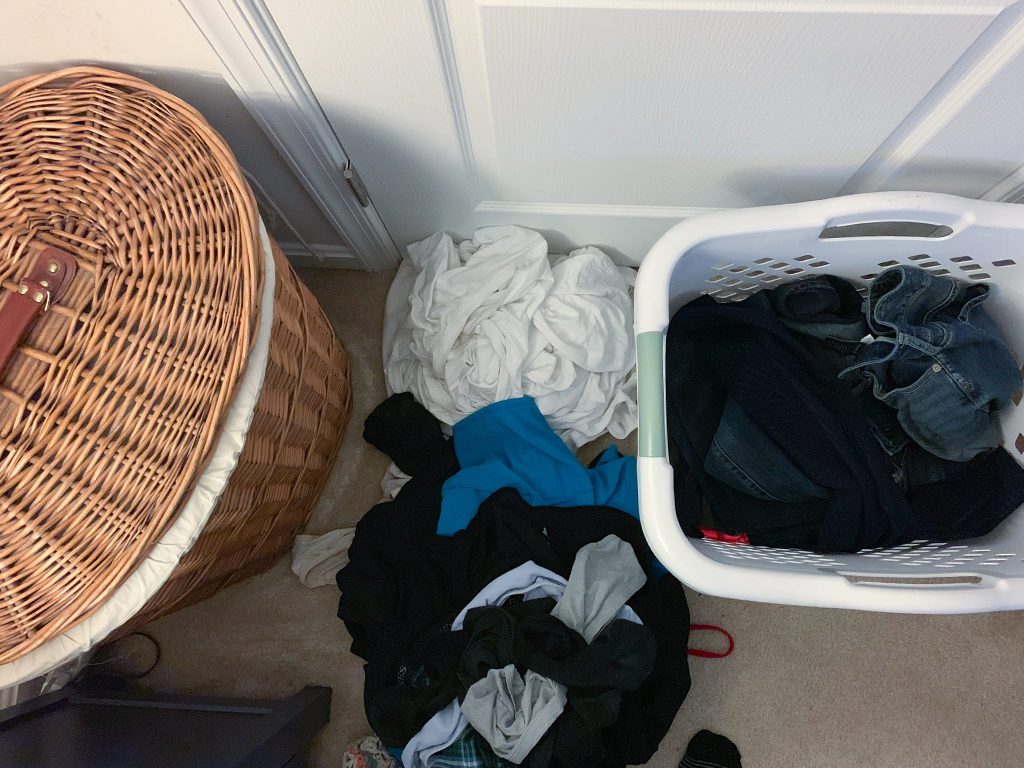 Through the lens I see the routines that keep our household running. Laundry is something that's done most weekends around here in preparation for the week to come and because that's when I can make the time to do it. Today I need to do a few small loads so that all our clothes are clean before we travel this week. I like to have the hamper empty and laundry all done before we go away so I come back only to what we dirtied on our trip and so that we have our full wardrobe to pack from.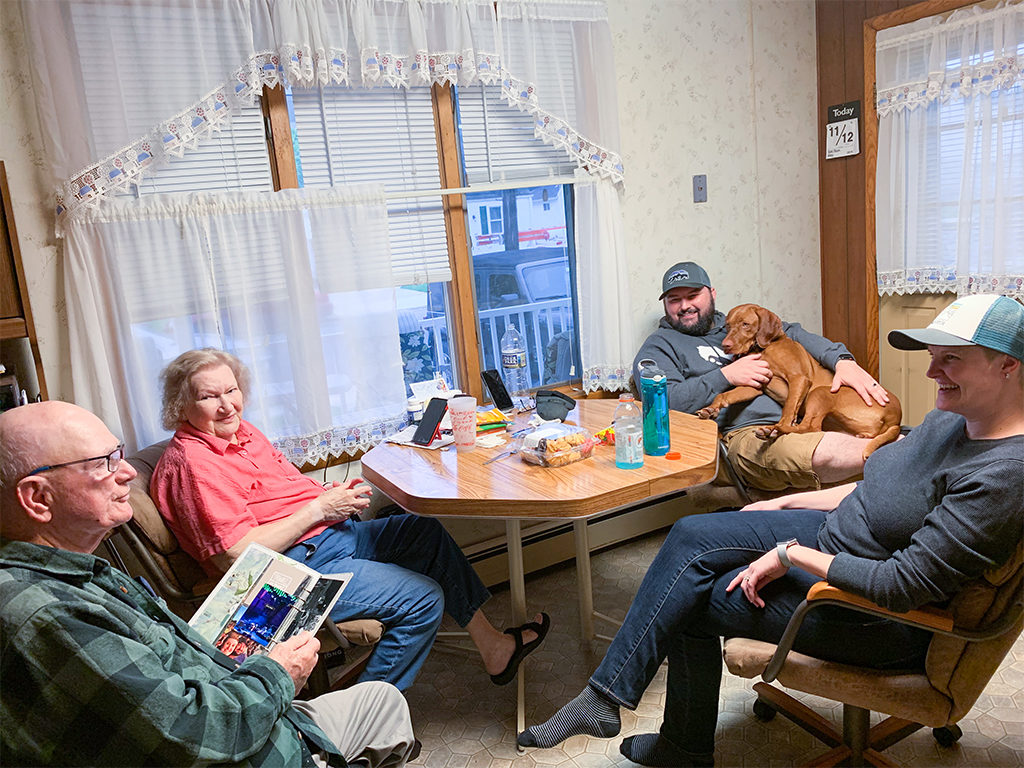 Through the lens I see our favorite Sunday tradition; visiting Mom Mom and Pop Pop. I see genuine interest in our lives and the people we are. I see enjoyment of flipping through one of our travel scrapbooks and intention to read every word and look at every photo. I see time and love and attention spent on each other. I see memories and similarities drawn to my own grandparents who aren't here anymore. I see a space that was once our home for a brief time and the enjoyment of living there and how we sometimes think that would be nice again. I see family.
Through the lens I see our current favorite place to eat. A place we grew to love when Ruby was a puppy because they are dog-friendly and we could eat outside in the warm sun with her before she had any public access training. A place we eat usually once a week and they are beginning to know us by name and order. A place we love to eat with family and friends alike. A place that has hosted many big moments in our lives, like Jean Carlos moving away and Finn's first family dinner, Adam's return to DHF and Darius' promotion to Tech Center Director.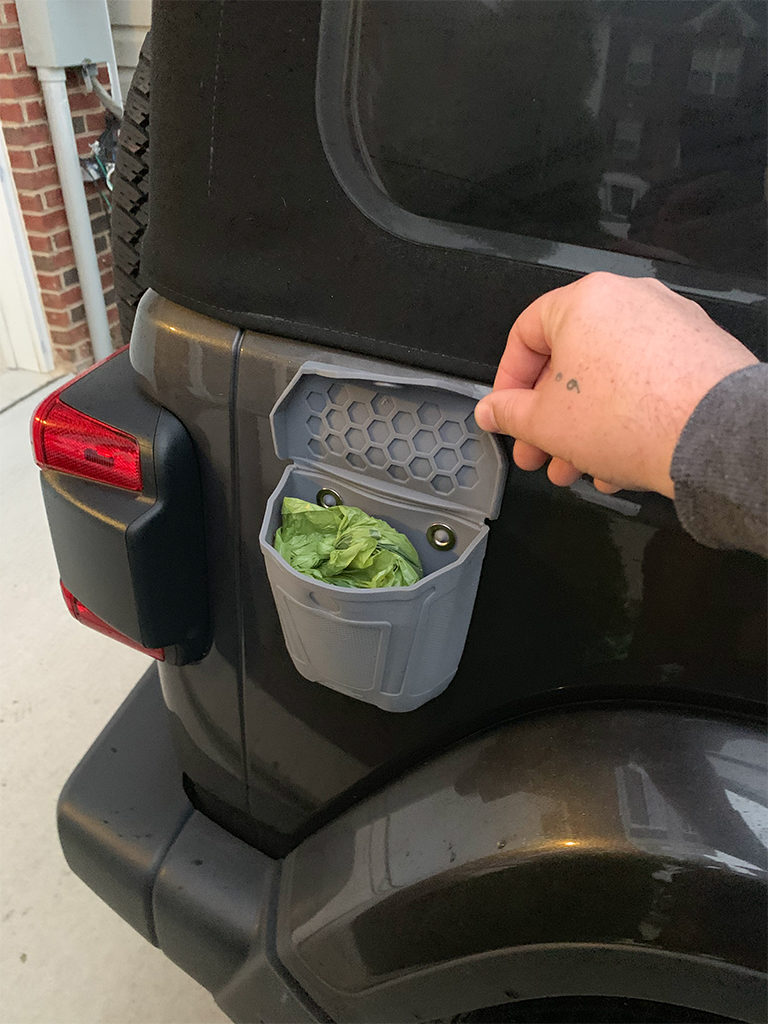 Through the lens I see a necessary accessory for our current life – a place to store full dog mess bags when we aren't near a trash receptacle. It's magnetic and mounts to the body of our car. Yes, it might be strange, but it has been so useful to us. Our life are full of harnesses, leashes, travel bowls, car seat covers, jackets, toys, treats, bags, contraptions, puzzle toys, and Velcro patches that all make our jobs and outings a little easier.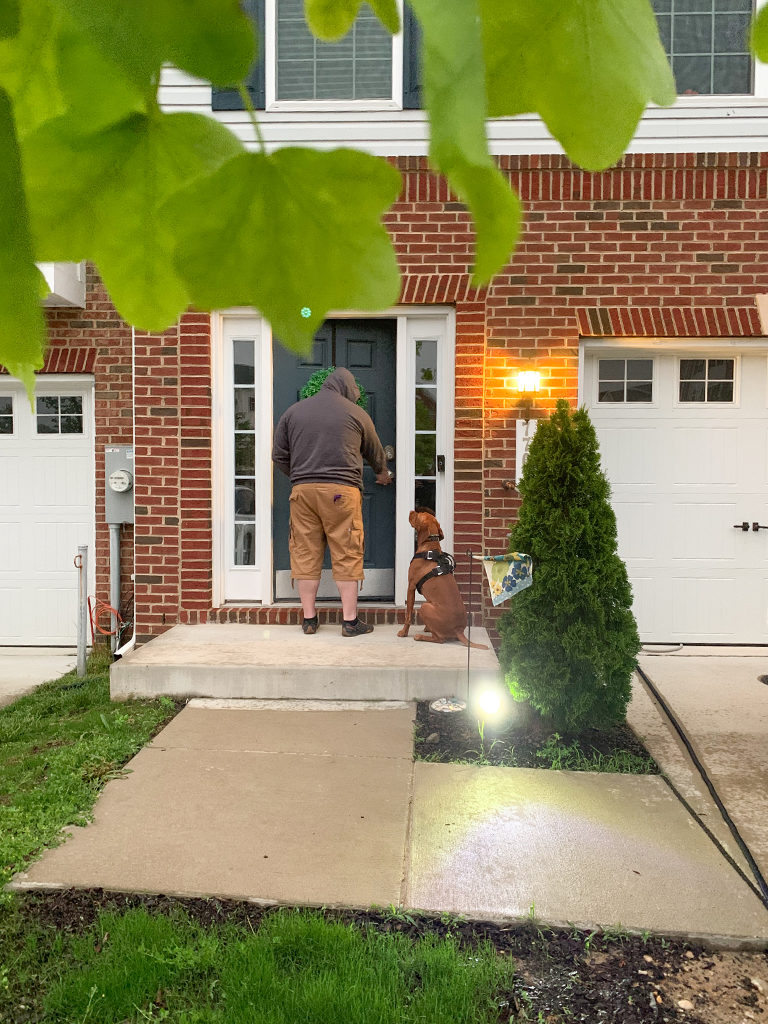 Through the lens I see the place we are happy to come home to every night. Lots of green and our fourth straight day of rain. Little grass seedlings blooming faster than we expected them to as we (hopefully) fill in the garden around our walkway since neither of us has a green thumb or really care to make the time to maintain even a small garden.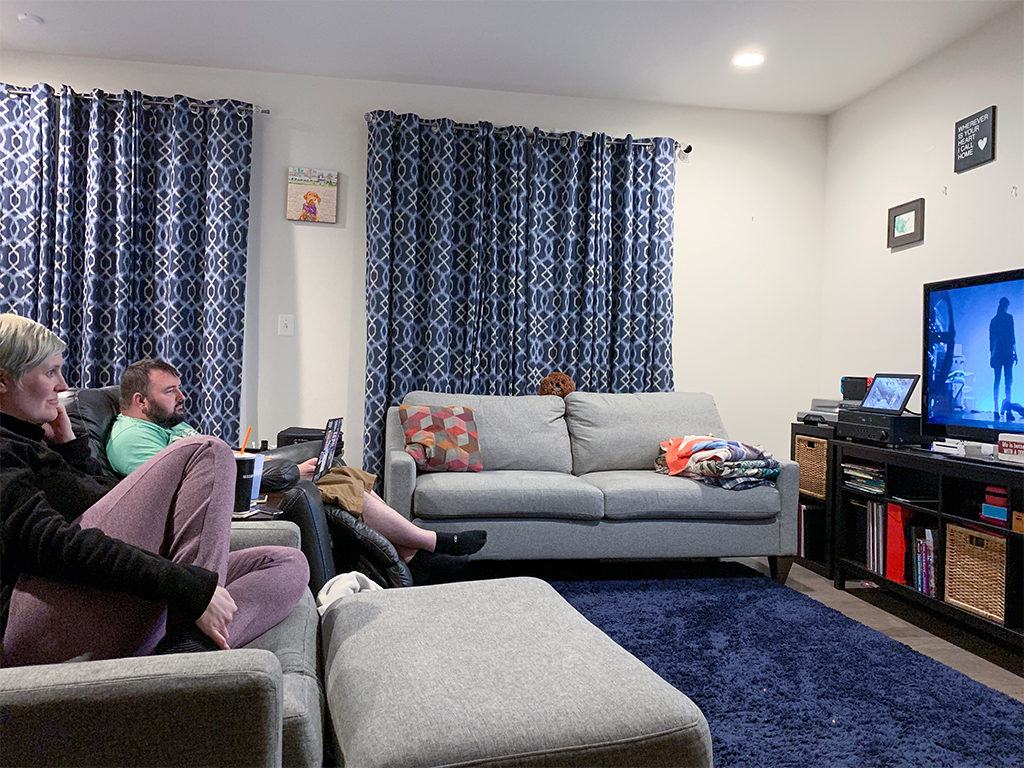 Through the lens I see as I'm scrolling through Plex, our media library, looking for a show to watch that one of our favorite shows, Agents of SHIELD, has returned with the first episode of a new season. I am so excited that I take a photo to tell Nicole about it since I also got her hooked on this show. I know how we are spending the next hour of our evening! But first we find a video recap of last season on YouTube.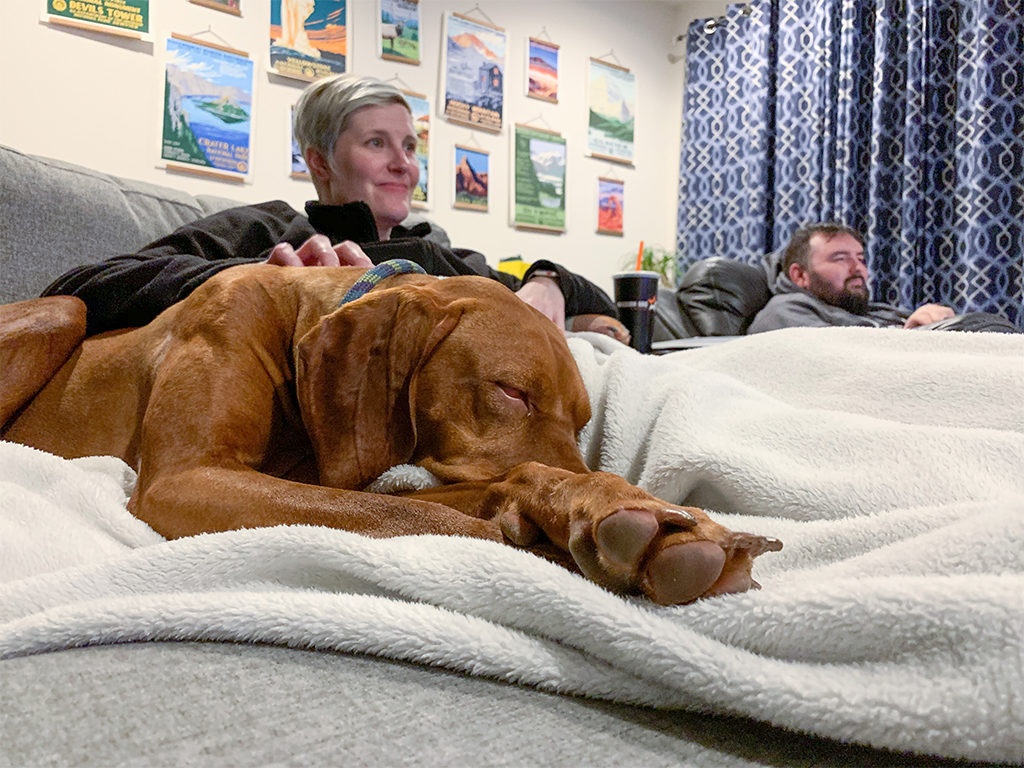 Through the lens I see sweet snuggles with my girl! For the last couple of months Ruby has been spending most evenings upstairs by herself so it feels extra special to have her snuggle up in the loveseat with me. I picked out this chair specifically for her and I to cuddle in before she came home to us. I also thought it would be a good chair to read books in, if I definitely haven't done as much reading as I have cuddling in this spot.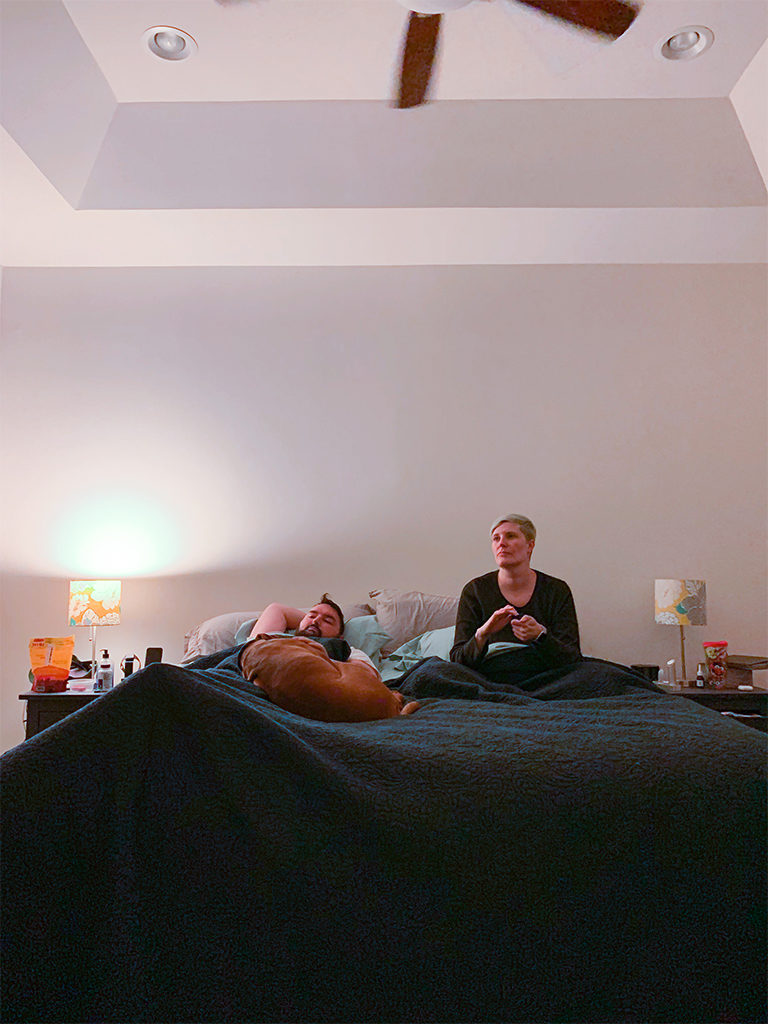 Through the lens I see an immense amount of gratitude for this one extraordinary life. I see the family I never expected, but can't imagine not having. I see the kind of love and admiration that takes half a lifetime to build and cultivate and another half a lifetime to enjoy and savor. I see our perfectly imperfect life that I wouldn't trade for anything. I see all the epic, life-changing moments and the tiniest of details and steps that brought us to this time and place and that led us to each other. This is my whole world gathered together in this bed.